8 Best Condos in Surrey City Centre: Discover Amazing Downtown Condominiums
Posted by Katrina Amurao on Wednesday, March 15, 2023 at 9:37:54 AM
By Katrina Amurao / March 15, 2023
Comment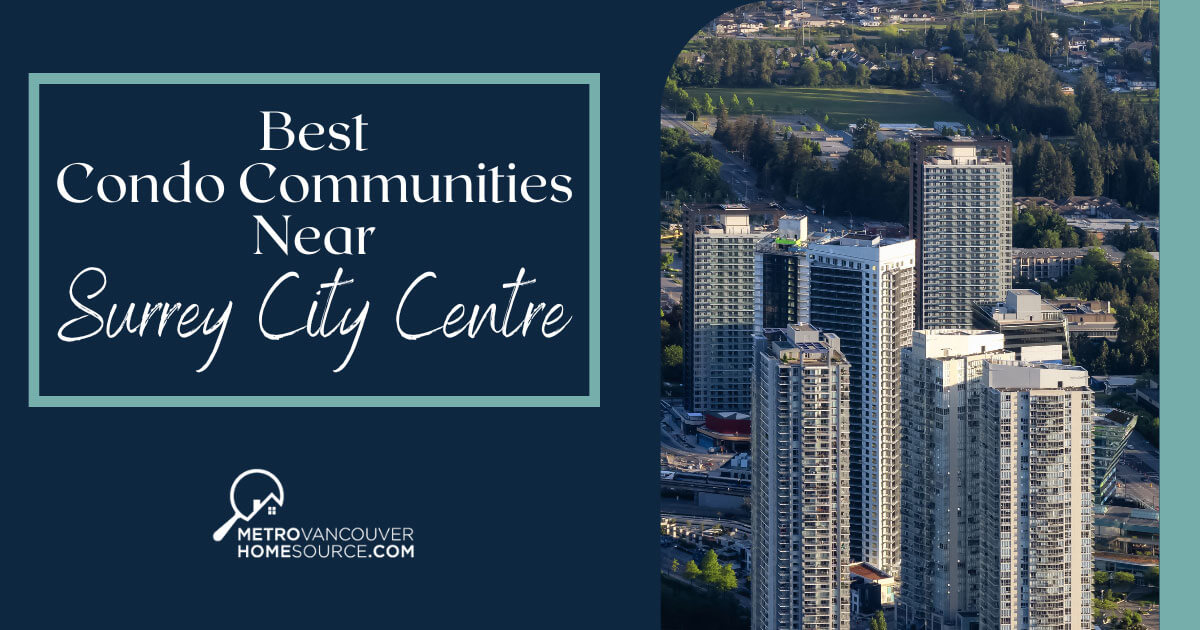 Surrey is expected to be larger than the city of Vancouver, population-wise, by 2030. With so much exciting growth in the city, there's never been a better time to consider investing in condos in Surrey. New development condos are being built steadily to allow people to move in close to the excitement near Surrey City Centre. Annual festivals, a strong economy, wining and dining, sporting events, and concerts—all in a beautiful natural environment—have made Surrey one of the most attractive places to live in British Columbia. To help newcomers moving to Surrey, here are some of the best condo communities near Surrey City Centre.
Century City Holland Park
Century City Holland Park has three new towers just south of the Surrey City Centre. This master-planned complex is on the 10-hectare Holland Park, an ample green space with public gardens and other amenities. Century City has nearly 4,000 square meters of retail space within the towers, and it's directly south of the major shopping in Surrey City Centre along King George Boulevard.
More than 400 condo units and several townhomes are available at Century City. Floor plans range from one-bedroom studios to spacious two-bedroom, two-bath units with a den, laundry room and balcony. Corner homes are bright, with floor-to-ceiling windows to flood the interiors with natural light and stunning green views below in Holland Park and the surrounding area. The towers are located at the King George Skytrain Station, making it easy for residents to use Surrey's public transportation to get into Vancouver.
Century City Holland Park Amenities
Central Bar & Resident Dining Lounge
Media Room & Game Room
Outdoor Kitchenette
Orchard & Greenhouse
Fitness Centre
Yoga Room
Rooftop Terrace
24/7 Concierge Service
3 Civic Plaza
3 Civic Plaza, also known as 3 Civic Tower, is hard to miss. It's the tallest building in Surrey, located at the heart of the City Centre, also known as Whalley. The 52-story building has 349 condo units, many with unobstructed views of the Vancouver skyline and the surrounding area. The tower has one- to three-bedroom units starting at 1,050 square feet. The lower floors comprise a 144-room hotel, and all residents living in the tower can order room service to their homes. The lower floors also have offices, retail space, and a Kwantlen Polytechnic University campus.
The condos in 3 Civic Plaza feature spacious open floor plans. They have hardwood flooring in the living spaces and carpeted bedrooms. The gourmet kitchens have European styling and premium stainless steel appliances. Elegant hotel-style bathrooms with tiled walls round out the interior amenities. Units also have large balconies to enjoy unobstructed views.
The tower is conveniently located next to City Hall and the Surrey Central Skytrain Station. It's directly north of the Central City mall. Dining, banking, shopping and errand-running are easy and just steps outside the front door of 3 Civic Plaza.
3 Civic Plaza Amenities
Premium Concierge Services
Lap Pool with Sundeck
Yoga Studio
Rooftop Garden
Fitness Centre
Secure Underground Parking
Grand Lobby with Restaurant
Park George II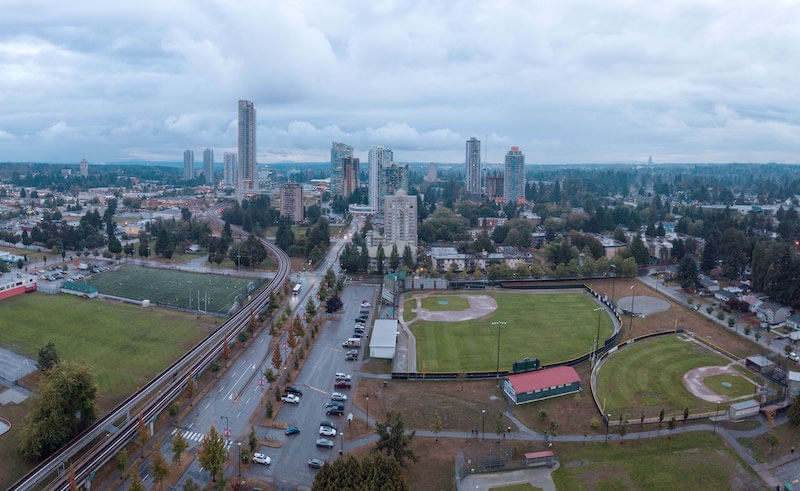 Park George II is directly southeast of Surrey City Centre. The two condo towers that make up Park George II are 36 and 39 stories tall, respectively. It takes just 5 minutes to walk from the front doors of the towers to the Skytrain station, putting residents' Surrey commute times on the lower end. It takes about 10 minutes to stroll to the City Centre shopping mall.
Floor plans for the condo units at Park George II include two-bedroom, one-bath units with one or two balconies, measuring up to 1,400 square feet; three-bedroom, two-bath units up to 1,600 square feet; and three-bedroom, two-bath suites up to 1,700 square feet with two underground garage spaces and additional storage space near vehicles.
Condo interiors at Park George have European appliances, custom wood-grain cabinetry, and quartz stone countertops. Bathrooms are elegant, with polished chrome fixtures and built-in lighting. Each unit's floor-to-ceiling glass and balconies ensure unrestricted views around the towers. Even lower units have great views of nearby parks and green spaces, in addition to the lights of the city skyline. Practical storage solutions built into every unit ensure that space is maximized so that residents have enough room to enjoy their homes.
Park George II Amenities
NFC Access Building & Elevator Control
Grand Lobby w/ Concierge
Video Spin & Yoga Studio
Sports & Games Lounge
Massage Room & Fitness Centre
Children's Play Area
Indoor Swimming Pool
Sunbathing Deck
Park Boulevard
The Park Boulevard tower is directly southeast of the Surrey City Centre. This coveted tower's front lobby doors open almost directly onto the King George Skytrain Station. This unique and relatively new property boasts of being the first lighted tower in Surrey; a light display rushes up and down the sides of the tower every 15 minutes, lighting up the skyline. Located between the Quibble Creek green space and Holland Park, this condo tower is the perfect blend of urban and rural living in the middle of Surrey.
The floor plans at Park Boulevard include one-bedroom, one-bath units with balconies at 665 square feet and two-bedroom, two-bath homes with balconies at 939 square feet. Park Boulevard also has two-story townhomes with private garages, three bedrooms, and two bathrooms at 2,275 square feet. The smart kitchen designs have luxury appliances and space-saving cabinetry. Elegant bathrooms with quartz-stone backsplashes and balconies spacious enough for entertaining round out the units' distinctive features.
One of Surrey's high-rise condo buildings with stunning views, Park Boulevard has made its mark on the Surrey skyline with its distinctive lighting scheme and tasteful design by Concord Pacific. Park Boulevard is also extremely close to shopping, dining, grocery stores, and numerous parks and green spaces.
Park Boulevard Amenities
Grand Lobby with Concierge
Indoor Pool
Steam Room & Sauna
Fitness Centre & Badminton Court
Residents-only Movie Theatre
Bowling, Pool & Game Room
Park Avenue East & Park Avenue West
Park Avenue East and West are twin condo towers on 100 Avenue, just southeast of the Surrey City Centre. A column of three-bedroom, three-storey townhomes connects the two buildings in a standard high-rise formation. The lower residences in the towers are one- and two-bedroom, one-bath units with small balconies. The six upper floors have various two- and three-bedroom units—stunning Surrey penthouses with larger balcony spaces.
Unit kitchens have quartz countertops and marble tile backsplashes, with 24- or 30-inch stainless steel appliance packages. The interiors come in four different colour schemes that owners can choose from. Tile floors are in the living areas, carpeted bedrooms, and in-suite washers and dryers. The luxurious bathrooms have marble tile flooring, quartz countertops, and frameless glass shower doors.
It takes less than 5 minutes to walk from Park Avenue condos to the transit centre. Major shopping, groceries and dining are just across 100 Avenue from the buildings, and the City Centre Mall is another block west of the towers.
Park Avenue East & Park Avenue West Amenities
Fitness Centre & Yoga Studio
24-Hour Surveillance
Swimming Pool & Hot Tub
Assigned Garage Parking
Sky Garden
Tennis
Game Room
Putting Green
Park Place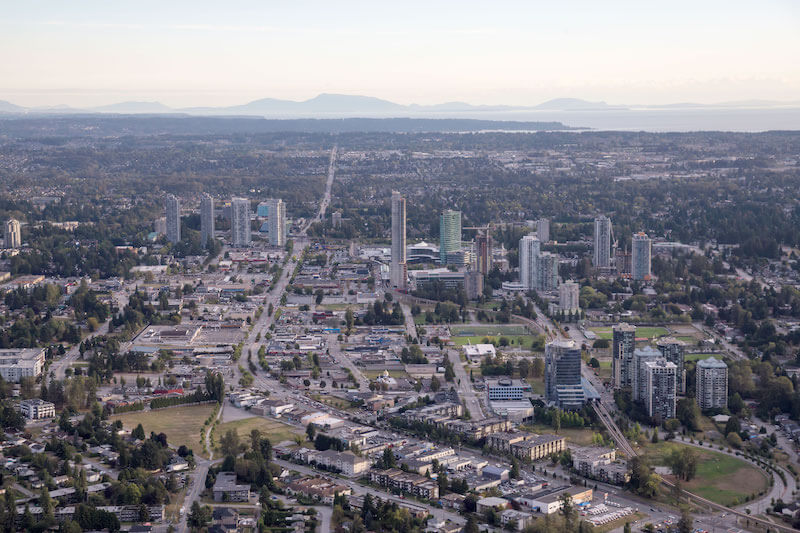 Park Place is another one of the distinguished towers just southeast of the Surrey City Centre and steps away from the transit station. These towers are also just a short walk from the Simon Fraser University Surrey campus and the City Centre shopping mall with more than 130 stores. Park Place boasts over 10,000 square feet of amenities at its Club Central facility.
The two towers at Park Place have ten units per floor, for a total of 700 units on 36 floors. The floor plans are all one- and two-bedroom units, but some have spacious balconies. The two-bedroom, two-bath units are approximately 850 square feet in interior space, though balconies can add as much as 725 square feet of outdoor living space.
The interior finishes all have limestone or oak laminate in the living rooms, kitchens and bathrooms. The bathrooms and kitchens have porcelain tile flooring, and some units have a stainless steel finish upgrade package from when the towers were originally built. All bathrooms have soaker tubs, vanity-length wall mirrors, counter-mounted sinks and ceramic tile accent walls. Park Place was completed in 2012, so it is an established condo community with an excellent reputation.
Park Place Amenities
Concierge Services
Bowling Lanes
Movie Theatre
Billiards & Games Room
Yoga & Pilates Room
Fitness Centre
Outdoor BBQ Area
Steam Rooms
Piano
The Piano is an exquisite luxury condo development with a unique architectural design. The rounded corners and half-oval-shaped towers stand out from the typical rectangular condo tower design. The inviting features of this development make it one of the more exciting new places to live in Surrey City Centre, and its location is central to many of Surrey's iconic restaurants. The Piano's smart safety features and amenities prove that this is truly a 21st-century condo community.
An advanced Artificial Intelligence (AI) program constantly monitors water pressure in the two towers. If a pipe breaks in a typical high-rise, the water only has one direction to go: down. That usually means down to the floors below and down the elevator shaft, causing significant damage and creating a safety hazard. The AI instantly detects significant water flow deviations anywhere in the building and notifies property managers, who can initiate an instant shutdown. This protects everyone's investment in their condo long-term from water damage.
The Piano has one-, two- and three-bedroom condo units with varying balcony sizes. The interiors have two different colour schemes: Crema and Grigio. The kitchens and bathrooms have engineered stone slab countertops and innovative space-saving cabinetry. The open floor layouts and airy designs of the units ensure plenty of natural light. Stunning views and first-rate amenities round out the experience of living at the Piano.
Piano Amenities
Grand Piano Lounge
Soundproof Band Studio
Karaoke Room
Sports & Games Lounge
Landscaped Garden Terraces
Outdoor BBQ Areas
Tai Chi Zone & Yoga Deck
Pet Spa
Quinn
Quinn is a new six-story condo development located about six blocks south of Holland Park in Surrey City Centre. This modern-style architectural development, with its black-framed windows, white and grey background and exposed wood surfaces, may be more attractive for some buyers when compared to a traditional high-rise building. One-bedroom suites start at 652 square feet at Quinn, and two-bedroom units have up to 1,015 square feet.
The spacious interior design of the condos at Quinn allows for full-sized appliances in the kitchens and bedrooms large enough for king-sized beds. Each unit has its own balcony. The height of the building does make it stand out in a residential neighbourhood, but the natural design of Quinn lets it blend in. The building is next to Queen Elizabeth Meadows Park, providing a green space for residents to enjoy.
Even though Quinn is slightly south of the City Centre, it has more shopping options within range of the development. The Quinn's location also makes it great for residents to access Surrey's best outdoor activities. The Cedar Hills Shopping Centre is directly west of Quinn, and the Central City Shopping Centre is directly north. Groceries, specialty shops, restaurants and nightlife spots are also within a short distance.
Quinn Amenities
Indoor & Outdoor Lounges
Residents' Garden Plots
Fitness Centre
Fire Pit
Outdoor BBQ Area
Children's Play Area
Co-Work Space
Games Room
Everyone is Buzzing about Condo Life in Surrey
The Surrey City Centre has changed dramatically in recent years, as the community has been redeveloped and new condos and townhomes are becoming available. Surrey is projected to rival Vancouver in size in just a few more years as the city continues to add jobs and opportunities for newcomers. The fact that there's never a shortage of fun things to do in Surrey doesn't hurt, either. The entire Vancouver, BC area is lovely, and there's nothing like enjoying the views from high above the streets in a world-class condominium.