Best Golf Courses in Surrey
Posted by Katrina Amurao on Friday, July 9, 2021 at 3:29 PM
By Katrina Amurao / July 9, 2021
Comment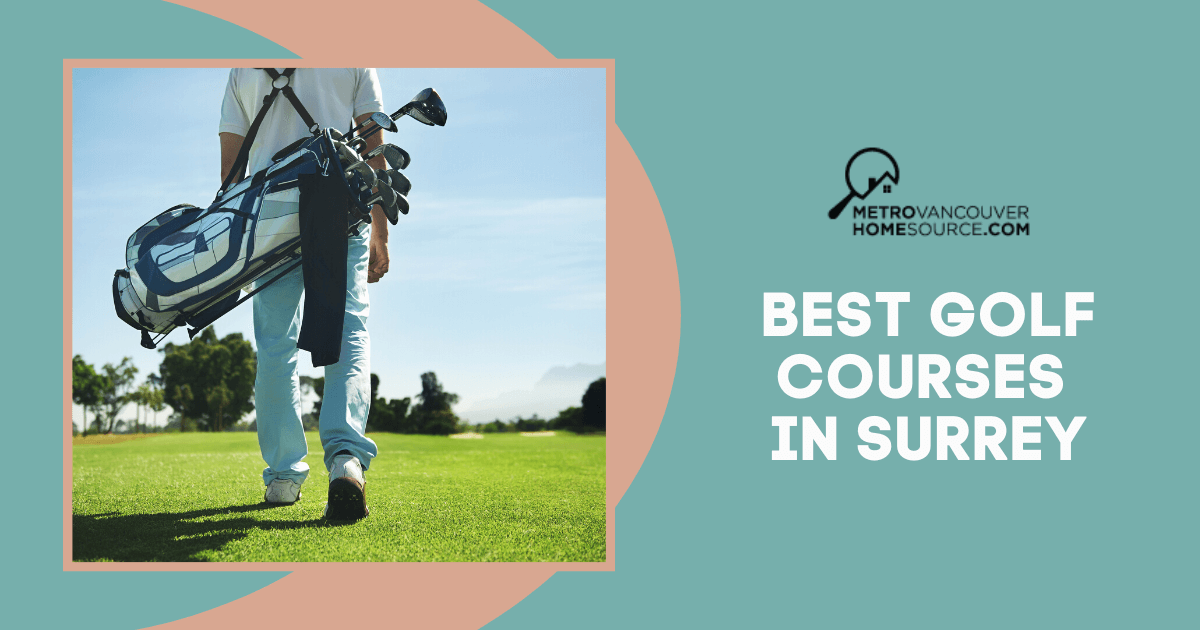 It's undeniable that many residents of Surrey, British Columbia, love spending time outdoors enjoying a variety of Surrey's outdoor pursuits. However, there's one sport that really captivates the Surrey community—golfing.
This might be why so many who reside here or are interested in moving to Surrey show great interest in Surrey's golf course homes nearby the best courses in town. Read on to discover a few favourite public, semi-private, and private golf courses in Surrey.
Morgan Creek Golf Course
As the home of the PGA of British Columbia, the Morgan Creek Golf Course is a premier 18-hole championship course designed by architect Thomas McBroom. Opened in 1995, this is a semi-private course that caters to members and allows guests from the community to play. Known as a modern classic, the course is 6,984 yards from the back tees for a par of 72, with a slope of 136 and a rating of 73.8.
It's a fairly challenging course for all skill levels, and the vistas from the fairways and greens are stunning. Golfers wanting to hone their skills will find top opportunities to learn at the club's performance academy and training center. Private instruction is also available for members throughout the facilities.
Surrey Golf Club
There are two impressive courses to play at the Surrey Golf Club, making both the short and long game an option for players. The full-length 18-hole main course is a par-72 design with just over 6,800 yards of play from the back tees. This is a fairly challenging course with long fairways and steeply sloped greens, so strong putting skills are needed to make or beat par.
The second option for players at the Surrey Golf Club is a 9-hole course called The Willows. It's a nice combination of par 3s and 4s with one par 5. This short course has an overall par of 32 and is a top choice for anyone new to the game or wanting to warm up before taking on the main championship course. Cart and club rentals are available at the pro shop, and private lessons are offered by the onsite experts.
Peace Portal Golf Club
Located in the White Rock area of Surrey, the Peace Portal Golf Club is open to the public and was established in 1928. Because of its long history and top-notch facilities, the club has received a four-star rating from Golf Digest and accolades as one of the top 100 public courses in Canada by Canada's Golf Ranking Magazine.
This 18-hole championship course is 6,388 yards from the back tees for a par of 72, with a 70.1 rating and 126 slope. The Peace Portal Golf Club also has a large grass practice space that includes a driving range, a putting green, and a chipping green. Head to the clubhouse for drinks and light fare that can be enjoyed on the outdoor patio.
Guildford Golf and Country Club
The championship course at the semi-private Guildford Golf and Country Club offers 6,502 yards of par-72 play from the furthest tees. Since 1966, locals and visitors to Surrey have become huge fans of the club, dubbing it as one of the finest in all of British Columbia.
Players will find plenty of challenges throughout each hole. The fairways are lined with tall trees, and a lovely creek creates additional tests on several holes. The greens are huge, so accuracy is a must to hit par here.
After a game, guests can head to Bunker's Bar & Grill for drinks and a casual dining experience. They serve breakfast, lunch and dinner, which can be enjoyed inside or on the patio overlooking the third hole.
Hazelmere Golf & Tennis Club
The inspiring course at the private Hazelmere Golf & Tennis Club spans 6,806 yards across 18 holes for a par of 72. The course is rated 72.4 with a slope rating of 136. First opened in 1962, this lush course hosts the Canadian Tour's Greater Vancouver Charity Classic annually.
The clubhouse has just about every amenity a golf enthusiast could desire, from a stunning practice facility with virtual reality machines to a putting green and much more. Private lessons are available from noted golf pros.
There's also a world-class tennis facility at Hazelmere that members can enjoy. Memberships here are sold through the West Coast Golf Group, and the annual pass offers access to 120 rounds of golf, unlimited tennis, and other perks.
Eaglequest Golf
Eaglequest Golf at Surrey's Coyote Creek is a mid-length, 18-hole, par-65 course amid a tree-lined setting filled with local wildlife. The creek plays a pivotal role in the need for accuracy to avoid losing a few balls. It's definitely long enough to let players pull out all the clubs in their bags, but it's forgiving enough to let golfers get by with just a few.
Golfers of all abilities will find holes to test their skills, and even pros might learn something here. Eaglequest Golf has courses throughout British Columbia, with each offering lessons and instructional courses for specific topics revolving around gameplay, equipment, and mental prep.
Nico Wynd Golf Club
Since 1979, golf lovers have been heading to Nico Wynd Golf Club in Surrey to get conditioned on their short game. This par-35, nine-hole course has four tee blocks, allowing everyone a chance to make par regardless of their handicap. Along the scenic shores of the Nicomekl River, be ready for a few water challenges mid-fairway.
The course is well-conditioned and boasts a nice variety of hole designs with picturesque touches. Expect a few fountain ponds to greet players on the greens. After a game, guests can relax on the patio deck with concessions while soaking in views of the majestic North Shore mountains.
Love Golfing? Explore These Top Golf Courses in Surrey!
Between the moderate seasonal weather, affordable housing options, and many things to do in Surrey, this community is a very desirable place to live. Its proximity to the bustling excitement and opportunities in the Vancouver community only adds to this community's grand appeal.
Surrey golfers don't have to go very far to find some of the top golf courses in the province. Be sure to book tee times early. Those who want to enjoy extra perks at clubs should consider investing in a seasonal or annual membership.