Live Near the River: 5 Best Metro Vancouver Neighbourhoods Near the Fraser River
Posted by Katrina Amurao on Tuesday, April 4, 2023 at 9:00 AM
By Katrina Amurao / April 4, 2023
Comment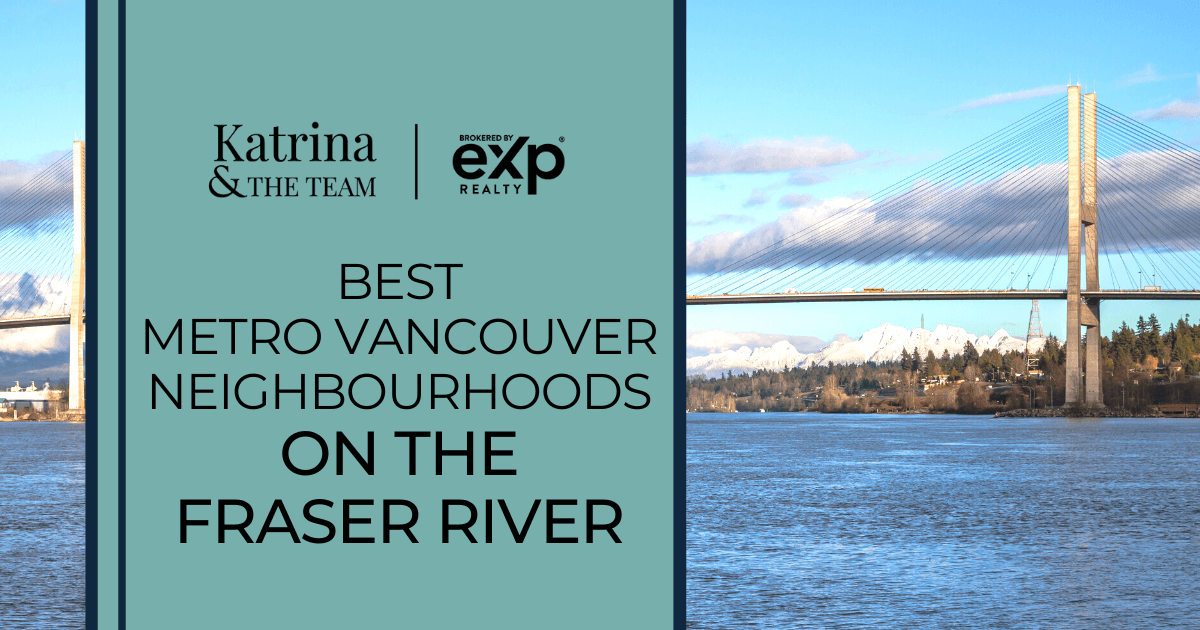 The Fraser River is one of British Columbia's most accessible and beautiful rivers. Snaking its way through the metro area around the city of Vancouver before emptying into the Salish Sea, it's provided food, jobs, recreation, and great views for generations of British Columbians. Those looking to put down roots along the river have many communities to choose from, but some stand out above the rest—from the water activities in Surrey to the more rural and wide-open city of Langley. Read on as we explore five of the best choices and what they have to offer.
The River District, Vancouver
Homebuyers looking to live on the Fraser River while staying close to downtown Vancouver jobs, amenities, and attractions should check out the River District. Spanning more than 130 acres, this master-planned community sits along the water south of Marine Drive and west of Boundary Road in the Champlain Heights neighbourhood.
A relatively newly developed neighbourhood, it's known for its variety of homes, shopping, proximity to Vancouver's best neighbourhoods, and views of the Fraser River. This makes it easy to take care of errands, grab dinner at restaurants like Sushi Mura, or get out into nature, all steps from home. This only promises to improve as the community fills out in the coming years. Meanwhile, downtown Vancouver is just over 20 minutes away, with popular parts of Richmond and the city of Burnaby even closer.
As with many dense, mixed-use neighbourhoods, housing in the River District is made up exclusively of townhomes and condos or other multifamily units. Many are new construction, while even the oldest have seen just a few years of use. Vancouver condos in the area start in the mid-$600s and reach nearly $3 million for spacious three-bedroom properties. Townhouses in the River District list from just under $1 million, though homebuyers can plan for double that price on the high end.
The River District Amenities
Convenient shopping/local services
River District Neighbourhood Centre
Fraser Foreshore Trail access
Convenient to Everett Crowley Park, Fraserview Golf Course
Lookout Park
Downtown New Westminster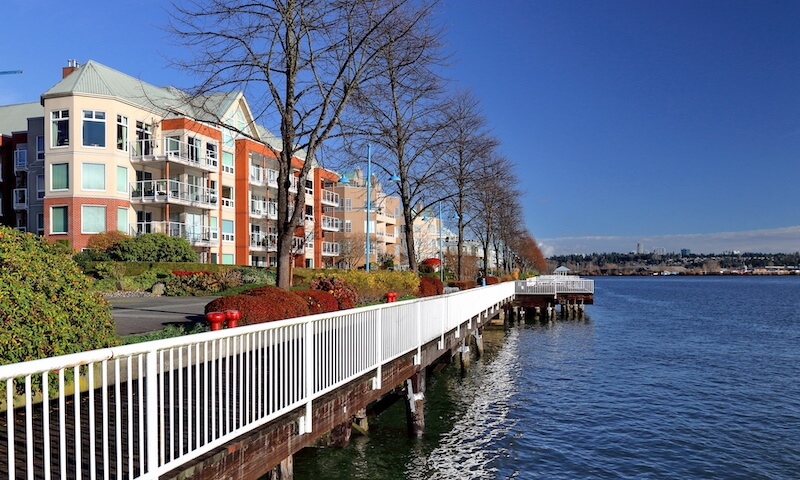 The downtown area of the city of New Westminster is a thriving, highly walkable community along the Fraser River filled with parks, restaurants, shops, and much more for residents to enjoy. One of the most popular places to take in the city's gorgeous riverfront is Westminster Pier Park, full of green spaces, public art, a playground, sports fields, and more. There's even a beach, though it's artificial and doesn't have access to the river due to the rapid currents in the area.
A few blocks away, residents can find almost any cuisine imaginable, from Thai or Ukrainian to casual hamburgers or fish and chips. The community hosts frequent public events like festivals, concerts, trivia/open mic nights, and more. While plenty is happening in New Westminster, it's easy to make the trip to Vancouver, a quick drive on Highway 1A or a train ride on the Expo Line.
Most of Downtown New Westminster's homes are condos or other multifamily buildings. These can be found from the high $300s, with most units selling from the $500s to $1 million. Luxury condos can even reach $1.5–$2 million or more. New Westminster's single-family homes list from $1.5 million to just under $3 million for often-spacious properties with up to six bedrooms.
Downtown New Westminster Amenities
Expo Line rail stop
Extensive dining/shopping scene
Westminster Pier Park
Waterfront Esplanade and Park
Fraser River Discovery Centre
Tipperary Park
Douglas College New Westminster Campus
Guildford, Surrey
Set on Surrey's northeastern tip along a bend in the Fraser River, Guildford is one of the city and area's most popular communities. The neighbourhood began growing with the opening of the Port Mann Bridge in the 1960s, and the construction of the still-bustling Guildford Town Centre shopping mall accelerated development and drew many new residents moving to Surrey.
Guildford offers one of the best natural spots to experience the Fraser River, Surrey Bend Regional Park. Residents can enjoy miles of Surrey's best hiking trails through forests, marshes, and other habitats teeming with wildlife and gorgeous river views. Central Surrey is also just a short drive away, home to a diverse dining scene and an Expo Line rail stop.
Roughly half the homes in Guildford comprise single-family detached homes, with the remainder split between condos and townhouses. Condos (mostly clustered around the area's west side) are Guildford's most affordable options, selling from the high $200s to the mid-$700s. Townhouses sell from around a half million to roughly $1.25 million. The Surrey single-family homes in Guildford start around $1 million but can reach $5–$7 million for luxury properties on large lots.
Guildford Amenities
Guildford Town Centre shopping mall
Surrey Bend Regional Park
Tynehead Regional Park
Guildford Recreation Centre
Convenient to Trans Canada Highway, Fraser Highway
Steveston, Richmond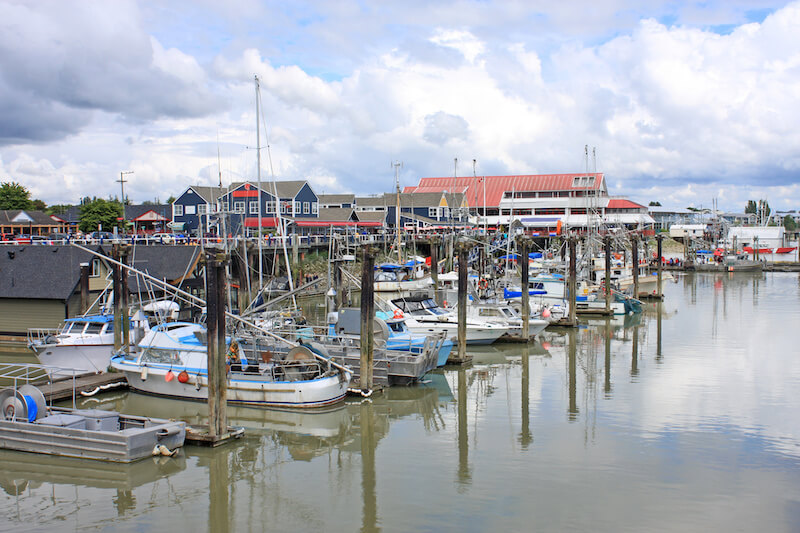 Steveston sits at the mouth of the Fraser River in the southwestern corner of the city of Richmond, one of Vancouver's best suburbs. It's a chance to step back into a charming fishing village that provides access to modern conveniences and perks. Much of the area has been protected as a heritage zone for decades, helping preserve the local charm and historic sites like Britannia Shipyard Historic Site.
Also along the riverfront are the famous Steveston Harbour and Fisherman's Wharf, where fresh fish sales mix with incredible views and rustic character. The blocks around this area are packed with restaurants, small businesses, bars, small businesses, and other historic sites, making it one of the most delightful areas to spend an afternoon or evening. In addition, lovers of nature and the water will spend plenty of time at the neighbourhood's Garry Point Park, which occupies a beautiful swath of green space where the Fraser empties into the Salish Sea.
Home shoppers searching in the Steveston neighbourhood will find that most homes are single-family detached properties, ranging from more modest ranches starting north of $1.25 million to spacious, newly updated or constructed properties that reach $3.5 million. A more limited selection of Richmond condos and townhomes can be found from around half a million to just over $2 million.
Steveston Amenities
Garry Point Park
Steveston Community Park
Imperial Landing Park/Fishing Pier
Steveston Fisherman's Wharf/Harbour
Steveston Harbour Authority marina
West Dike Trail access
Fort Langley, Langley Township
The Fort Langley neighbourhood may be the most far-removed from Vancouver on our list, roughly 50 kilometres east along the Fraser River opposite McMillan Island. However, home shoppers shouldn't miss out on this historic town, which traces its roots to an actual fort that occupied the site from the early 1800s and was once a popular stop for gold-seekers heading east.
A historic site commemorating this fort is still a top local attraction, located within the quaint, walkable downtown area. Here, residents can grab a meal and a drink at the Trading Post Eatery or relax with a good story and a coffee at Wendel's Bookstore and Cafe, among numerous other options. Active residents will also love the beautiful Fort to Fort Trail, a four-kilometre walking and biking trail from downtown to Derby Reach Regional Park.
Langley single-family homes are the most common type of housing in Fort Langley, though the small town does offer a few townhouses and condo developments. This latter group provides the most affordable options, selling from the high six figures to just over $1.25 million. Detached homes start at the top of this range, reaching $4–$5 million for newly built luxury homes.
Fort Langley Amenities
Fort Langley Park
Fort to Fort Trail access
Derby Reach Regional Park
Fort Langley Marina
Numerous nearby golf courses
Fraser River Life Awaits Near Vancouver, BC
From close-in areas of Vancouver to Surrey's waterfront neighbourhoods, with peaceful river towns surrounding, communities along the Fraser River provide some of the most diverse options in BC and all of Canada. With homes available in nearly every style and price point, they're, without a doubt, some of the best places to call home.