Best Neighbourhoods in Surrey: Surrey, BC Community Living Guide
Posted by Katrina Amurao on Tuesday, April 6, 2021 at 7:37 AM
By Katrina Amurao / April 6, 2021
Comment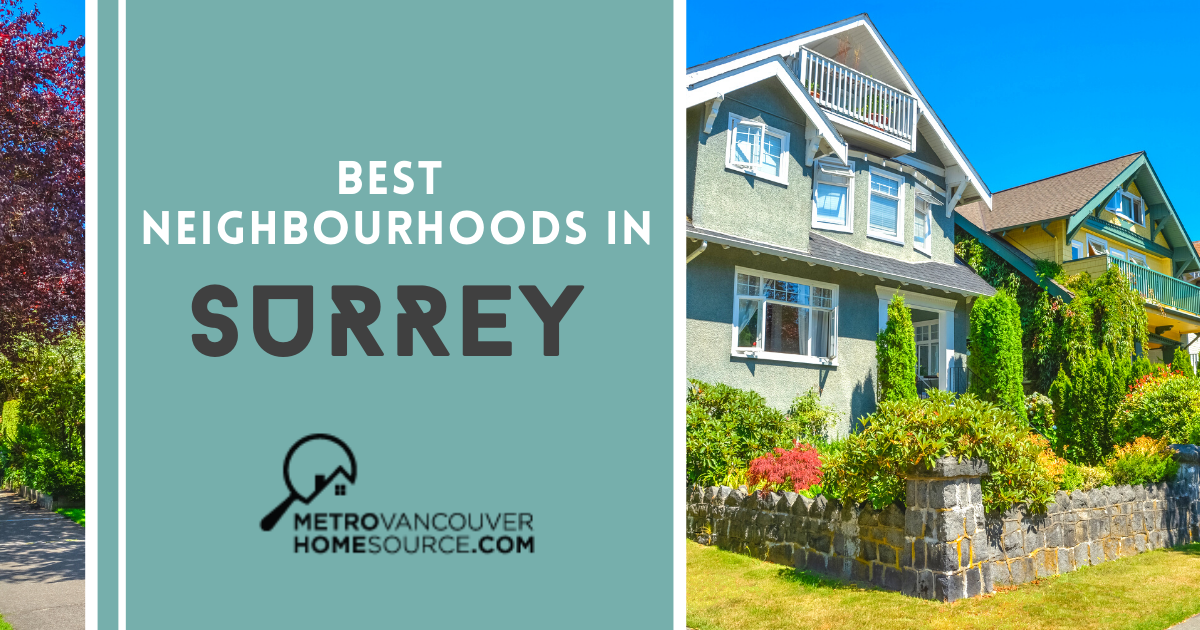 Surrey, British Columbia, is one of the fastest-growing communities in western Canada. While it is still considered part of Metro Vancouver, Surrey is projected to overtake the central city as the population centre within the next decade. The 2016 population was estimated at 517,887, not far behind the Vancouver census result of 631,486.
After its incorporation in 1879, the region grew into a bedroom community for Burnaby and Vancouver. However, during the 1980s and 1990s, a tremendous population surge brought industry and character, resulting in new residents in different neighbourhoods. Each area has its unique amenities and quirks, making advanced research an essential step for those moving to this city.
Here are a few of the best neighbourhoods in Surrey, BC.
Morgan Creek
Morgan Creek Amenities
Strong Foundations Learning Centre
Morgan Creek is a planned community surrounding one of the most popular golf courses in British Columbia. The nearby areas are lush with the Agricultural Land Reserve and nearly two dozen blueberry farms. The borders of Morgan Creek are 40th Avenue, 32nd Avenue, 168th Street, and 152nd Street.
New purchasers can find well-manicured green space and executive-style family homes on large lots. Golf course homes afford extraordinary views of the beautiful fairways at Morgan Creek Golf Club, while new construction projects have also introduced deluxe condominiums and townhomes to the area. Best of all, the community is minutes away from some great speciality and everyday retail businesses.
Morgan Creek Hotspots
Morgan Creek Restaurants
Krishnas Curry and Crepes House
Newton
Newton Amenities
Joe Brown Park
Corrigan Park
Delta View Park
Formerly the site of Surrey City Hall, Newton has a population of about 149,040 and is named after a settler to the area from the 1800s. The region's boundaries are 120th Street, Colebrook Road, and 152nd Street. Both 80th Avenue and 88th Avenue combine to set the northern edge.
For many people, Newton is considered a cultural heart of Surrey. The neighbourhood includes the Newton Cultural Centre and Bell Performing Arts Centre, among other facilities.
Sunnyside Park
Sunnyside Park Amenities
Bell Park Tennis Courts
The South Surrey Bike Park
South Surrey Recreation and Arts Centre
South Surrey Indoor Pool
Surrey Public Library Semiahmoo Branch
A central part of South Surrey, Sunnyside Park is another planned residential community. The area features an eclectic mix of classic homes, newer construction, and condominiums. Many of the houses are mere blocks away from White Rock Pier, Boundary Bay, and Semiahmoo Bay. The area is also close to shopping, outdoor recreation, and beaches. The name of the neighbourhood comes from the fact that it is on Surrey's sunnier side as part of the south slope.
One of the most exciting community offerings is the Sunnyside Acres Urban Forest, which the Sunnyside Acres Heritage Society manages. The group provides guided tours for many of the park's trails, and facilities include grounds for softball and hockey.
Sunnyside Park Hotspots
Sunnyside Park Nightlife
Sunnyside Park Cafés
Tim Hortons Coffee
Starbucks Coffee
Sunnyside Park Restaurants
Clayton
Clayton Amenities
Hazelgrove Park
Katzie Park
Several public schools
By many accounts, Clayton is one of the best places to live in Surrey. With various public schools and parks, one of the community's main attractions is Clayton Heights Secondary School, which is surrounded by townhouses, condominiums, and single-family houses.
The neighbourhood is bordered by Fraser Highway, 200th Street, 64th Avenue, and 80th Avenue. Much of the tremendous growth to Surrey is expected to settle around Clayton. As a result, several new developments are being sought to enhance the housing stock.
Fleetwood
Fleetwood Amenities
Located in the north-central area of Surrey, Fleetwood is another fast-growing community. As one of the smallest town centres, it is also home to some of the newest developments in response to recent growth. The neighbourhood is known for lovely parks, agricultural fields, and comfortable residences. Fleetwood's boundaries are 76th Avenue, 96th Avenue, 144th Street, and Newton Town Centre to 172nd.
As part of acknowledging the growth, Surrey leadership is currently working to extend the SkyTrain to provide Fleetwood with the Expo Line Fraser. The change will better connect the Vancouver area public transportation system to more locations across Surrey.
Fraser Heights
Fraser Heights Amenities
Ridgeview Park
Fraser Heights Duck Pond Park
Located in North Surrey, Fraser Heights can be considered the actual centre of the Greater Vancouver community. The boundaries are the Fraser River and Highways 1, 17, and 15. Fraser Heights serves as a crossroads between Vancouver and Surrey and as an entry point for Guildford traffic. However, the neighbourhood has also developed as a manicured residential area.
Fraser Heights contains many designed benefits, including a dozen parks, wide streets, and plenty of creeks and ponds. From various areas in the community, residents can enjoy breathtaking views of rivers or mountainsides. Altogether, more than 20,000 people call the centre home.
Fraser Heights Hotspots
Fraser Heights Shopping
Fraser Heights Restaurants
Cloverdale
With more than 65,000 people, Cloverdale is large enough to be a city by itself. Located west of Langley, Cloverdale began as a farming collective in the 1870s. The neighbourhood grew into a historical centre of Surrey, containing sites like the city's official museum. With the development of the railroad in the late 1800s, Cloverdale gained its name as a stop on the Great Northern Railway.
Over the next few decades, the area grew slowly, eventually reaching a population of 5,000 in the late 1960s. Today, the community includes a Kwantlen Polytechnic University (KPU) campus and hosts one of the most significant Canada Day Events in Western Canada. The downtown areas also serve as the setting for television shows like the CW drama Smallville, which has lead to a mini tourism boom.
Discover Surrey's Best Neighbourhoods Today
Surrey is a thriving, growing region with plenty of opportunities and a low cost of living compared to its sister cities. Many of these centres seem to have endless amenities while being only minutes away from even more popular attractions. With the vast diversity of entertainment options, including fresh air activities, the community could easily provide a home to anyone.