7 Best Vancouver Neighbourhoods: Best Places to Live in Vancouver
Posted by Katrina Amurao on Thursday, January 5, 2023 at 8:59:59 AM
By Katrina Amurao / January 5, 2023
Comment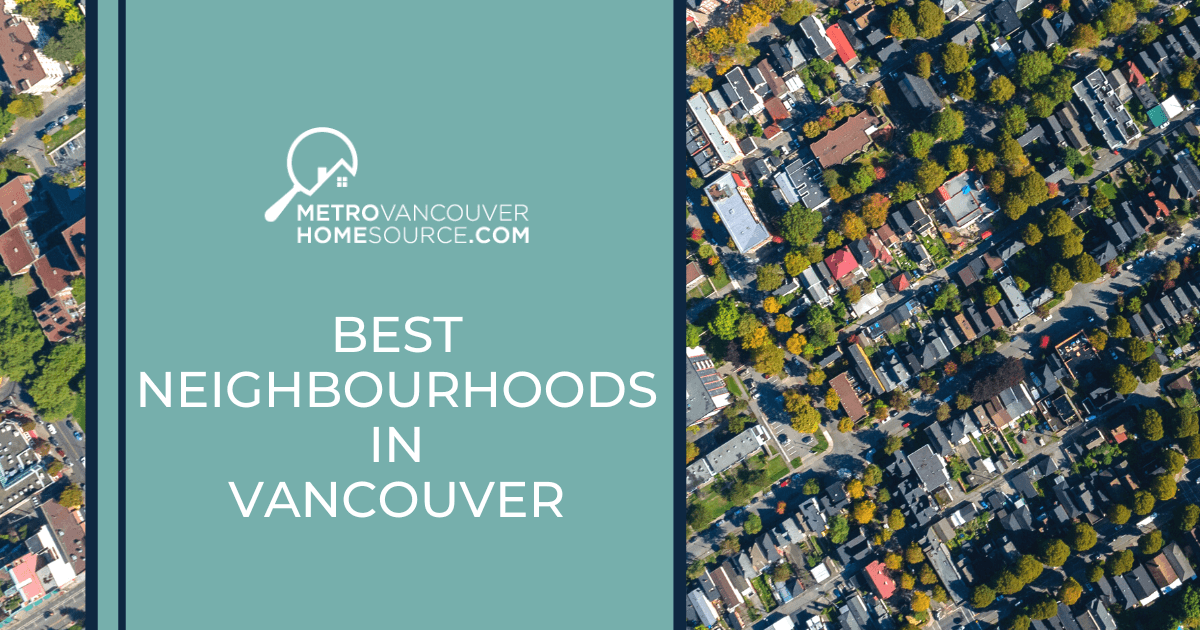 Vancouver is one of the most popular cities in British Columbia and all of Canada, and for current and future residents, it's easy to see why! This bustling, vibrant city offers a booming economy; some of the best and hippest restaurants, bars, and shopping; and easy access to the region's gorgeous scenery. Those looking to buy one of Vancouver's homes for sale are lucky enough to have a wide variety of high-quality neighbourhood options, each with its own distinct personality, housing styles, and amenities. Read on as we explore seven of the best neighbourhoods in Vancouver
Mount Pleasant
The historic but rapidly developing neighbourhood of Mount Pleasant is located north of East 16th Avenue between Cambie Street and Clark Drive, near the core of the city. It was once known for some of Vancouver's best water, drawing beermakers to what was then known as "Brewery Creek." After a period of industrialization, Mount Pleasant has seen a renewed spike in interest in recent decades.
Today, it's centred around a vibrant shopping district at the intersection of Main Street, Kingsway, and Broadway. This is also the site of some of the area's best restaurants, like local favourite Fable Diner or Cuban cuisine at Tocador. With various amenities like community parks, transit access, and even City Hall, it's easy to see what makes the area so "pleasant."
Options for homes in Mount Pleasant are mostly made up of condos and other multifamily units. However, a smaller selection of single-family detached properties and townhomes are also available. On the low end, low- and mid-rise condos can be found from around half a million dollars, with townhomes starting in the high six figures and detached houses in the $1.5 million range. However, single-family homes for sale in Mount Pleasant list from $1.5–$3 million, while luxury condos in the neighbourhood can list for more than $5 million.
Mount Pleasant Amenities
Bustling shopping and restaurant district
Mount Pleasant Community Centre
Numerous neighbourhood parks
Canada Line rapid transit service
Vancouver City Hall
Mt. St. Joseph Hospital
West End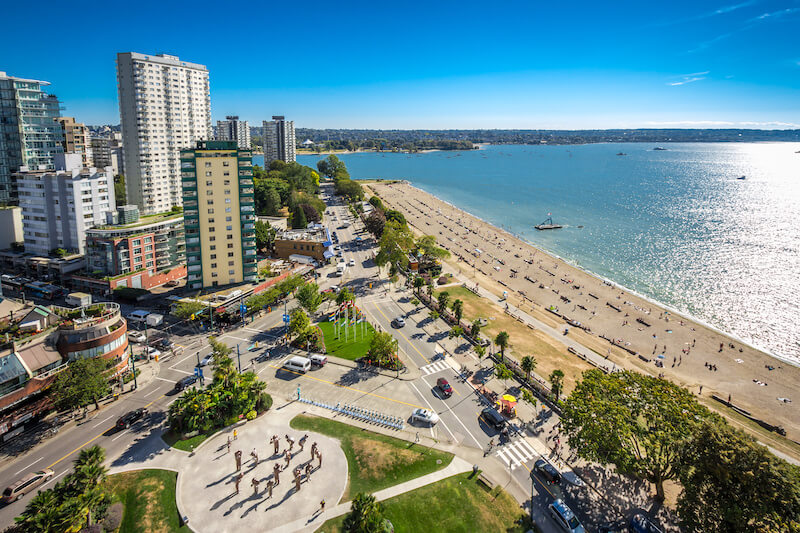 Just northwest of the downtown core, West End sits on a peninsula, surrounded by English Bay and Vancouver Harbour on either side. It also sits just south of Vancouver's famous Stanley Park, one of the country's best urban green spaces. Residents can enjoy 400 hectares of environments ranging from beaches to mountains to forests, with various outdoor activities and other fun like the Vancouver Aquarium.
West End is also home to several other public parks and beaches, making it one of the best areas of Vancouver for lovers of the outdoors who want to remain close to everything. Residents have access to several different retail, dining, and nightlife corridors, from the high-end shopping of Robson Street to local restaurants and small local stores along Denman Street.
As one of Vancouver's denser and more developed areas, housing in the West End is almost entirely made up of condos and other multifamily units. Homes for sale in West End list from the mid-$300s for compact one-bedroom units. On the flip side, spacious, high-end condo units with luxury finishes and upwards of 2,500 square feet of living space can reach the high single-digit millions or more. The majority sell from the $500s and up to $2.5 million.
West End Amenities
Adjacent to Stanley Park
Numerous shopping/dining/nightlife areas
Sunset Beach Park
English Bay Beach
St. Paul's Hospital
Kitsilano
Waterfront vibes and beachy character define Kitsilano, a unique community that spans an area from English Bay south to West 16th Avenue, between Burrard Street and Alma Street. Often referred to by the locals as "Kits," the area's most famous feature is Kitsilano Beach, which offers a sandy escape for warm-weather relaxing, an outdoor pool, sports facilities, and other amenities.
Further down the waterfront, residents can enjoy a cluster of museums, including the Museum of Vancouver and the Vancouver Maritime Museum. Kitsilano also provides a wide variety of shopping and dining options in multiple corridors along West 4th Street and West Broadway. Kitsilano is also a dream for walkers, runners, and cyclists, with extensive public paths along the water as well as the Arbutus Greenway, a nearly 9-kilometre stretch of former rail tracks that's been converted to a popular trail stretching from the Marpole neighbourhood to near Granville Island.
Kitsilano properties are relatively evenly divided between condos, townhouses, and single-family detached homes. Condos make up the most affordable part of the market, starting in the high $500,000s. Townhouses start in the high six figures, while single-family homes for sale in Kitsilano start at $2 million. Kitsilano's highest-end homes—often new construction or heavily renovated properties near the water—can sell from $5-15 million.
Kitsilano Amenities
Kitsilano Beach Park
Vanier Park
Numerous museums and attractions
Kitsilano Community Centre
Arbutus Greenway
Coal Harbour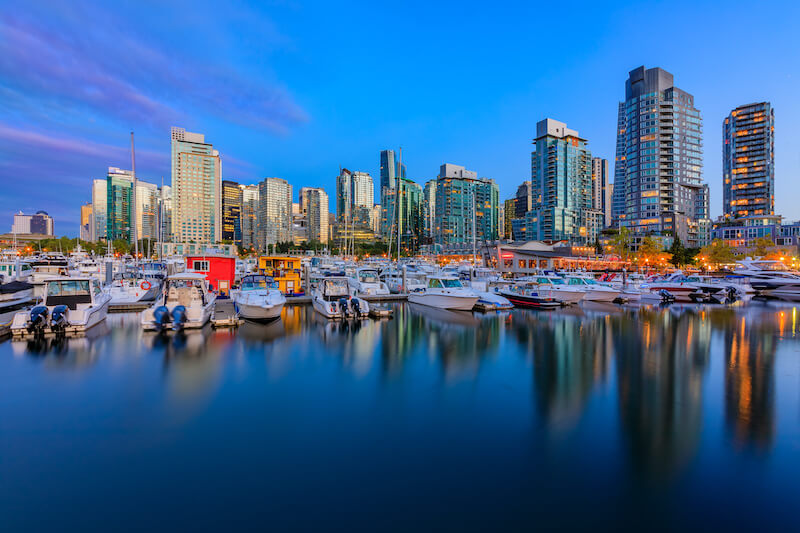 Those looking for waterfront living just a short distance from downtown and other top Vancouver neighbourhoods may find the home they're looking for in Coal Harbour. It's made up of just a few blocks, bounded by the harbour, West Georgia Street, and Burrard Street. The area's biggest draw is the nearby Canada Place, a sprawling convention centre complex surrounded by parks, public art, tourist attractions, waterfront walking paths, and more.
Residents can enjoy a variety of dining options along the waterfront area, from casual local spots to fine-dining hotel restaurants. With a steady supply of business from conventioneers and other tourists, there's always something new and different available in Coal Harbour. Meanwhile, the unspoiled natural spaces of Stanley Park are also just a few minutes up the road.
Coal Harbour homes are almost exclusively mid- and high-rise condos due to the neighbourhood's dense, compact design. The community's most affordable units start in the high $400s. Most sell from $1–$4 million, but ultraluxury units on upper floors can reach $10 million, providing spacious living quarters and exceptional city and water views.
Coal Harbour Amenities
Canada Place convention centre
Harbour Green Park
Close to Stanley Park
Expo Line, Canada Line rapid transit service
Vancouver Ferry terminal
Vancouver Harbour Flight Centre
South Granville
Shoppers, foodies, and lovers of culture of all kinds will feel right at home in South Granville, another popular and centrally located Vancouver community. The neighbourhood comprises the blocks surrounding Granville Street, south of Granville Island and False Creek. What was once a rural escape from downtown Vancouver in the early 20th century has since developed into one of the city's most sophisticated destinations.
The neighbourhood is home to chic fashion boutiques, gourmet restaurants from various cuisines, and an incredible selection of art in high-end galleries and spread throughout South Granville's public spaces. There's also live theatre and a thriving spa scene, making it truly one of Vancouver's most exciting communities.
Homes for sale in South Granville are among the most expensive in the city. Modest one-bedroom condos can be found in the high $500s, though single-family homes list from $2.5 million to more than $20 million.
South Granville Amenities
Extensive arts, shopping, dining, and nightlife options
Granville Loop Park
Granville Island Water Park
Yaletown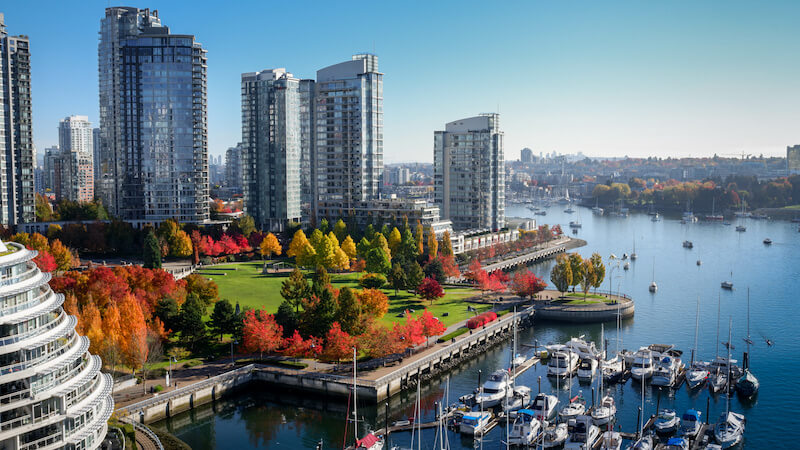 Yaletown is a thriving Vancouver community that's been transformed into one of the city's hottest neighbourhoods in the decades since the 1986 World's Fair revitalized the area. The community is set just south of downtown along the shores of False Creek. This central location makes it easy to access nearly every popular Vancouver neighbourhood in just minutes, whether by car, public transit, or on foot. Many of Yaletown's historic buildings were initially used as warehouses and other industrial spaces, lending a modern charm to current uses as loft apartments, quirky shops, or chic restaurants with often extensive outdoor space.
Yaletown is another beautiful community for those who love the outdoors, with walking trails and waterfront parks like David Lam Park and George Wainborn Park. Residents can also stroll over and catch a game at BC Place, home to the CFL's BC Lions, MLS' Vancouver Whitecaps FC, and other local teams.
Yaletown's former industrial and commercial character means housing is almost entirely made up of condo-style properties, many in renovated loft spaces or similar unique properties. These Yaletown homes for sale list from the $500s but are available through a broad price spectrum, with some priced up to $5 million. Two- and three-bedroom townhomes typically list from $1.25 million to more than $3.5 million.
Yaletown Amenities
Multiple waterfront parks
BC Place stadium
Plaza of Nations
Roundhouse Community Arts & Recreation Centre
Parque Vancouver Casino and Resort
Shaughnessy
Shaughnessy offers a quieter, primarily residential escape for Vancouverites who still desire to be close to the city's most bustling and exciting communities. It's located south of West 16th Avenue along Granville Street, spanning several blocks in each direction. Leaders of the Canada Pacific Railway initially conceived Shaughnessy as a community designed to entice the city's upper crust, which contributed to the neighbourhood's healthy share of Vancouver luxury homes.
This influence can still be felt today, with homes for sale in Shaughnessy among the city's most luxurious, spacious, and priciest dwellings. Typically, homes list from $3 million, with plentiful options priced above $10 million. Shaughnessy's top-end properties often include six-plus bedrooms and 10,000 square feet of living space, selling for $20-plus million.
While Shaughnessy residents may feel a world away in their beautiful homes, one of the community's most significant benefits is that it's only about five kilometres from the heart of downtown. It's a quick, straight shot down Granville Street, which is also served by buses for those who want to leave the car at home. Even closer, South Granville's vibrant shopping, dining, and nightlife corridor is just a few blocks down the road.
Shaughnessy Amenities
Easy, direct access to downtown and South Granville
VanDusen Botanical Garden
Shaughnessy Park
Quilchena Park
Vancouver's Top Communities Are Waiting For Homebuyers
Vancouver's delightful, diverse neighbourhoods have an incredible amount to offer locals and soon-to-be residents. Buyers can choose everything from sleek, modern high-rise condos to sprawling luxury estates, all set throughout communities that provide some of the city's best parks, attractions, shopping, dining, and nightlife. And beyond city limits, Vancouver's best suburbs are ready to please those interested in a more residential setting. While it's hard to go wrong with any of these top neighbourhoods, those moving to Vancouver may have difficulty settling on just one!