Best Outdoor Activities in Surrey, BC
Posted by Katrina Amurao on Monday, April 26, 2021 at 11:00 AM
By Katrina Amurao / April 26, 2021
Comment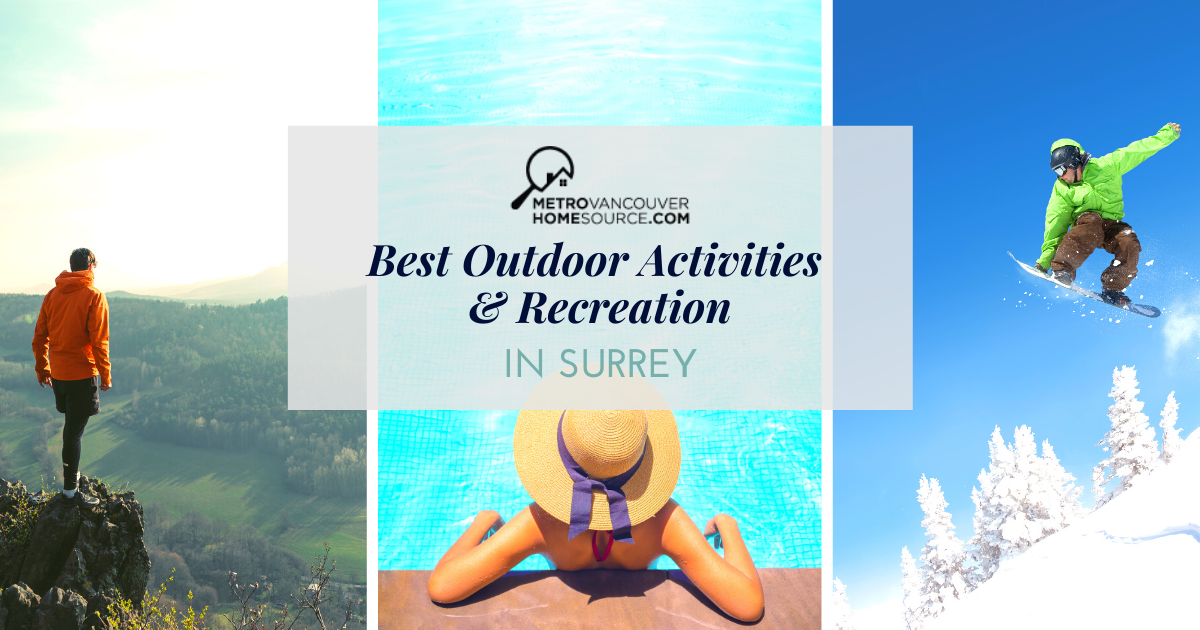 Nestled between the mighty Fraser River and the U.S. border is the vibrant British Columbia city of Surrey. Once one passes through Provincial Park's impressive Peace Arch and enters into these lands, they know they are going somewhere special. As Metro Vancouver's second most populated city, Surrey has plenty of land and water adventures throughout the region.
Of course, the great outdoors is very popular with locals and travellers who seek the respite of rivers and creeks, those who crave the fresh air, and those looking for challenging mountains and snow-filled escapades. The following information explores some of the best outdoor activities in Surrey.
Water Recreation in Surrey
Water abounds around Surrey, with indoor and outdoor explorations awaiting residents and visitors to the area. Amid the categories of riverside recreation and state-of-the-art swimming facilities, locals love the Grandview Heights Aquatic Centre and Crescent Beach.
Grandview Heights Aquatic Centre
Hours: Monday – Friday 8:30 a.m. – 4:30 p.m.
Grandview Heights Aquatic Centre is where people relax, work out, take classes, and do physical therapy. It's not uncommon for people to see professional and amateur swimmers and other athletes honing their skills. This multi-use facility is spacious and has seating for 800 people.
There is a large 500-square-metre pool and a separate 10-lane Olympic standard competition pool for speed and style training. Diving enthusiasts take advantage of a dedicated dive pool that boasts several platforms of varying heights that top out at 10 metres. The aquatic centre also boasts hot tubs, steam rooms, saunas, water slides, spray features, and a lazy river.
Crescent Beach
As a place with landmarks, lovely shorelines, local sports lessons, and a hideaway cove, Crescent Beach is an adventurous place for water fun. Here, the historic Wickson Pier, Blackie Spit Park, and the Alexandra Neighbourhood House still stand. The Crescent Beach Swim Club offers lessons and competitions for tennis, volleyball, sailing, swimming, water polo, and triathlon training. At the bottom of the beach staircase is a small strip of shoreline at White Rock, where many swimmers go in the buff.
Surrey Hiking & Biking Trails
The hills, mountains, and valleys in the area make Surrey hiking and biking trails prevalent destinations throughout the year. There are paths of varying degrees of difficulty, with each leading to intriguing views and experiences.
Tynehead Regional Park
There are six easy to moderate trails with rewarding vistas and opportunities to see wildlife at Tynehead Regional Park. Some trails are more popular with cyclists, and others are for hikers only. The park is dog-friendly and offers off-leash areas, meadows, and water for them to play in. There is also a butterfly meadow and a fish hatchery on the western side of the park.
However, the east side of Tynehead is where the Serpentine Trailhead starts the journey towards the Serpentine Hills and the Loop Trail. Some have steep inclines, while others are perfect for those who prefer to take it easy. Visitors can bring a picnic lunch to enjoy by the river.
1001 Steps
The zigzagging hike at 1001 Steps isn't actually that many steps, but there are quite a few to contend. Visitors start at a nice elevation paralleling the Burlington North railway line, where after about 200 metres, an underpass leads to the beach. There are magnificent ocean views with sea life abundantly available for viewing and photography purposes.
Parks in Surrey
Redwood Park is a large, forested area filled with five kilometres of exotic trees, trails, picnic shelters, and an interactive playground. Summer is excellent for hiking and biking while the hills transform into a sledding area during winter. Visitors shouldn't miss the Sierra Redwoods to see some of the world's tallest tree species.
Other popular parks in Surrey include Unwin Park, which has a variety of sports facilities; Blackie Spit Park, which features a dog beach; Green Timbers Urban Forest, the "birthplace of reforestation" in British Columbia; and many more. Surrey is also home to a number of popular golf courses.
Mountain Adventures in Surrey
Naturally, mountaineering and taking on the terrain's challenges is a part of winter life for many in Surrey. Before taking on the mountains, people can train at Mountain Skill Training Academy, where leading educators help students hone skills such as avalanche training, ski and split-board clinics, first-aid certifications, mountaineering, and rock climbing.
Mount Seymour Provincial Park is just a half-hour from Vancouver and boasts several trails with varying lengths and difficulty levels. The upper trails are restricted to mountain hikers, while cyclists must stick with the lower trails. The rewards include spectacular wildlife sightings and remarkable views of Mount Baker, Vancouver, and Indian Arm Provincial Park.
Winter Activities in Surrey
Winter is a major season for getting out and enjoying the landscapes and snow masses in the region. One of the best places for winter activities in Surrey is Mount Seymour Provincial Park. Backcountry camping and skiing, snowshoeing, snow tubing and boarding, and hiking trails around Mystery Lake, Goldie Lake, and Flower Lake are excellent ways for people to spend their winter days.
Robson Square Ice Skating and Entertainment opens a covered ice rink in the winter, where free skating is available from December until February. Visitors can swirl around the massive rink on their own skates or rent them for $5.
Experience Surrey's Best Outdoor Activities
There are many thrills indoors and out around Surrey. New attractions and innovations are always on the horizon. Whether you're a local, recently moved to Surrey, or are a visitor here, you'll always feel welcome and certainly will never run out of things to do!