5 Best Parks in Abbotsford: Explore Grant Park, Eagle Mountain & More!
Posted by Katrina Amurao on Tuesday, October 4, 2022 at 12:59 PM
By Katrina Amurao / October 4, 2022
Comment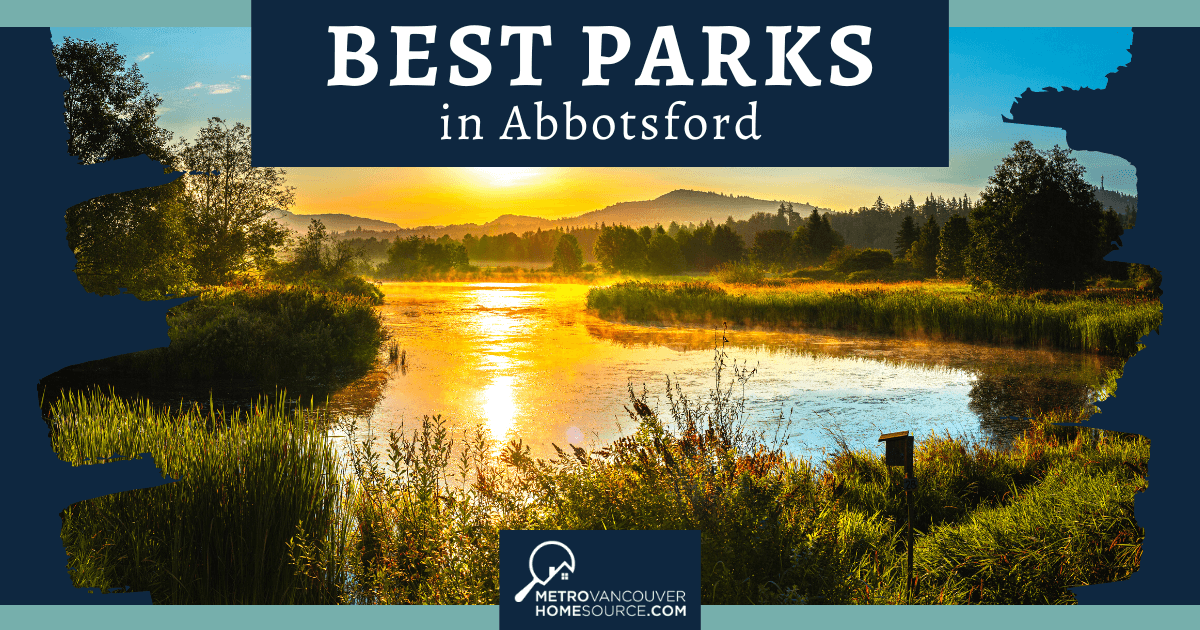 The city of Abbotsford is one of the prettiest places to live in British Columbia. It has plenty of outdoor spaces for residents to enjoy themselves and get some exercise and fresh air. There are 39 public parks here that Abbotsford City Services maintain. Whether someone wants to kick around a soccer ball, go for a nature hike on a nice trail, or spend an afternoon skateboarding, there's a park in Abbotsford for them.
Eagle Mountain Park
Drive up Eagle Mountain and past some Abbotsford luxury homes on the hillside to reach Eagle Mountain Park, featuring some of the best views in the city's eastern part. Eagle Mountain Park is an excellent place to enjoy things to do in Abbotsford. Free street parking is available on the north and northeast sides of the park, along Eagle Mountain Drive and Goodbrand Drive.
Kids can play in multiple playground areas in the park's northeast corner while parents relax on stone benches nearby. Visitors can get some exercise and play badminton, cornhole, or a game of horseshoes. Multiple exercise stations are available along the paved walking paths through the park, and the shared-use trails are perfect for a smooth biking experience or a relaxing stroll.
Picnic tables are available near the fenced-in basketball and tennis courts. Summer is a great time to enjoy this park, but it becomes truly beautiful when the leaves change colour in the fall. Visitors can bring their dogs to play at Eagle Mountain Park, but pets must always remain on a leash.
Mill Lake Park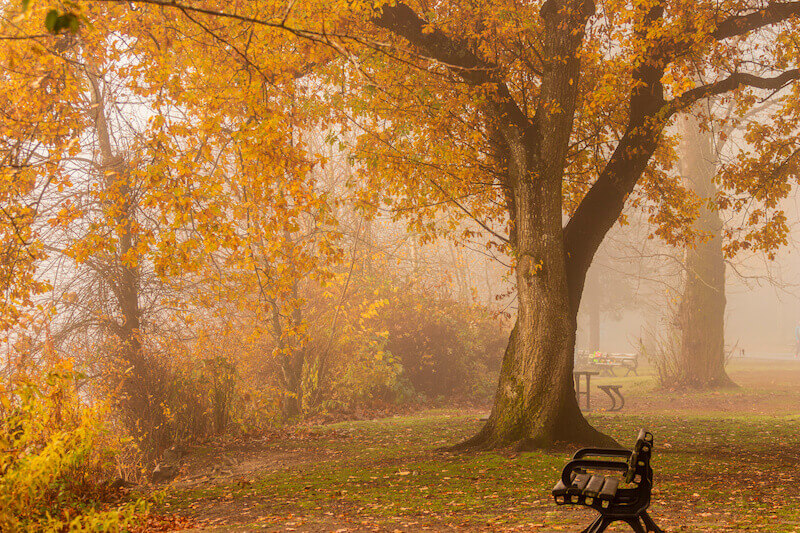 Mill Lake itself is the big draw at Mill Lake Park. The lake and the park are located almost directly in the city's center, so it's accessible from nearby Abbotsford condos, waterfront homes, and residential neighbourhoods.
The park has a relatively flat, paved walking trail surrounding most of the lake. That trail leads to the Mill Lake Boardwalk, which extends out over the water for part of the hike. Additional water activities at Mill Lake Park include an outdoor swimming pool and a splash pad for kids to play on during summer.
Thanks to its covered and uncovered areas for a picnic and three separate playground areas for children, it's easy to relax for a full day at Mill Lake Park. Leashed dogs are welcome on the trails, and canoeing and fishing are allowed from the pier.
Mill Lake Park is easily one of Abbotsford's largest and most beautiful public green spaces. Summer is the best time for a visit when the cherry blossoms and flowers are blooming. On clear days, visitors can view Mount Baker in the distance.
Bateman Park
There are only a few off-leash dog parks in Abbotsford, and Bateman Park has one of the best. Plenty of grassy areas are available for dogs to run around and play in, so long as owners follow the dog park etiquette rules. When leaving the fenced-in dog area at Bateman Park, dogs must go back on their leash.
Aside from the dog area, Batemark Park is where locals enjoy an outing for some exercise or a fun afternoon. Three soccer fields are inside the park, and one is fully fenced, offering a safe place for kids to run around and play in a large, grassy area when no soccer matches are underway.
Stoney Creek runs through the park, and a flat gravel path suitable for biking or a stroll follows the water. Parking lots are available off Bateman Road and Davie Street. Visitors can also take the kids to a playground or enjoy a picnic at one of the stone tables in the park's shaded areas.
Willband Creek Park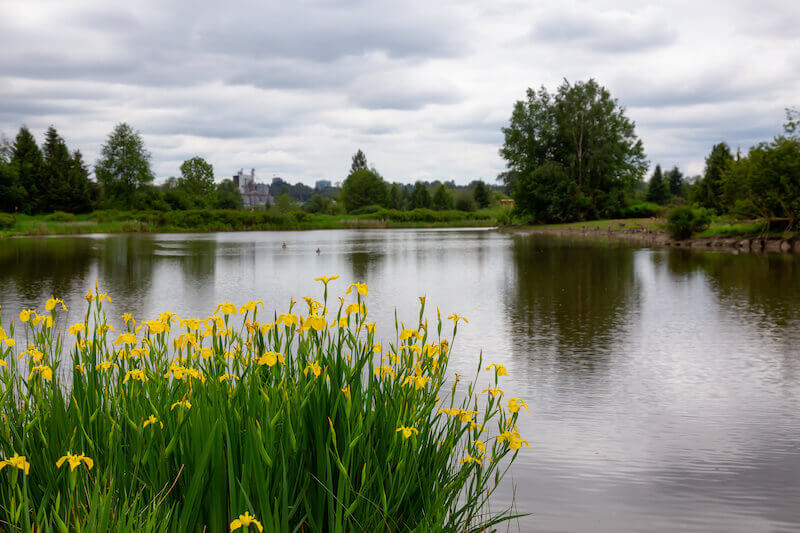 This urban wetland park is to the northeast of downtown Abbotsford. There's not much street parking here, and most of the park is relatively undeveloped. It is, however, a great place to go for a run, a bike ride, a stroll, or a hike on some Abbotsford trails.
Loop trails wind their way around a couple of wetland ponds. The gravel trails are 1.6 and 2.3 kilometres long and meet near the middle of the wetlands. Leashed dogs can accompany their owners for a walk.
Because this is a wetland park, it's very popular with Abbotsford bird watchers. The walking trails have several bridges and some benches where visitors can stop and rest while enjoying the views. There's also a viewing area, where visitors can see the nearby mountains on a clear day. Several wildflowers bloom in Willband Creek Park during summer.
Grant Park
Grant Park is easily accessible off Highway 1 in Abbotsford, and there is a large parking lot off Madeira Place. This park has a large playground for kids, along with toddler-sized equipment. It also has a large grassy field to play in and forested areas for some shade.
There are numerous picnic tables scattered throughout Grant Park. Visitors can also reserve a large covered pavilion, which has a half-sized basketball court right next to it, for birthday parties or larger gatherings.
The trail in Grant Park is suitable for jogging, walking, or biking. It goes through the forested areas, so it stays shady and comfortable for an outing even during the warmer months. The outdoor tennis courts are available on a first-come, first-served basis, and leashed dogs can accompany their owners.
Parking is free at Grant Park, and public washrooms are available during daylight hours.
Enjoy the Outdoors in Abbotsford
These are some of the best parks available in Abbotsford. Many additional public green spaces are also well worth a visit, so it's worth it to explore the area and find your favourite. Late spring through fall is the best time to visit most of Abbotsford's parks, but many are open year-round.