Best Parks in Surrey: Surrey, BC Parks & Recreation Guide
Posted by Katrina Amurao on Monday, June 21, 2021 at 12:45 PM
By Katrina Amurao / June 21, 2021
Comment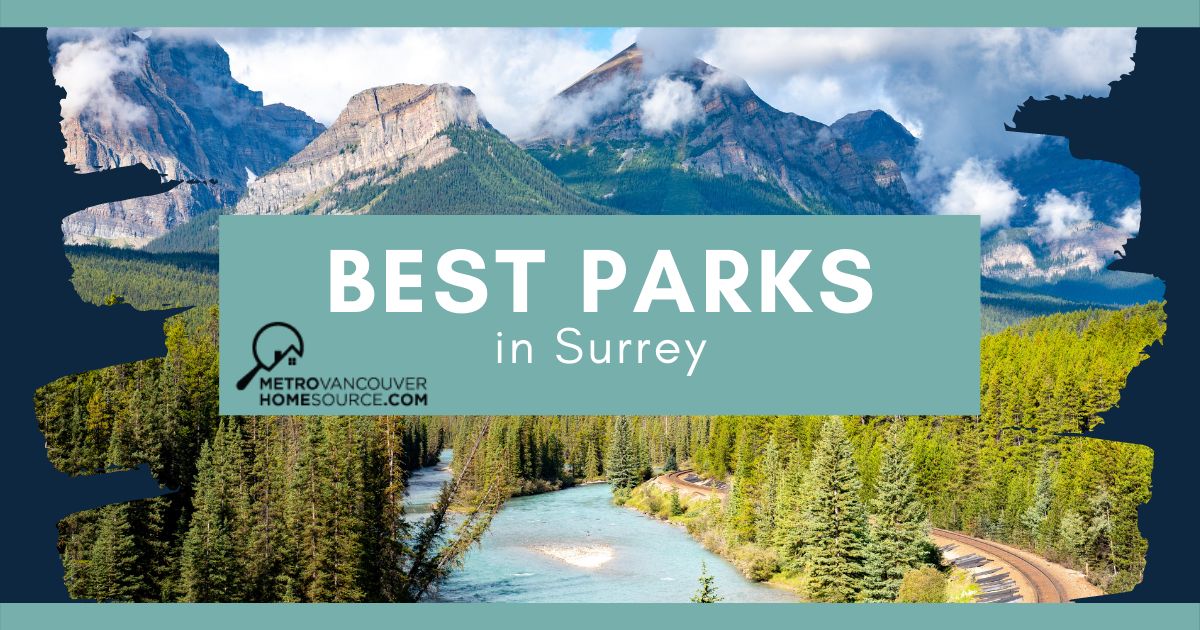 As one of the largest cities near Vancouver, Surrey has much to offer its residents. It has a small downtown and all of the big-city amenities one would expect. However, one of the best aspects of living in Surrey is the wide variety of parks. Exercise and getting into nature are easy in Surrey. There are still large areas of thick forest and walking trails to be explored. Residents can leave their Surrey condos or townhomes and step away from the hustle and bustle of new construction in Surrey to unplug and unwind in beautiful, natural settings.
With so many parks in the city, it can be difficult to choose which one to visit first. Read on for a list of some of the most popular parks in Surrey to help you get started.
Redwood Park
Redwood Park is a wonderful park to visit for a few minutes or all day long. With long nature walks and wheelchair accessibility, this park has something for everyone. Built in 1893, Redwood Park has grown over the years to include more amenities and trails for all to enjoy.
Guests can enjoy over five kilometres of scenic trails during their visit. Those who prefer to use the park for a picnic will be pleased to know there are four picnic shelters available for use. Better still, no reservations are required to use these shelters.
The park is home to a wide variety of trees. Visitors are encouraged to take a self-guided tour on the trails to see the trees up close and personal. Dogs are always welcome, so long as they are leashed and under the control of their owners at all times.
Unwin Park
Unwin Park is a large community park designed to entertain guests of all ages. With its baseball diamonds, batting cage, cricket and soccer fields, lacrosse boxes, basketball court, playground, water spray park, and outdoor pool, there is an activity for every person to enjoy.
At over 36 acres, Unwin Park is one of the largest parks in the area. In addition to including activities for everyone to enjoy, the park also features a playground with sensory, climbing, motion, interactive, and early childhood elements to encourage children to develop various skillsets.
Blackie Spit Park
Blackie Spit Park is perfect for those who want to enjoy time outdoors with their dogs. It's home to two off-leash dog areas, one of which is a beach where dogs can swim and has a sheltered area for rainy days. Dogs practically beg their owners to go back for another day of fun.
Those who haven't brought along a pet can also enjoy their time at this park. The newly constructed 107-metre boardwalk offers spectacular views of the environmentally sensitive area of the park, where dogs and bikes are not allowed due to sensitive wildlife. Those who want to spend a longer period of time in the park can enjoy the nature trail. At five kilometres long, it takes the average visitor around two hours to complete.
Tynehead Regional Park
Tynehead Regional Park offers the largest ranges of trails of any park in Surrey. With 14.4 km of hiking trails and 6.3 km of cycling trails, guests can easily find ways to spend time in nature. Dogs are always welcome in the park as long as they're leashed. There are certain off-leash areas, though people and dogs should stay out of the river to protect the sensitive salmon habitat.
The park also features wheelchair-accessible areas like picnic tables and trails. Visitors can also enjoy campfires in the park by booking the designated fire ring.
Green Timbers Urban Forest
Green Timbers Urban Forest is another large park in Surrey. With over 10 km of nature trails, guests can easily get their exercise in and enjoy nature. The park has morphed and changed since the early 1900s when it was a forestry school and nursery. Today, the protected urban forest is home to picnic areas and memorable moments. In addition to hiking, guests can enjoy fishing in the lake, which is regularly stocked, so there's always something to catch.
Guests need to abide by the no swimming and no watercraft rules while in Green Timbers Urban Forest. Outside of fishing, guests can enjoy seeing owls, ducks, bald eagles, salamanders, and other wildlife in the park.
Mud Bay Park
Mud Bay Park is a smaller park in Surrey, but it still offers several ways to have fun for anyone who visits. The nature trail in the park is about three km long. Guests should reserve at least 1.5 hours to complete the trail. The walk is scenic and allows guests to see wildlife up close.
In addition to the main trail, shoreline trails are available. However, it's important to note that dogs, bikes, and horses are not permitted on these particular trails from October 15 to April 15 each year. This is to protect the shorebird habitats that form during those months.
Hawthorne Rotary Park
Hawthorne Rotary Park offers numerous amenities for guests, including a water park. Children and adults alike can spend hours enjoying the water area. There is also an enjoyable, large playground.
The park has beautifully manicured gardens and off-leash dog areas. The gardens lead to the walking trails, which allow guests to meander through the woods and nature. Those who want to get their exercise in and enjoy the view easily can do so at Hawthorne Rotary Park.
Bear Creek Park
Bear Creek Park offers guests the ability to enjoy the arts while visiting a park. For example, The Surrey Arts Centre is one of the park's focal points. Outside of the arts, guests can enjoy the outdoor pool and water park during summer.
Visitors will find numerous amenities in Bear Creek Park, including running tracks, football fields, a soccer field, skate parks, and fitness equipment. Those with dogs will enjoy spending time in the newly constructed off-leash dog area.
Get Out & About in Surrey's Best Parks
While Surrey may be buzzing during usual business hours, all the stress of the day melts away when visiting any of these parks. Whether stopping by for a quick run after work or planning an all-day outing, anyone who visits these Surrey parks can enjoy their time in nature. One would think city living means always being on the go, but the best parks in Surrey truly allow residents to stop and enjoy the moment. The care, detail, and attention that goes into every park is just a taste of what Surrey provides its residents. Anyone looking for an exceptional community to call home will enjoy their time living in the city of Surrey.