Iconic Restaurants in Surrey, BC: Local Dining Guide
Posted by Katrina Amurao on Wednesday, July 14, 2021 at 6:52 AM
By Katrina Amurao / July 14, 2021
Comment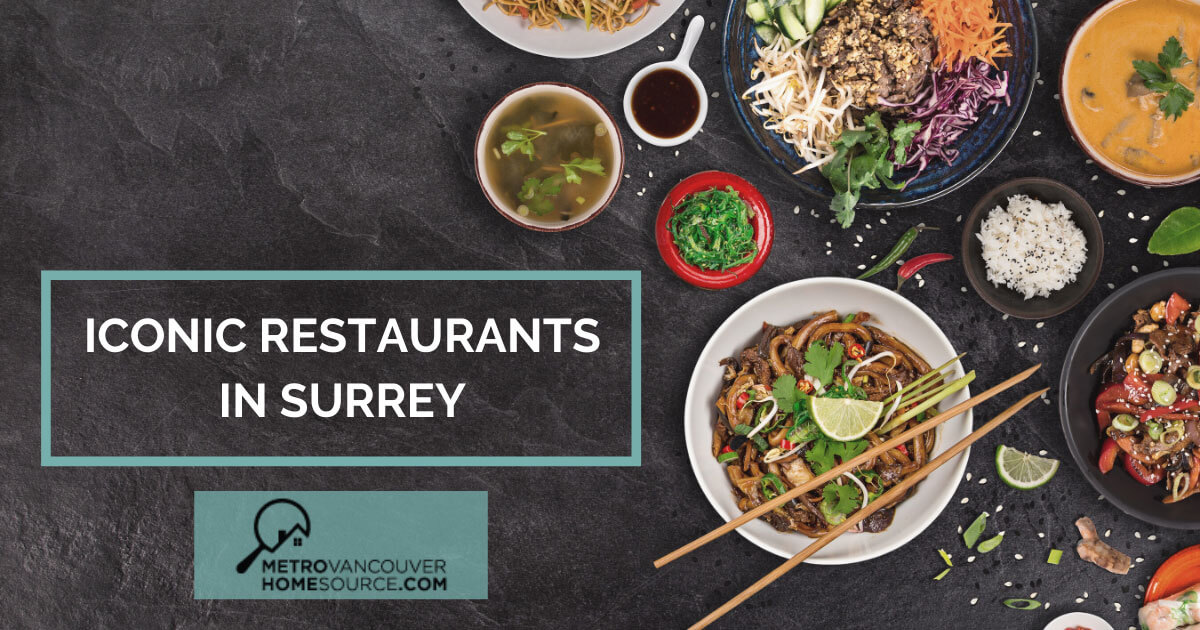 Residents in the city of Surrey, BC, enjoy clean beaches, urban forests, and great proximity to Vancouver. The inter-coastal Pacific Northwest climate is moderate for the most part, with winter temperatures around 5 Celsius and summers reaching 22 degrees Celsius.
There are so many things to do in Surrey, including numerous iconic restaurants. With all of the options for delicious food in Surrey, it can be hard to decide where to eat first. Read on to learn about some of the most iconic restaurants in Surrey.
Afghan Kitchen
Popular Dishes at Afghan Kitchen
Pakawras
Sweet Corn Chicken Chowder
Afghan Noodles
Lamb Shank
Beef Kebabs
While it has only been open for a few years, Afghan Kitchen was quickly declared the Best New Business in town by the Surrey Board of Trade in 2018. This impressive restaurant specializes in Afghani cuisine and was established by a native who made his dream a reality after moving to British Columbia.
This authentic restaurant offers refined dishes with exceptional service. The dining areas are thoughtfully curated and are adorned with traditional decor, much to the delight of patrons.
Afghan Kitchen Additional Information
Phone: 604-727-0070
Hours: Tuesday –Thursday: 4 – 10 p.m. / Friday: 4–11p.m. / Saturday: Noon – 11 p.m. / Sunday: Noon – 10 p.m.
Old Surrey Restaurant
Popular Dishes at Old Surrey Restaurant
Braised Veal
Steak au Poivre
Rack of Lamb
Chateaubriand
Crepes Suzette
For a memorable fine dining experience, it's hard to top the cuisine at the iconic Old Surrey Restaurant. Since 1975, this family-owned establishment in the Newton neighbourhood has been serving up locally sourced dishes filled with the flavours of France. This restaurant sources meats from its private farm just outside the city.
Housed within the historic Newton House, Old Surrey Restaurant makes every effort to maintain the structure's original log house charm with an authentic restoration as needed. Each dining room is unique, making every meal here one to remember.
Old Surrey Restaurant Additional Information
Phone: 604-596-2313
Dinner Hours: 5:30 – 10 p.m.
New York New York Greek Restaurant
Popular Dishes at New York New York Greek Restaurant
Spanakopita
Mussels New York
Roast Lamb a L'Astoria
For almost two decades, folks hungry for classic dishes from Greece have headed to New York New York Greek Restaurant in Surrey's Sullivan neighbourhood. Family-owned and operated, the interior boasts both the feel of New York and Santorini. In addition to classic platters, guests can order tender steaks, flavorful plates of pasta, and fresh seafood at this popular eatery.
New York New York Greek Restaurant Additional Information
Phone: 604-572-4222
Hours: 6 Days a Week | 4:30 – 8 p.m. til 9 p.m Weekends / Closed Mondays
The Cabin at Crescent Beach
Popular Dishes at The Cabin at Crescent Beach
Walnut Crusted Steelhead Fillet
Beef Tenderloin
Chorizo & Shrimp Penne
The Cabin at Crescent Beach is an upscale eatery that maintains a casual vibe. The menu is loaded with favourites such as AAA steaks, classic seafood platters, and gourmet pasta dishes. Best known by locals for sumptuous Pacific Northwest cuisine, craft beers, and a great wine selection, The Cabin doesn't disappoint. It's smart to make a reservation, as the cozy eatery in the Crescent Beach/Ocean Park neighbourhood tends to fill up quickly at lunch and dinner.
The Cabin at Crescent Beach Additional Information
Phone: 604-541-8432
Hours: Daily 11:30 – 10 p.m.
Roadhouse Grille
Popular Dishes at Roadhouse Grille
Santa Fe Eggs Benedict
Angus Prime Rib
Liver Platters
Burgers
Surf & Turf
Chicken Schnitzel
Located in the King George Corridor area, the Roadhouse Grille has become a popular hotspot for diners since they opened up the doors in 1997. Beloved by residents for offering fresh breakfast platters of enormous portions, they serve a wide array of traditional American classics daily.
The Roadhouse Grille's passionate chefs and servers make this a great family destination. Each of the four dining rooms is appointed with a unique style and is available for private parties and corporate meetings. They are open daily and serve breakfast, lunch, and dinner items all day.
Roadhouse Grille Additional Information
Phone: 604-531-3167
Hours: Daily 8 am – 8 p.m.
Fresgo Inn Restaurant
Popular Dishes at Fresgo Inn Restaurant
Mushroom Burgers
Fish & Chips
Prime Rib
BBQ Beef Ribs
Spanish Steak
For over 35 years, locals have been in love with the food and service at the Fresgo Inn Restaurant. The eatery has a down-home ambiance that melds in with the surrounding Whalley neighbourhood. What sets Fresgo Inn apart from other restaurants in the community is that they have their own large bakery and do all the baking right on the premises daily. Located in the heart of town, this restaurant is easily accessible using Surrey public transportation.
The owner is also the chef, so quality is never questioned here. Everything is made from scratch, and the portions are huge. People come here for counter service, so there is no waitstaff. Fresgo is always happy to make custom orders and substitutions, which makes first-time patrons lifelong fans. They also have an extensive selection of gluten-free items on the menu.
Fresgo Inn Restaurant Additional Information
Phone: 604-588-0878
Hours: Daily 9 a.m. – 8 p.m.
An Indian Affair
Popular Dishes at An Indian Affair
Afghani Chicken Tangri
Gilafi Seekh
Lamb & Beef Vindaloo
Butter Prawns
Shrimp Biryani
Coco Rice
The chef and owner of An Indian Affair was professionally trained at a 5-star Sheraton hotel in Maurya before working at some of the finest restaurants in America and Canada. This is one of the top Indian food restaurants in British Columbia for those seeking maximum flavours using fresh ingredients.
With an eye towards healthy choices, there is a large vegetarian section on the menu and popular traditional meats. Take a culinary journey through India at this beloved restaurant in the nearby city of Langley. Reservations are not required, but a good appetite is a must!
An Indian Affair Additional Information
Phone: 604-539-8114
Hours: Monday - Wednesday 11 a.m. – 9:30 p.m. / Thursday - Sunday | 11 a.m. – 10 p.m.
Milestones
Popular Dishes at Milestones
Coconut Calamari
Portobello Mushroom Chicken
Steak Frites
Butternut Squash Raviolo
Avocado Toast
Pesto Chicken Penne Asiago
Milestones is a Guildford neighbourhood favourite for its unique signature dishes and specialty cocktails. Over the decades, guests have come back time and time again to experience the fresh flavours of Italy and newly featured menu items and specials.
The portions are generous, and Milestones offers delivery and curbside pickup for customers' convenience. They take great pride in homemade Italian classics created with love and passion. Milestones gets top ratings for food, decor, and service. For holidays and weekends, reservations are typically required to get into Milestones.
Milestones Additional Information
Tasty Restaurants Are Never Hard to Find in Surrey, BC
As the second-most populous city in British Columbia, there's no shortage of great places to eat in Surrey. Those who want to experience the array of food options in this vibrant community will not want to miss out on these iconic Surrey restaurants.
It will be challenging to choose a favourite with so many great choices, so give them all a try. Those enjoying a relaxed night at home can even order delivery from some of these restaurants. Remember, these are trendy dining hot spots, so making reservations for weekends is a good idea to avoid long waiting times.