8 Best Vancouver Suburbs: Where to Live in the Greater Vancouver Area [2023]
Posted by Katrina Amurao on Wednesday, December 7, 2022 at 1:05:39 PM
By Katrina Amurao / December 7, 2022
Comment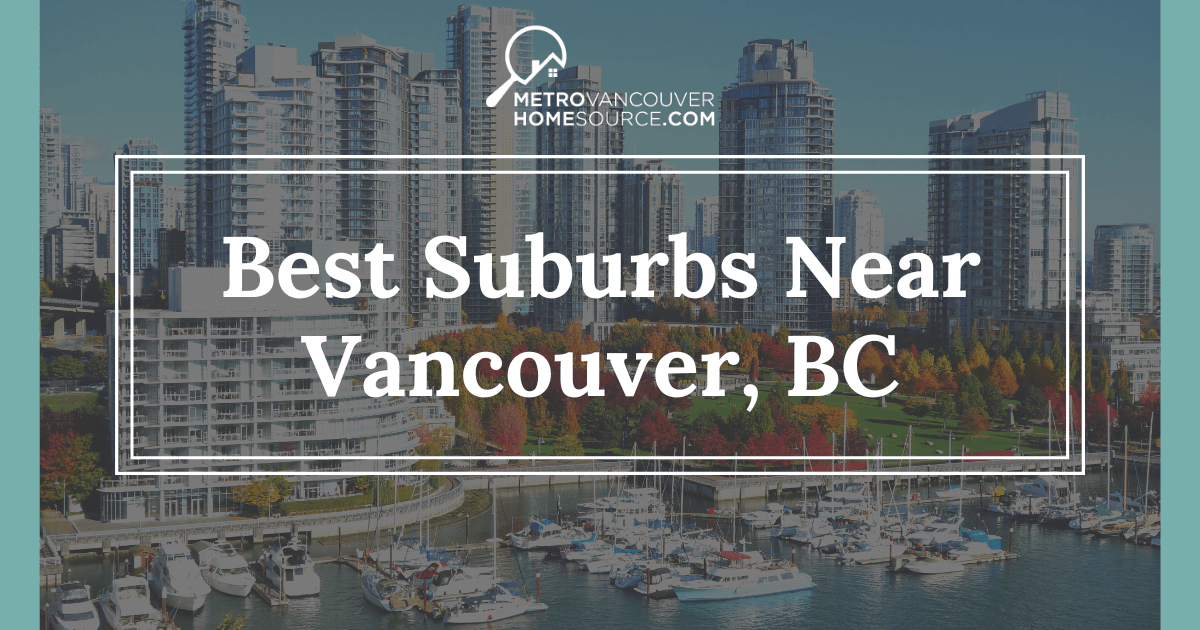 Famous for its ranking as one of the world's most livable communities, the city of Vancouver is surrounded by numerous suburbs that offer the same quality of life. These towns near Vancouver provide convenient commute times, beautiful natural scenery, and access to fantastic amenities and services. From Richmond to Surrey, homebuyers will find a broad array of desirable lifestyles and real estate options. Here's what you need to know about the eight best Vancouver suburbs.
Surrey
Surrey is located approximately 30 kilometres southeast of downtown Vancouver. With over 614,000 residents, it is the second-largest city in British Columbia. The area was incorporated as a municipality in 1879. English settler H.J. Brewer thought the area resembled Surrey County in England, so the first settlement was named Surrey.
This largely suburban area was officially incorporated as a city in 1993. The population exploded in the 1980s and 1990s, with many people moving to the area looking for homes in the Greater Vancouver area. Housing in Surrey tends to be slightly more affordable than in Vancouver proper. Surrey offers a mild climate, sparkling beaches, beautiful forests, parks, and golf courses.
Surreyites enjoy local places of interest, including Fort Langley National Historic Site, a former Hudson Bay Company fur-trading post. It contains a visitor centre and a living replica of the original trading post facilities. Iconic Old Surrey Restaurant was established in 1975 and is widely considered the epitome of fine dining in the area. Diners enjoy dishes featuring local ingredients, including lamb and veal sourced from nearby Chilliwack Farm.
The best neighbourhoods in Surrey offer desirable real estate options at various price points. On average, homes for sale in Surrey cost between $700,000 and $2 million.
Surrey Amenities
Crescent Beach
Darts Hill Garden
Historic Stewart Farm
Surrey Bend Regional Park
Port Moody
Port Moody is approximately 21 kilometres from Vancouver and was once used as a strategic area of defense from wartime attacks. Port Moody was incorporated as a city in 1913 and is named for Colonel Richard Moody of the Royal Engineers.
Nearly 35,000 people live in Port Moody, which is highly regarded for its abundance of parks and proximity to wilderness. Many of the town's parks are heavily forested with trees that keep their leaves year-round. Whether in a high-rise condo or a single-family house, you're never far from several of the community's hot spots.
Boathouse Restaurant, located in Rocky Point Park, is a restaurant that specializes in sustainable seafood and waterfront views. Port Moody Arts Centre is a non-profit community arts education facility and gallery. It offers locals over 300 classes each year, including visual arts, ceramics, theatre, digital media, and music. Established in 1969, the Port Moody Station Museum is a railway museum with several exhibits outlining the area's history. Housed inside one of the city's original train stations, the museum features a 1921 train car and outdoor gardens.
Real estate in Port Moody can cost anywhere between $400,000 and $1 million. Waterfront homes are especially popular, given the community's location surrounding Vancouver Harbour.
Port Moody Amenities
Belcarra Regional Park
Buntzen Lake
Rocky Point Park
Sasamat Lake
Richmond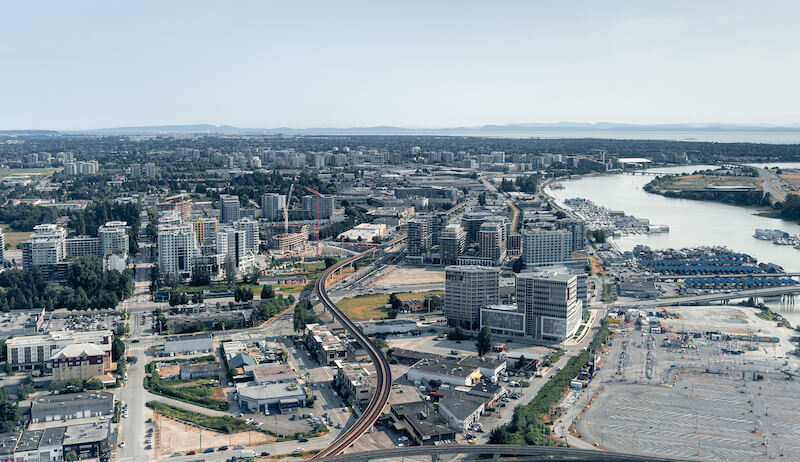 Located approximately 15 kilometres south of Downtown Vancouver is the city of Richmond. While there's no definitive account of how the town got its name, Richmond was incorporated as a township in 1879 and later as a city in 1990.
Home to over 230,000 people, Richmond is noted for its abundance of outdoor spaces for parks, trails, and cycling paths, all contributing to a high quality of life. This coastal city has over 2,100 acres of park space across 140 local parks, 136 kilometres of park trails, and 87 kilometres of on-road cycling trails.
Some of Richmond's hottest spots include the Richmond Olympic Oval, originally built for the 2010 Winter Olympics as a venue for speed skating. Today, this building is a multi-sports park that regularly hosts facilities for ice hockey, athletics, wall climbing, rowing, and flex areas for other sports.
Richmond Centre, Richmond's largest shopping mall, is home to 165 stores, including major retailers such as Apple, H&M, Lululemon, Nike, and Sephora. National historic site, the Britannia Shipyards, presents a true-to-life recreation of the area's canneries, boatyards, and living spaces from the 1880s.
On average, homes for sale in Richmond cost between $300,000 and $2 million. However, luxury homes in the area often cost between $5 million and $16 million.
Richmond Amenities
McDonald Beach Park
Minoru Aquatic Centre
River Rock Casino Resort
Terra Nova Nature Park
Burnaby
Burnaby is about 14 kilometres southeast of Downtown Vancouver, and with over 260,000 residents, it's the third-largest city in British Columbia. Originally home to the Coast Salish people, Burnaby was established and incorporated in 1891 and 1892, respectively. Its development followed various gold rushes to what is now present-day British Columbia.
Burnaby gets its name from the local lake, which is named for Robert Burnaby, an English merchant, politician, and civil servant. The city is known for having one of the most significant ratios of open spaces to residents, with nearly 25% of the area allocated for parks and outdoor spaces. People moving to Burnaby will find a range of home styles, including grand luxury homes, most of which are close to local places of interest.
Canada's only public museum dedicated to works of art rendered on paper, the Burnaby Art Gallery, offers a variety of public and school programs. Also in Burnaby, the Metropolis at Metrotown three-story shopping mall is the largest in the province—and one of the largest in Canada. It includes over 400 stores anchored by retailers such as H&M, Hudson Bay, Old Navy, and Walmart. The Nikkei National Museum & Cultural Centre features exhibits based on Japanese-Canadian culture and includes a pristine Japanese garden.
Homes for sale in Burnaby come in a variety of price points and property styles. Some of the best Burnaby neighbourhoods are adjacent to Burnaby Lake Regional Park and Deer Lake Park.
Burnaby Amenities
Burnaby Lake
Central Park
Robert Burnaby Park
Still Creek
Swangard Stadium
Delta
Delta is a primarily rural community of over 113,000 people that sits approximately 32 kilometres south-southeast of downtown Vancouver. The area remained relatively isolated from Vancouver until the opening of the George Massey Tunnel in 1959. The subsequent Tsawwassen Ferry and the rerouting of Highway 99 led to a population explosion in Delta.
Today, Delta is home to several parks and hiking trails, and as a stop along the Pacific Flyway, it's a birdwatcher's paradise, with over 5 million migratory birds passing through Delta.
Local hotspots include restaurants, wineries, and places to enjoy outdoor recreation. Angel Estate Winery on Westham Island specializes in berry-based wines and offers tours. The Ladner Leisure Centre recreational facility includes an ice rink, two swimming pools, a competition pool, a 260-square-metre weight room, a sauna, a fitness studio, and more. Open between Mary and October, Westham Island Herb Farm allows visitors to experience firsthand how produce is grown. You can also buy preserves, freshly cut flowers, honey, bedding plants, and fresh herbs.
Homes for sale in Delta cost between $900,000 and $5 million. Since it's a peninsula on Boundary Bay, homebuyers can expect to find many waterfront homes for sale in Delta.
Delta Amenities
Alaska National Wildlife Area
Boundary Bay Regional Park
Centennial Beach
Ladner Millennium Trail
Tsawwassen Arts Centre
New Westminster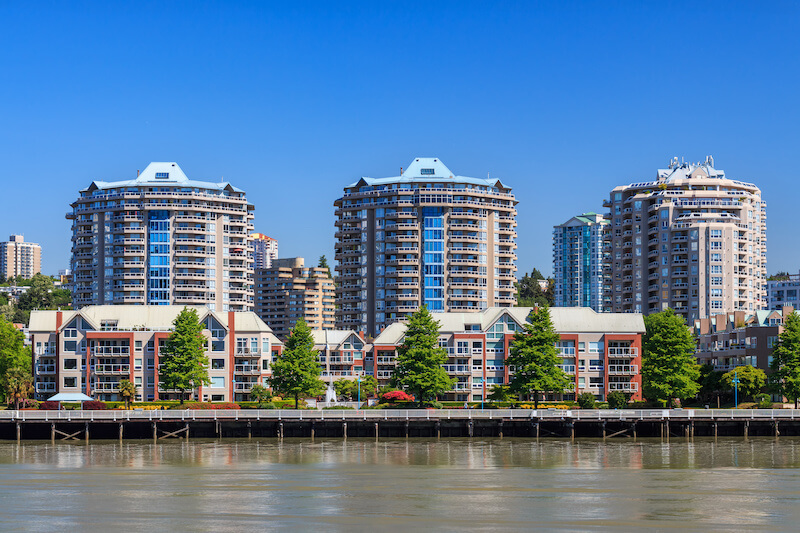 This former capital of the colony of British Columbia is around 20 kilometres southeast of Downtown Vancouver. It was also once the largest city in the province until Vancouver surpassed it in the early 20th century. New Westminster, or New West, as it's often called, was founded by Richard Moody in 1858 and named after Westminster, England, by Queen Victoria.
Over 82,000 people live in New West. The city is one of the oldest in Western Canada and boasts a rich history, evident in its many well-preserved heritage buildings. Located on the north bank of the Fraser River, New Westminster is an excellent place for those who enjoy waterfront living, shopping, and dining.
One of the more popular New West attractions includes the House of Comedy club. Laughter is good for the soul, so treat yourself to live stand-up comedy at this club inside the Columbia Theatre on Columbia Street. Built in 1865, the one-and-a-half-story Irving House home is the oldest intact building in the lower part of British Columbia. Captain William Irving erected it and today serves as a museum of BC's colonial history. Tour the Fraser River with Paddlewheeler Riverboat Tours for outdoor recreation, offering tours on certain holidays or regularly between early May and late September.
New Westminster real estate comes in various property styles. Condos and townhomes can be found on the Fraser River, offering views of the Surrey skyline.
New Westminster Amenities
Columbia Street
Fraser River Discovery Centre
Massey Theatre
Queens Park
Westminster Quay Development
South Surrey
South Surrey, the largest town centre in Surrey, is home to over 77,000 residents and is around 43 kilometres southeast of downtown Vancouver. Residents enjoy a close commute to Vancouver and are a short drive from the Canada-United States border. South Surrey is known for having some of the most affordable houses within the greater Vancouver metropolitan area, with a mixture of single-family homes and multi-family units, such as townhomes and condos. Most homes for sale in South Surrey cost between $500,000 and $1.6 million.
Living in South Surrey includes easy access to the beaches surrounding Boundary Bay and Semiahmoo Bay. Mountain views and large open farmland areas are also part of South Surrey's charm.
The community of Crescent Beach is home to several landmarks, including a historic train station and pier. The Crescent Beach Swim Club also offers lessons in swimming, sailing, tennis, volleyball, water polo, and triathlon activities. South Surrey Recreation & Arts Centre offers recreation facilities, a state-of-the-art weight room, gymnasium sports, tennis courts, daycare services, and senior programs.
South Surrey Amenities
Elgin Heritage Park
Grandview Heights Aquatic Centre
Redwood Park
Serpentine Fen Nature Reserve
Sunnyside Acres Urban Forest
North Vancouver
North Vancouver is across the Vancouver Harbour from downtown, approximately 13 kilometres. North Vancouver, home to almost 60,000 people, began as a development district in the 1880s. Shortly after the turn of the century, additional development quickly ramped up the population, including constructing roads, public buildings, and a streetcar system. The district was incorporated as a city in 1907 when locals wanted to be associated with the growing influence of Vancouver and decided on North Vancouver as a name. Real estate in North Vancouver often costs $500,000 at the lowest end of the spectrum and can span upwards of $1.4 million.
The proximity of the North Shore mountains provides North Vancouverites year-round access to mountain recreation, including hiking, biking, skiing, and snowboarding—it's an outdoor lover's paradise. North Vancouver is also highly regarded for its restaurants and craft beer scene, a delight for foodies and social butterflies.
Local hotspots include Lonsdale Quay, a waterfront market with over 60 specialty shops and restaurants. Take in the local culture with offerings from local artists, artisans, and vendors. Waterfront art gallery the Polygon Gallery has the most extensive collection of photography in Western Canada. It includes over 25,000 square feet of exhibition space, a store, and a cafe.
North Vancouver Amenities
Capilano Suspension Bridge
Cypress Mountain
Grouse Mountain
The Shipyards
A Suburb for Everyone in Vancouver
Vancouver, British Columbia, has much to offer locals and visitors. Whether you prefer to live within an urban area or more suburban or rural spots, Vancouver's suburbs bring you the best of both worlds within a relatively short commute to downtown. Outdoor spaces abound in the greater metropolitan area, including beaches, parks, nature reserves, and mountains. There are also plenty of options for dining, shopping, nightlife, sporting events, and cultural centres, all without driving far from home.