Best Walking and Jogging Trails in Surrey: Surrey, BC Hiking Trails Guide
Posted by Katrina Amurao on Monday, June 14, 2021 at 1:30 PM
By Katrina Amurao / June 14, 2021
Comment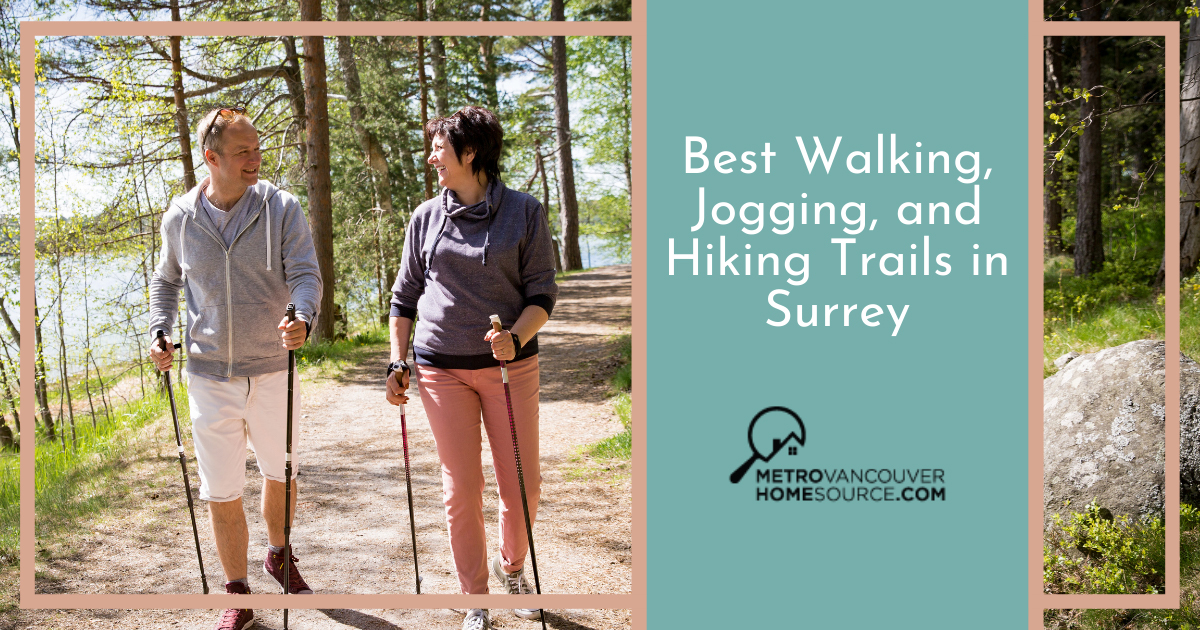 Surrey, British Columbia, has a history dating to the fifth and sixth centuries when aboriginal groups inhabited the area. Some of the first settlers that moved to the Surrey area did so to set up individual farms and stores and take advantage of fishing opportunities. In 1937, the Pattullo Bridge was constructed, allowing easier access to the Surrey community and prompting more growth and expansion. By 2030, Surrey is expected to be one of British Columbia's most populated cities.
However, living in the most populated city in British Columbia after Vancouver doesn't require Surrey residents to give up exercise in the fresh air. The city has many opportunities to get out and about. Read on to discover the six most popular Surrey trails.
Tynehead Perimeter Trail
Tynehead Perimeter Trail offers a little something for everyone. The trail is slightly over four kilometres and is rated easy with an elevation change of 51 metres, which means it's a good choice for all ages. The loop has a paved surface, making it ideal for walking, running, hiking, and biking. It's also stroller- and wheelchair-accessible. Leashed dogs are welcome, and there's an off-leash dog park for pups to play and exercise.
The loop is friendly to hikers of all ages and skill levels and is located in Tynehead Regional Park. The park also offers campsites year-round for those interested in a night under the stars and visitors camping out in their RVs. There is also a picnic area near the Serpentine River to enjoy tasty gatherings.
Crescent Beach Walk
Combine two Surrey outdoor activities into one exceptional outing with a visit to Crescent Beach for panoramic ocean views while strolling the Crescent Beach Walk. The flat 2.3-kilometre walk is accessible throughout the year. Dogs on a leash are welcome except between May 15 and September 15, when pups are not permitted on the beach except for in the off-leash area in Blackie Spit Park. The walk is rated easy, so it's a good choice for all ages and skill levels.
For those who enjoy watching the sun dip into the ocean at sunset, Crescent Beach is the place to go. Bird and wildlife enthusiasts will also enjoy the variety of species frequenting the area. There are also plenty of flowers to see and a pier ideal for taking pictures. The open expanse, fresh air, and ocean breezes create an invigorating atmosphere. The estimated walk time is one hour.
Serpentine Loop Trail
Another trail within Tynehead Regional Park is the Serpentine Loop Trail, which provides an easy 2.4-kilometre route along a mostly gravel surface with minimal inclines. For visitors who enjoy the beauty of forest canopies, lush landscape, birdwatching, and wooden bridges crossing small bubbling creeks, this trail has it all. From beginners to veterans, everyone can enjoy this scenic trail. Visitors can also bring canine companions for a brisk walk and exercise, but dogs must be on a leash. The park is open year-round, so visitors can enjoy the fall colours of the trees, springtime blooms, summer picnics, and winter walks even when it snows.
Those accessing the trail can expect a quiet environment along a moderately busy trail that also features look-out towers. Travel time around the loop is generally less than an hour.
Crescent Park Loop
When searching for a quiet location to enjoy a peaceful, leisurely walk, consider a visit to Crescent Park to traverse the Crescent Park Loop. Within the 128-acre park located in South Surrey, the scenic 2.9-kilometre trail weaves its way through tall stands of mature trees. Rated as an easy journey, this trail is friendly to both two-legged and four-legged visitors and is open from dawn until dusk. Along the trail, visitors may observe wildlife such as squirrels, birds, kingfishers, and ducks in the area's ponds.
After enjoying the trail, visitors can access various amenities, including pickleball and tennis courts, a playground, a large grassy playing field, and two baseball diamonds. There are also two picnic shelters for gatherings and events. The estimated walk time for the loop is between one and 1.5 hours.
Parsons Trail & Pacific Trail Loop
Located within Surrey Bend Regional Park, visitors can enjoy scenic walks or runs along the 4.3-kilometre Parsons Trail and Pacific Trail Loop featuring gravel or crushed rock surfaces. The trail is also popular for horseback riding while enjoying the peaceful and serene atmosphere of the park. There are also viewpoints for birdwatching enthusiasts to observe river and wildlife activity taking place along Parsons Channel. For those on a nature trip to learn about the area, informational markers with educational material are posted along the trail.
Within the park, visitors have access to restroom facilities, picnic shelters, and picnic tables. All are wheelchair-accessible. Canines on a leash are welcome along the trail and within the park. The trail is rated easy and has light to moderate traffic, with May through September being the prime time to visit.
Serpentine Fen Nature Trail
Situated in the Serpentine Wildlife Management Area, visitors of all skill levels can traverse the 3.2-kilometre Serpentine Fen Trail. The trail comprises dirt and gravel along flat paths and has moderate traffic as it loops through the area past the river. The loop is ideal for birdwatching enthusiasts, with 130 bird species inhabiting the area, including eagles, herons, and ducks refreshing themselves in the river. Canines on a leash are welcome to enjoy a walk while pet parents pass scenic farm views. For long-range views, visitors can access the look-out tower.
Other amenities in the park include fishing and a picnic area. Washrooms are also available. Walking time for the loop is approximately an hour or longer, providing a nice way to spend time in a natural setting.
Enjoying Surrey Scenery
The landscape in Surrey offers many scenic opportunities to explore, hike, bike, and observe nature. Residents don't have to live on the Surrey waterfront to get a taste of Surrey's fresh sea air—taking advantage of its many local parks and trails provides first-hand contact with the natural beauty Surrey is known to possess. So take a break throughout the year from Surrey's condos and townhouses to explore the landscape, get in touch with nature, and experience the many activities Surrey offers year-round.