Best Water Activities in Surrey
Posted by Katrina Amurao on Wednesday, April 14, 2021 at 11:08 AM
By Katrina Amurao / April 14, 2021
Comment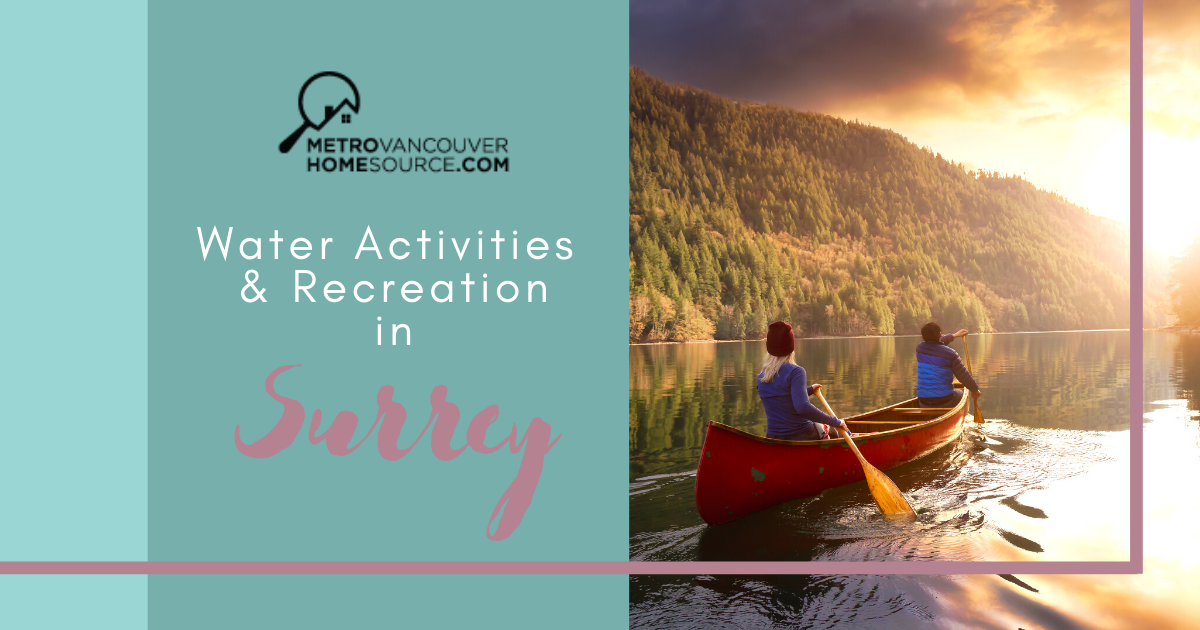 Lying between the Canada-United States border and the Fraser River lies the vibrant and blossoming city of Surrey. This British Columbia community is the second most populous in the greater Metro Vancouver area and the largest by landmass. Water is plentiful around Surrey, from waterfront homes to Ocean Point Shoreline's beaches and coves, lakes, rivers, and innovative playgrounds where one can cool off on a warm day. Those who want to enjoy outdoor activities in an adventurous way should consider these top water recreation opportunities in Surrey.
Bear Creek Water Playgrounds
Phone: (604) 501-5050
Hours: 10 a.m.–8 p.m. daily
A trip to Bear Creek Water Playgrounds is much more than an experience with H2O, as there is much to do at this multi-facility park. Bear Creek Park itself is a hub for cooling off in the hot summers within splash pads or the outdoor pool. There are trails where hikers can meander down to the water to see trout and salmon seasonally.
Additional options at the park beyond water fun include:
Bear Creek Miniature Train
Large playground
Running track w/ cardio and strength equipment
Skate/ bike park
Gardens
Off-leash dog area
Bathrooms
With seven onsite picnic shelters, this is an excellent place to have lunch with a group while enjoying the amenities and water attractions.
Grandview Heights Aquatic Centre
Phone: (604) 590-7800
Hours: Monday–Friday 6 a.m –10 p.m. / Saturday & Sunday 6 a.m.–9 p.m.
Water is everywhere at the Grandview Heights Aquatic Centre, in addition to a treasure trove of fitness facilities. Within this spacious complex, visitors will find a 500-square-metre pool for leisurely endeavours. Athletes seeking speed and strength building might opt for the 50-metre, 10-lane Olympic-size competition pool.
Other aquatic areas include diving facilities with various height platforms up to 10 metres, hot tubs, steam rooms, a dry sauna, spray features, water slides, and a lazy river. Spectator seating holds 800 people, giving one an idea of the enormity of Grandview Heights Aquatic Centre.
Fishing in Surrey's Natural Lakes and Rivers
Fishing Spots Near Surrey
Surrey Public Wharf
Brownsville Bar Park
Deer Lake
Sanctuary Pond
Lafarge Lake
British Columbia is known for excellent fishing spots, and Surrey is no exception—especially in North Surrey. Favourite places to drop a line include the Green Timbers Urban Forest, which offers year-round fishing stocked with sizable rainbow trout and other local fish.
Brownsville Bar Park off Old Yale Road features a sandy beach on the Fraser River with New Westminster's impressive views. Another great place to fish in Surrey is at the Surrey Public Wharf, also along the riverbank. Some top catches in the Fraser include cutthroat trout, salmon, and sturgeon.
Kids can become familiar with fishing through a free hands-on instructional program through the Freshwater Fisheries Society of BC located at Green Timbers Lake. They will learn about fish conservation, habitats, and the art of the catch. Equipment is provided, and guests to these parks and many others can get a tackle box and rod on loan for a week at no charge.
Boating on Deer Lake
Fishing allowed?: Yes
Other amenities: Trails, picnic tables, Century Gardens, playground
Boating is a widely popular activity around Surrey, and Deer Lake in central Burnaby is a great place for those who love to fish, hike, and picnic for a fun day communing with wildlife in the water. Nature is plentiful here, and there is a rich diversity of flora and fauna to observe, photograph, and appreciate along the various walking trails and lakeside.
The wooded trails lead to several sights. Visitors can stroll to the boat launch, the playground, the Shadbolt Center for the Arts, the Burnaby Village Museum, or the art gallery. Century Gardens is just a short stroll away. However, the boating is why many come to Deer Lake, and the fishing isn't bad, either!
A top rental operation lakeside is Deer Lake Boat Rentals, where kayaks, canoes, rowboats and pedal boats can be reserved. Motorboats are not permitted on this lake.
Rafting on the Fraser River
Rafting Services
Hyak River Rafting
Campo BC Adventures
Best Vancouver Tours
Chilliwack River Rafting
Squamish Rafting Company
Triad River Tours
Canadian Outback Rafting
Simon Fraser River was once a predominant influencer of the history of this valley region. Glaciers left behind the ideal habitat for numerous animals such as black bears, bighorn sheep, salmon, and others. Cruising along the river allows for viewing some of these fascinating creatures and majestic birds like bald eagles.
Several outfitters take passengers on educational and visually stimulating river rafting tours in Surrey along the Fraser River to destinations that conjoin with neighbouring rivers. Two popular options include Thompson River Rafting and Chilliwack River Rafting.
Thompson River Rafting offers an authentic, in-depth immersion into British Columbia's natural world. Passengers on this white water rafting trip can travel the waters with a group paddling raft or opt for a more relaxed motorized raft. Each five-hour experience takes riders through two dozen major Class III rapid sections and ends at the confluence of the Lytton Base of the Fraser River.
Another exceptional outfitter that offers professionally guided tours is Chilliwack River Rafting. Open through mid-May and July, when the water levels are at peak depths, a tour with Chilliwack makes a perfect day on the water for adventure seekers. Many consider this day trip to be the best near Vancouver, as the journey takes passengers through some of the most lovely forests amid the Northern Cascade Mountains.
Passengers will travel just over 23 kilometres and run more than a dozen Class III and Class IV rapids along a path taken by those training for the national kayak team. There is a memorable stop at a hidden waterfall for a quick hike in the valley along the way to the final destination. It's not uncommon to spot eagles, bears, and beavers at the entrance to the Canadian wilderness.
Discover Water Recreation in Surrey
Having fun in the great outdoors here in Surrey is a breeze. There is an adventure awaiting everyone, from massive parks and aquatic centres to excursions on the lakes and rivers. While winter sees many outdoor activities close, the spring and summer, along with early fall, are great times to visit the region to explore wildlife and have a rugged outdoor experience. Visitors interested in moving to Surrey can explore the city's best neighbourhoods, along with properties ranging from condos and townhomes to luxury houses.