12 Driving & Transit Tips to Shorten Your Abbotsford to Vancouver Commute
Posted by Katrina Amurao on Wednesday, June 22, 2022 at 9:06 AM
By Katrina Amurao / June 22, 2022
Comment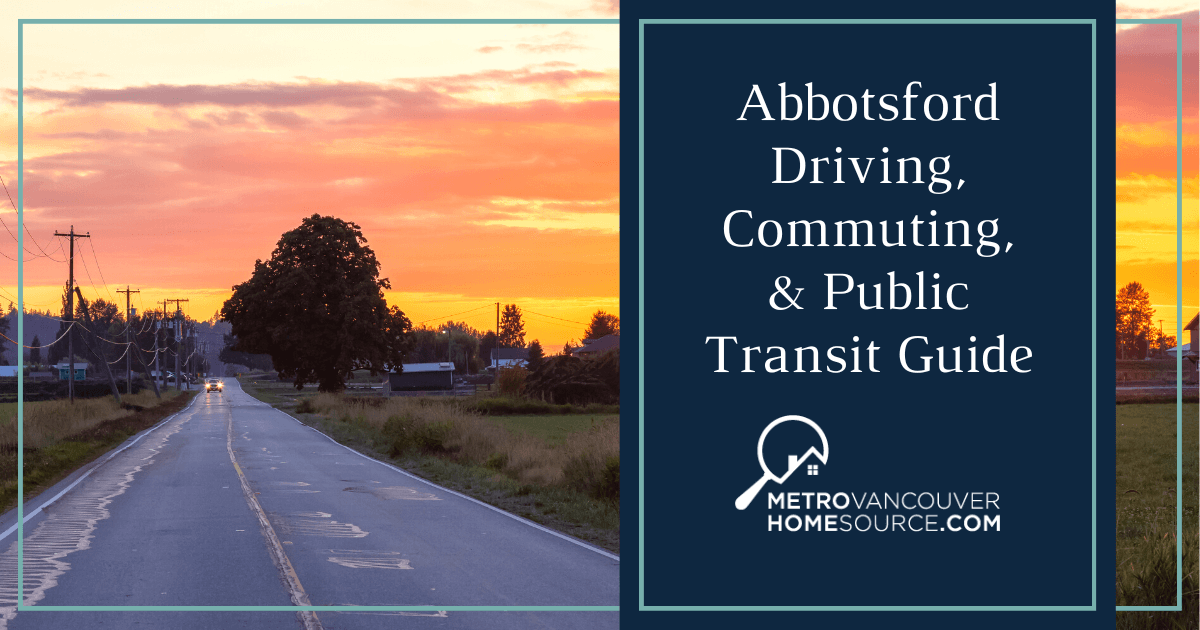 As a suburb of the Vancouver metro area, the city of Abbotsford is a growing town with a variety of travel options. While most adults within the community are drivers, getting around using public transportation is also possible. About 60% of residents work in Abbotsford, with the rest commuting to nearby areas, so being familiar with the roads around the city is key. Read on for everything to know about driving and public transportation in Abbotsford.
Get to Know Your Major Roads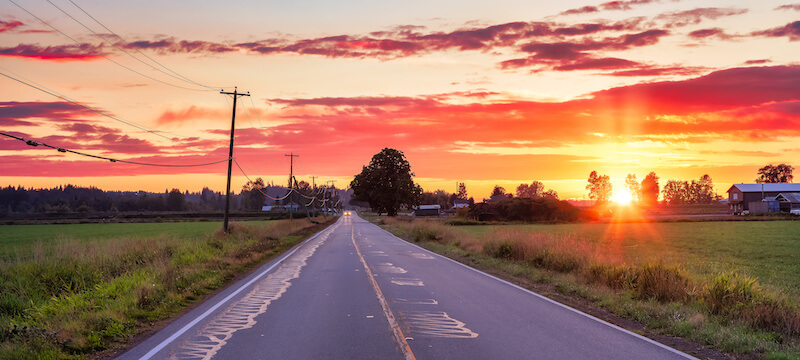 The first step in understanding a new community is learning the major travel routes. Memorizing the layout of the most popular paths can make it much easier to navigate. Abbotsford has two main highways and several key roads for travel inside the city, and a third highway traces along the northern edge just outside the boundaries.
First and foremost, Canada 1 is the primary route for commuters leaving the community. To the east, Canada 1 passes through communities like the city of Chilliwack and Hope before heading north toward Kamloops. Most drivers will be more familiar with the western route, which connects with Surrey, Burnaby, and Vancouver. Highway 11 runs north to south through the city and connects with the United States at the southern edge.
Just outside the city on the north side of Fraser River, Highway 7 connects directly with Highway 11. Highway 7 offers a secondary route to Vancouver and the Coquitlam community.
Inside Abbotsford, several surface streets also serve as crucial travel routes. Huntingdon Road transitions into Vye Road and runs nearly the entire length of the southern border. Fraser Highway is another important route for the region, although it only touches the western edge of Abbotsford. It is also important to note that much of the city's streets operate in a grid format.
What to Expect Driving at Different Times of Day
In many communities, knowing when to drive is as important as understanding where to drive. While traffic in most metros can slow down before and after the workday, Abbotsford does not experience the driving delays that are common in much larger cities. Because of the street grid format, drivers inside the city almost always have alternative routes to consider. That can save a lot of time and help avoid congestion.
Commuters that must use the major highways to connect with neighbouring towns may have more delays. However, most people moving to Abbotsford will not notice significant driving waits while getting to work. For example, travelling from Ripples Estate Winery to the Abbotsford International Airport normally takes 22 minutes in optimum traffic. Starting at 7:00 a.m., the same journey can take just about six minutes longer.
Traffic on this route is the heaviest between about 8:00 a.m. and 10:00 a.m., but commuters experience about eight minutes of delays at most. Those minor delays can continue throughout the day before reaching only about four minutes of delays at about 7:00 p.m. Only drivers heading to larger towns to the west will encounter heavier traffic.
Parking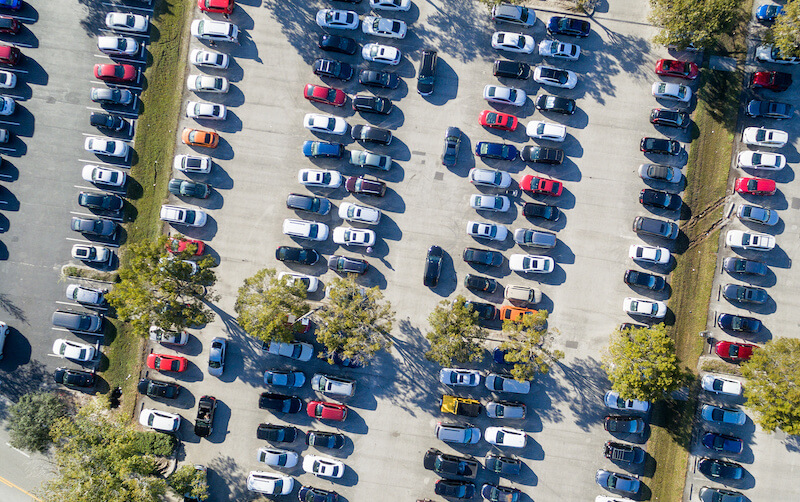 New residents to the city will also notice plenty of parking options. Downtown Abbotsford offers on and off-street parking that is mainly free. Spots along the street are both parallel and angled, and loading zones are also designated. However, paying attention to the time limits is essential, as each space will be limited to 15-minute, two-hour, and three-hour increments.
The only area of the city with paid parking is the Abbotsford Airport. These spaces feature 24-hour guest services, security, surveillance, and baggage carts. Such amenities will cost $2 for the first hour and $1 for each additional hour, and long-term parking is also available for $9 per day.
Public Transportation
Because the Abbotsford area has nearly 150,000 people, there are several forms of transportation inside the community. However, as part of the Vancouver region, there are also some very effective ways of travelling intercity. These public transportation services provide a way to get around town for people who don't drive. It is possible to travel through Abbotsford using only public transportation.
Central Fraser Valley Transit
For people within the Abbotsford region, the first source of public transportation is the Central Fraser Valley Transit System. As a comprehensive bus service, they operate 23 routes with a fleet of more than 60 vehicles. The funding for the service comes from several entities, including the City of Abbotsford, the University of the Fraser Valley, BC Transit, and the District of Mission. The system is managed as part of the BC Transit crown corporation that services the entire province.
The core of the service is 18 routes that crisscross through every region of the City of Abbotsford. In addition, several connect directly to outside cities, including the Langley community, Auguston, Barron's Way, the Mission community, and Chilliwack. Several paths meet at exchanges near the downtown area so people can transfer to a different vehicle. New residents may want to consider downloading the transit app for assistance with planning a journey.
To accommodate people who work outside the typical 9:00 a.m. to 5:00 p.m. schedule, the bus system operates almost 18 hours a day. Routes start as early as 5:30 a.m. and run until after 10:00 p.m. Riders generally don't have to wait more than about 30 minutes in between arriving vehicles. During rush hour, most buses run every 20 minutes.
In addition to the core routes, the system also offers two additional services. HandyDART is a door-to-door transportation benefit for people with disabilities that would make travel via fixed-route vehicles difficult. Registration is required in advance of the route request. HandyDART vans include devices to load and secure wheelchairs and other accessibility tools.
The Fraser Valley Express is another service offered. This particular route is intended for riders with a long-distance commute. With only seven stops, it connects directly with Lougheed SkyTrain Station and two Park and Ride locations. Anyone needing transportation to the city of Vancouver will want to get familiar with the express bus.
Central Fraser Valley Transit Fares
Cash fare for adults is $2.25
Ten-ticket packages are $20.25
Fare for seniors over 65 and school kids in K-12 is $1.75
HandyDART fare is $2.25 each for the passenger and guest
TransLink SkyTrain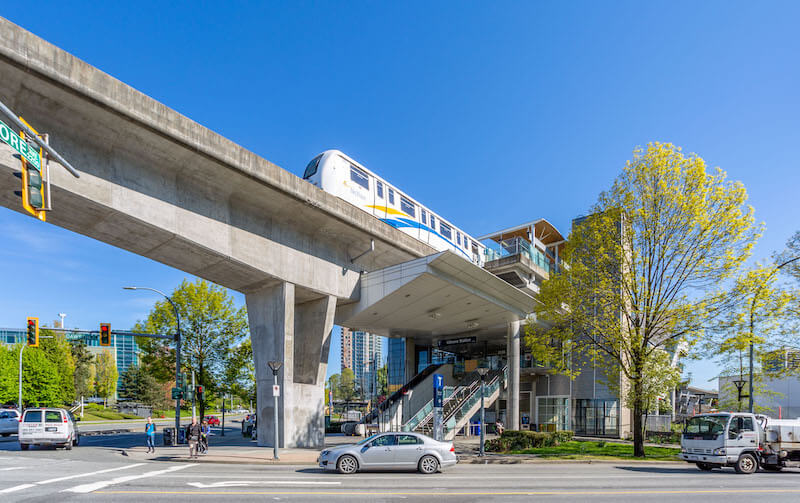 TransLink SkyTrain is a light rail system providing comprehensive travel throughout the Vancouver Metro. The service offers three distinct lines with 53 stations. First created more than 35 years ago, it continues to spread to connect communities further away from the central city.
The Expo Line begins in downtown Vancouver and connects with stations in Burnaby, the city of New Westminster, and Surrey. The Millennium Line starts in East Vancouver and runs through Burnaby, the Port Moody community, and Coquitlam. Finally, the Canada Line links downtown Vancouver, the Vancouver International Airport, and the city of Richmond. Residents of Abbotsford will likely take the Fraser Valley Express to the Lougheed Town Centre Station, where they can catch both the Expo and Millennium routes.
Most routes run every three to six minutes during the day, meaning riders do not have to wait for long. Services begin on weekdays after 5:00 a.m. and end a little past 1:00 a.m. Fares are based on the number of zones travelled. Some riders may be eligible for reduced fares.
TransLink SkyTrain Fares
Travel within one zone for $3.05
Two-zone travel is $4.35
Three-zone travel is $5.90
TransLink West Coast Express
The West Coast Express is a commuter rail line connecting Downtown Vancouver and Mission City. Abbotsford residents that need to go directly to the central municipality may also use this option. The route begins near the northern border of Abbotsford in nearby Mission City. Along the way, the path links Maple Meadows, Port Haney, and Coquitlam before stopping on the Vancouver waterfront. Commuters to the city of Burnaby and Surrey may find that the West Coast Express runs too far north for convenient travel.
Unlike the other rail routes that run consistently during the day, the West Coast Express is only a rush-hour offering. Four trains run from Mission City to Vancouver each morning, beginning at 5:25 a.m. Each afternoon starting at 3:50 p.m., there are four vehicles returning riders to Mission. The last route for the day leaves the waterfront at 6:20 p.m. Fares for this option are also based on zones, and reduced costs are available for specific groups.
TransLink West Coast Express Fares
1 or 2 zone travel outside Vancouver is $5.90
3 zone travel outside Vancouver is $7.65
3 zone travel including Vancouver is $7.65.
4 zone travel including Vancouver is $9.45.
The complete trip from Vancouver to Mission City is $12.80
Commute Times from Abbotsford to Other Communities
For those who have to leave Abbotsford to work in other communities, researching the route before the relocation is a smart move. For example, quick access to highways can mean less time sitting in the car than on routes using mostly surface streets. Here are some of the typical commuting times and methods to nearby cities.
Mission
Using BC-11, Mission is 12 km directly north of Abbotsford across the Fraser River. The journey takes about 11 minutes in light traffic, with rush hour potentially adding 13 minutes. There is one bus route running between the communities.
Maple Ridge
The Maple Ridge community can be found northwest of Abbotsford, continuing along BC-11 for 31 minutes. Rush hour delays can add another 30 minutes to the trip, but multiple public transportation routes are available.
Langley
Like most of the cities on this list, Langley is also northwest of Abbotsford, this time by about 33 km. The fastest travel route is using Canada 1 for about 28 minutes, although traffic can slow this to about 50 minutes. Commuters without a personal vehicle can find at least two public transportation services to assist.
Surrey
One of the largest communities in the region, the city of Surrey is about 46 km northwest of Abbotsford via Canada 1. The total trip can go as fast as about 35 minutes, although the afternoon trip can take twice as long. The most efficient public transportation routes include taking the express bus to the Expo Line.
Chilliwack
Moving in the opposite direction, Chilliwack is about 24 minutes northeast of Abbotsford via Canada 1. With a total travel distance of about 34 km, the trip can take as much as 40 minutes during the evening rush. Those unwilling to drive can take the express bus to reach their destination.
Other Helpful Things to Know
While many residents may not think about it, Abbotsford's location on the Canada/USA border makes it a major transportation lane. Open 24 hours, the Sumas Huntingdon Border Crossing is accessible via vehicle or foot. It is one of the busiest border crossing locations in the region, connecting Washington State Route 9 and British Columbia Highway 11. Anyone living in or driving through the area around the border would be wise to stay current on wait times and local traffic.
Southbound travel includes two truck lanes and four auto lanes. Northbound drivers will find one truck lane and six lanes for cars. The station has several services, such as a duty-free shop on both sides and a railway depot. Anyone passing through the border must answer questions and show documents to Customs and Immigration professionals.
Aiming for Abbotsford
Moving to a new community can be the adventure of a lifetime. In addition to novel restaurants, public parks, museums, and other activities, learning the best ways of travelling through the town will be necessary. One of the best things about the Vancouver region is its commitment to public transportation. In addition to well-maintained highways, residents can also depend on commuter rail and a comprehensive bus system. Those living in Abbotsford are well-connected to the region and can travel comfortably within the city.