Surrey Driving & Commute Times: What to Expect When Driving in Surrey
Posted by Katrina Amurao on Tuesday, May 4, 2021 at 1:10 PM
By Katrina Amurao / May 4, 2021
Comment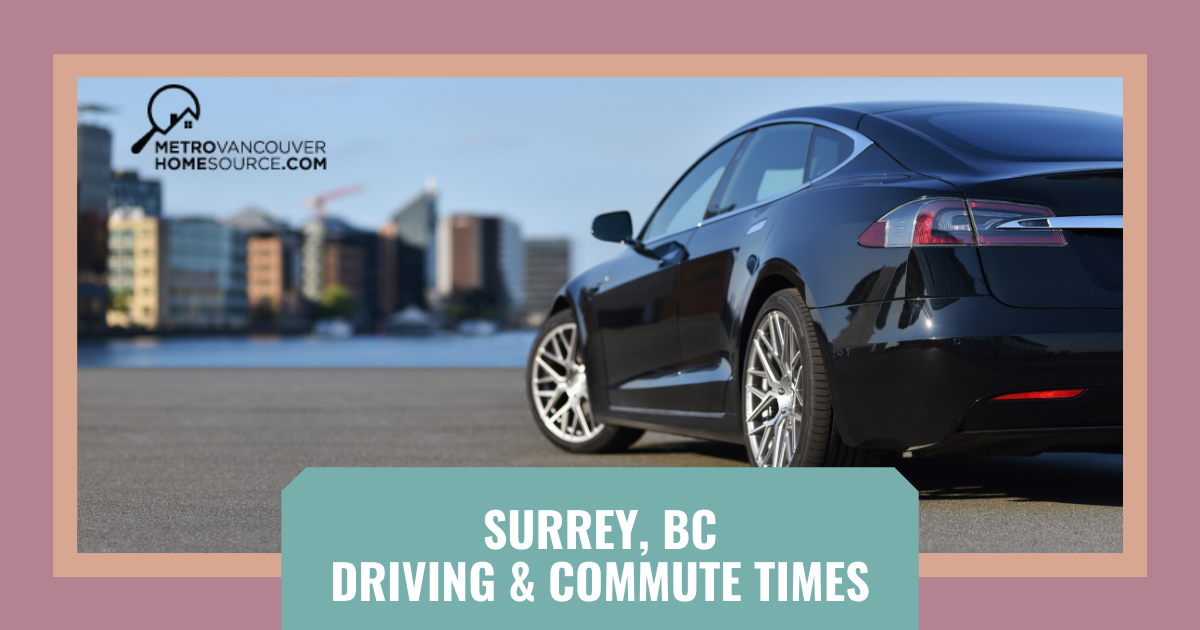 Fast becoming the jewel of the Vancouver area, Surrey, British Columbia, has a current population of more than 517,887. Once serving as little more than another suburb of the larger community, today, it is the second-largest population in the province. By many estimates, Surrey is on track to overtake Vancouver as the largest city in British Columbia by the end of the decade.
For potential new residents and visitors to the community, there are many factors to consider. Much more than getting from home to work, driving conditions can reveal many things about the eventual experience in a city. Whether returning to townhomes after work or leaving waterfront homes for a night on the town, here are a few things to know about driving in Surrey.
Get to Know Surrey's Major Roads
Interestingly enough, the roads in Surrey were all informally named by the settlers living in the area. As the community grew, new roads were completed using the names of the road-builders or nearby farmers. When the first maps were created, they incorporated these names into the document without a formal naming process. The completion of the Trans Canadian Highway eventually forced the adoption of the national grid system and standardized addresses.
This history is important because the grid system essentially means knowing an address provides the approximate location in the city. Avenues run east to west, and streets run north to south, so an address such as 1550 136th Street would be near 15th Avenue and 136th Street.
Aside from understanding the grid format, it is also valuable to know the major roads in Surrey. Highway 1 passes through the northern edge of the community from Port Kells to Fraser Heights. This is the nationwide highway that provides a direct route from Vancouver to the major cities in the east. Highway 17 wraps around the northern coast of the city and continues southwest toward Tillbury Island.
Highway 15 nearly runs the length of the city from north to south. King George Blvd is the other major north-to-south street in the community. The only true east-to-west route in the area is Highway 10. However, Fraser Highway and Highway 99 both cut diagonal journeys through Surrey.
What to Expect During Rush Hour in Surrey
In terms of rush hour traffic and congestion in Surrey, the community offers mixed results. Traffic is often heaviest between 7–9 a.m. and 4–6 p.m. on weekdays. However, Monday and Friday generally experience the lightest traffic of the weekdays. Weekends are generally light throughout the city.
Workers who live and work within Surrey have the best commute. Rush hour traffic inside the city limits is usually manageable. Even downtown Surrey can be relatively easy to navigate for those familiar with the major streets.
However, commuting traffic to the Vancouver area can require extra time, as congestion near the bridges can create major delays. Any commuters traveling close to the Fraser River may find long waits and slow-moving cars. It is likely wise to monitor live traffic reports before driving because avoiding accidents or construction by using a different bridge may save a lot of time. This also might be a good time to assess the fuel efficiency savings of your automobile. It very well may be more cost-efficient to purchase a commuter car solely for the purpose of work.
Parking in Surrey
Those parking in Surrey should first be aware of the regulations regarding the practice. While street parking is available to the public in areas throughout the community, it is illegal to park for more than 72 hours. Drivers planning to leave a car for several days will have to find dedicated parking away from the street. It is also illegal to park within 1.5 metres of a driveway.
The majority of paid parking metres exist in high-traffic areas like downtown Surrey. City-maintained parking spaces charge $1.50 per hour and a flat rate of $3.00 for evenings. Parking over the weekends is the same hourly rate, while a flat rate of $4.00 is available for 12 hours. Monthly parking is also available at a rate of $130 for workdays and $240 for all-day access.
Other Helpful Things to Know About Driving in Surrey
Despite the potential for congestion near the bridges, Surrey can be a great place for drivers. However, there are a few other things to consider. Visitors and new residents from the U.S. should know that Canada uses the metric system. That means understanding gas station prices and road signs will require metric familiarity.
For example, drivers passing through a school zone at 30 mph will get a ticket if the sign indicates a speed limit of 30 km/hr. Also, Canadian gallons are larger than U.S. gallons, which should be factored into cost of living calculations.
Driving in British Columbia requires passing a test based on the province's rules. Those with licences from places outside Canada will have to pass a knowledge and vision test. They will also have to wait an entire year before taking the actual road test. Fortunately, visitors with a driver's licence from another country may drive in B.C. for up to six months (though new residents must apply for a B.C. licence within 90 days). All drivers need auto insurance that is valid for Canada.
Learning to Love Driving in Surrey
Surrey is a great place to live. For those that enjoy driving, a little research and care can ensure a positive experience. Make sure to check traffic reports regularly and watch for warnings about construction. Former U.S. residents should take the time to get familiar with the metric system before moving to Surrey.
With a little caution and preparation, driving in the "City of Parks" can be as easy as learning to love maple syrup.