Driving in Vancouver, BC: Vancouver Drive Times, Rush Hour, & Traffic Tips
Posted by Katrina Amurao on Tuesday, July 11, 2023 at 9:36:31 AM
By Katrina Amurao / July 11, 2023
Comment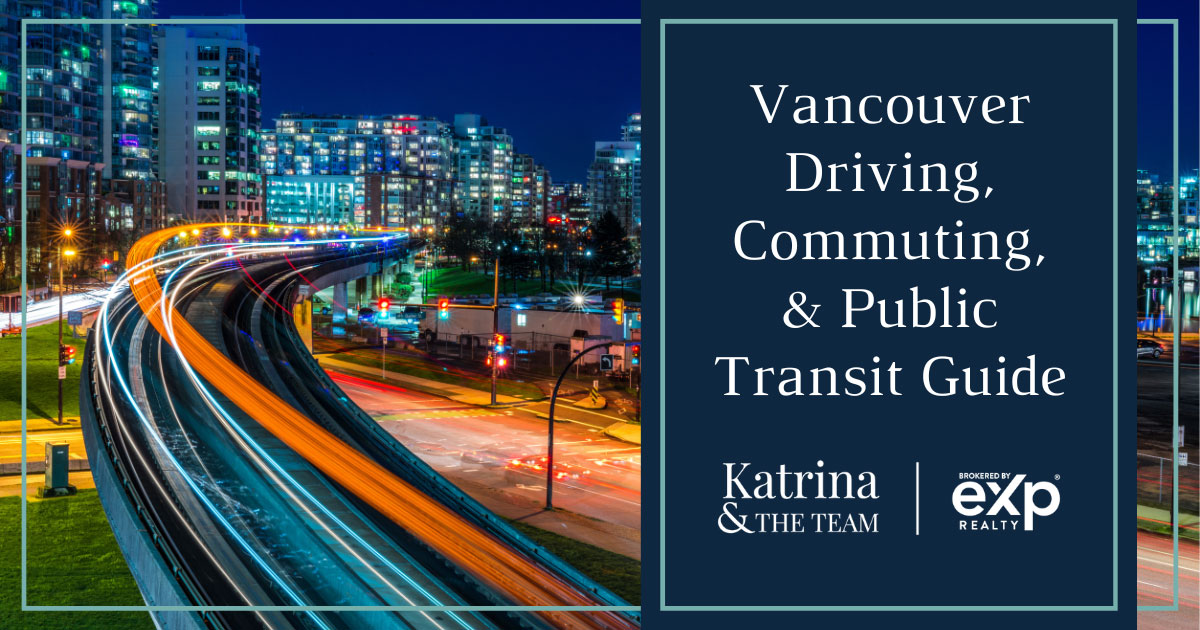 Driving in the city of Vancouver, BC, can be tricky with its winding roads, bustling highways, and intricate public transportation system. But with the correct information, you'll soon find that driving in Vancouver is quite manageable.
This guide will cover significant roads to familiarize yourself with, traffic patterns to look out for, parking tips and tricks, and a helpful public transportation guide—all designed to help make your journey around Vancouver more enjoyable. So whether you're moving to Vancouver, visiting, or a resident looking to expand your knowledge, buckle up and get ready to start exploring the city!
Get to Know Your Vancouver Roads
Vancouver has several major highways connecting the city with surrounding regions. The Trans-Canada Highway (Highway 1) is the most important of these, stretching from the city center to eastern Canada. Highway 99, also known as the Sea-to-Sky Highway, links Vancouver to popular tourist destinations such as Whistler and Squamish.
Another major route is Highway 91, which connects Vancouver to the Vancouver International Airport and the US border. The Port Mann Bridge, which carries Highway 1 over the Fraser River, is one of the busiest bridges in the province, while the George Massey Tunnel on Highway 99 is a key link between Vancouver and the communities south of the Fraser River.
Public Transportation in Vancouver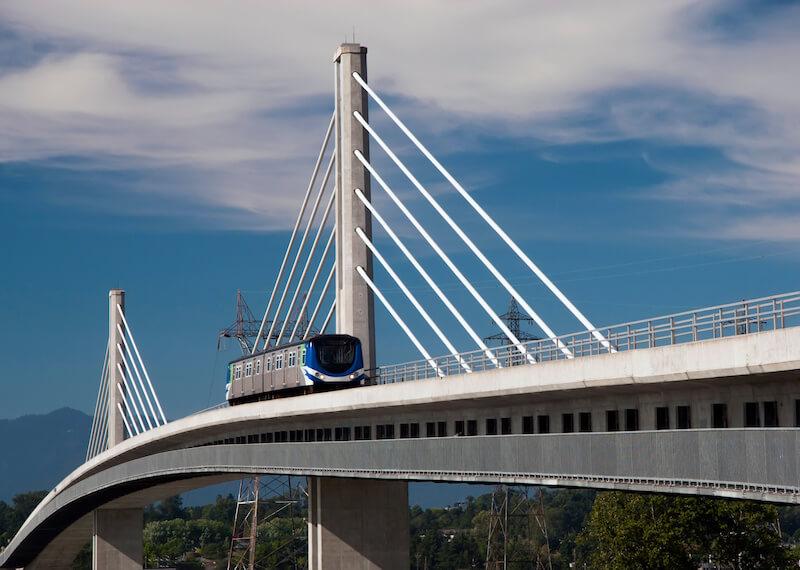 Vancouver is a dynamic urban centre, offering various public transit solutions to move around the city. Whether you're looking for a quick way to get downtown or an efficient way to explore the sights, there's something here for everyone.
Buses
Vancouver has an extensive bus network that runs throughout the city and surrounding areas. During rush hour, buses generally come around every quarter of an hour or faster; during non-busy times, it can be up to half an hour between them. You can pay your fare on board using cash or the Compass Card system, which allows you to store value on your card for easy payment.
SkyTrain
SkyTrain is Vancouver's light rail transit system connecting Downtown Vancouver with other cities in Metro Vancouver, such as Burnaby, New Westminster and Surrey. SkyTrain runs continuously, with frequent stops, to ensure quick and convenient transportation. The fare is cost-effective, making SkyTrain a convenient and economical option for travelling around Metro Vancouver. Thanks to the six cities with SkyTrain stations in Metro Vancouver, the area is highly accessible whether you have a car or not.
SeaBus
SeaBus is a passenger ferry that connects North Vancouver with Downtown Vancouver across Burrard Inlet via False Creek Ferry Dock (at Waterfront Station). The transit time between North Vancouver and Downtown Vancouver via the False Creek Ferry Dock (at Waterfront Station) is around 12 minutes in either direction. Service is every 15 minutes during peak hours—weekdays from 6:00 a.m.–9:00 p.m.—and at 30-minute intervals during non-peak hours. Fares are charged according to zones, ranging from one zone ($3.15) to three zones ($6.20).
West Coast Express
West Coast Express is a commuter rail service between Mission City station in Mission and Waterfront Station in Downtown Vancouver, with five stops along the way, including Port Haney, Maple Meadows, Pitt Meadows, Coquitlam Central & Port Coquitlam Stations. The journey takes approximately 75 minutes one way on weekdays only; fares vary depending on how many zones you traverse, so be sure to check before embarking.
Biking
With the addition of bike lanes throughout the city, cycling has become a viable and attractive alternative to public transportation. There are several bike rental companies around town if you don't own your own bicycle already; remember that helmets must be worn by law when cycling.
Commute Times from Downtown Vancouver
Downtown Vancouver to Richmond
Commuting from downtown Vancouver to the city of Richmond is relatively quick and easy. The commute duration varies depending on traffic conditions, with an estimated range between 15 minutes to an hour. The Canada Line rapid transit system runs along Cambie Street and connects downtown Vancouver with Richmond Centre in just 25 minutes. This line also stops at YVR Airport, making it an excellent option for those travelling to or from the airport. Driving is an option, too, with routes such as Granville and Oak taking around 30–45 minutes in varying traffic.
Downtown Vancouver to North Vancouver
Commuting from Vancouver to North Vancouver can be tough due to limited options for travel. The main route is via Lions Gate Bridge, which can experience heavy traffic during rush hour. However, the SeaBus, a passenger ferry service, provides an alternative for those travelling from downtown Vancouver to North Vancouver, with frequent daily sailings.
Downtown Vancouver to Surrey
Commuting from downtown Vancouver to the city of Surrey can be challenging due to the distance between the two cities. The most direct driving route is Highway 1, but during rush hour—much like in Vancouver—traffic can be expected when driving in Surrey. Public transportation options include the SkyTrain, which connects downtown Vancouver to Surrey via the Expo Line. However, the journey can take over an hour and may require a transfer. Alternatively, the West Coast Express, a commuter rail service, provides a direct route between downtown Vancouver and Surrey but operates only during weekday peak hours.
Helpful Tips for Driving in Vancouver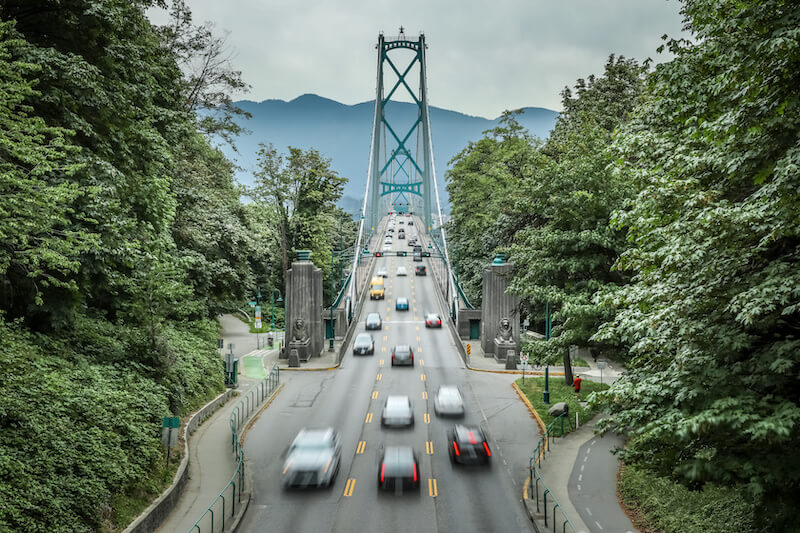 Navigating Vancouver roads can be daunting, yet with some savvy advice and techniques, you can make it much more straightforward.
Plan Ahead
Plan your route ahead of time to avoid any unexpected detours or delays. This is especially important when driving during rush hour traffic as the roads can get quite congested. Use online maps and apps to help plan your route so that you don't get lost or stuck in gridlock.
Be Prepared for Rainy Weather
It rains a lot in Vancouver, so it's essential to be prepared for wet weather conditions when driving around town. Ensure your wiper blades are in top condition, and always stay abreast of the weather forecast before departing.
Know Where You Can Park
Parking in Vancouver is limited, so knowing where you can park is important before setting off on your journey. Plenty of public parking lots are available throughout the city, but they often fill up quickly during peak hours, so plan accordingly if possible. Alternatively, you may consider utilizing other means of transportation, such as public transit or ride-sharing services.
Watch Out For Cyclists
Cycling is popular among locals due to its convenience and affordability, so drivers will regularly share the road with them. Be mindful of their presence by giving them enough space when passing and following all traffic laws regarding cyclist safety (e.g., no honking at cyclists).
Remember the Basics
Obeying all traffic laws and regulations while driving is essential for your safety and those around you. Ensure everyone inside your car has their seatbelt securely fastened before starting each trip; follow speed limits; yield right-of-way appropriately; and never use mobile devices behind the wheel. Doing these simple things will go a long way toward ensuring everyone stays safe while navigating through busy streets in Vancouver.
Rule the Roads in Metro Vancouver
Driving in and around Vancouver's best neighbourhoods can be a great way to experience the city; understanding what driving in this beautiful coastal city is like will help you make your journey smoother. So before hitting the road in Vancouver, take some time to review these topics so that you have a successful and enjoyable trip.