5 Vancouver Area Neighbourhoods With SkyTrain Stations: Where's Your Nearest SkyTrain Station?
Posted by Katrina Amurao on Monday, January 30, 2023 at 10:38:06 AM
By Katrina Amurao / January 30, 2023
Comment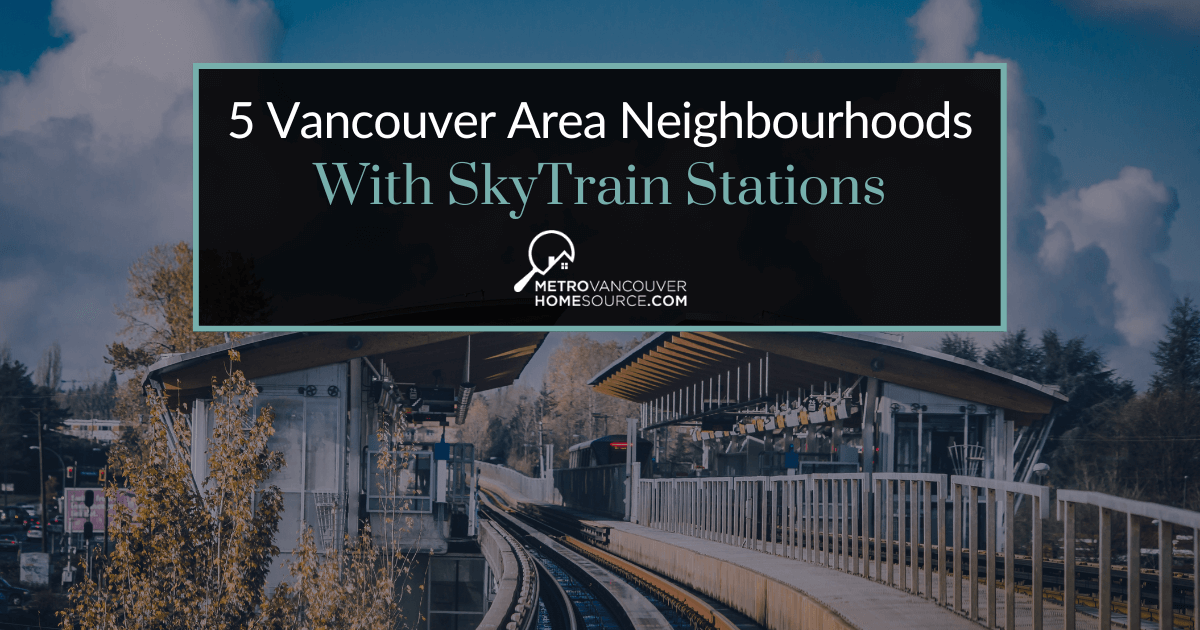 When moving to Vancouver, looking for a home near SkyTrain public transit stations is wise. This rail network consists of more than 50 stations and tracks spanning nearly 80 kilometres. Nearby residents benefit from lower parking and transportation expenses and fewer commuting hassles. They can travel quickly with a more negligible environmental impact, and their homes also maintain higher resale values. To get started, take a look at these five neighbourhoods in the Vancouver area near SkyTrain stations.
Downtown New Westminster
The walkable area of Downtown New Westminster features parks, museums, water views and fun events. It's home to a Safeway supermarket in addition to numerous small businesses. Some local shops carry furnishings, jewelry or chocolate. Others sell antique and vintage items. Residents can also browse galleries and watch movies at the theatre. This historic neighbourhood offers several fitness centres as well. A few establishments schedule yoga and workout classes. Downtown New Westminster's restaurants prepare burgers, barbecued meats, breakfast, sushi, sandwiches and Mexican cuisine. They range from high-end eateries to pubs and fast-food chains, so there's something for everyone.
Single-family homes in New Westminster list from just under $1 million, while New Westminster condos list from the $300s.
The nearest SkyTrain station can be found at the corner of 8th and Columbia streets. New Westminster has served commuters since the mid-1980s and ranks among the system's most popular facilities. Expo Line riders may reach it from locations such as King George. Buses transport passengers to Uptown, Burnaby and other destinations. This elevated station provides direct access to a movie theatre and the Shops at New West mall. An overpass enables pedestrians to cross the tracks. They can reach Columbia Square Plaza by walking about 500 meters. It features free parking and various retail shops.
Golden Village
People who live in Golden Village have easy access to countless amenities. This area offers a tremendous variety of stores, service providers and eateries. Numerous Asian restaurants are located in the malls and on Alexandra Road. The latter destination has so many dining establishments that some people call it "Food Street." Visitors can stay the night in a Radisson hotel at the President Plaza mall. Continental Centre features a grocery store, jeweller, optician and pharmacy. Many other businesses in this mall provide services. They include dental offices, health clinics, accounting firms and travel agencies.
Canada Line trains stop at Aberdeen Station in Golden Village. SkyTrain passengers can reach places in the city of Richmond and visit friends at their Vancouver luxury homes from this location. Aberdeen supplies complimentary parking, but drivers may park for three to four hours (depending on the garage level). The station provides chargers for electric vehicle owners. Motorists only need to drive about five kilometres to reach Vancouver International Airport. Pedestrians may walk to nearby stores, bars, restaurants and marinas. They can visit the waterfront area by following Cambie Road.
Surrey City Centre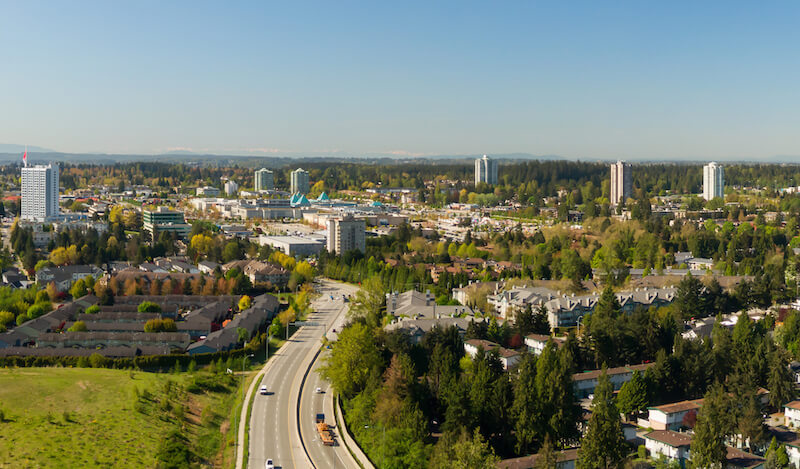 This pedestrian-friendly neighbourhood is known for its university campuses, affordable housing and green spaces. It's also one of Surrey's best neighbourhoods! Holland Park spans 10 hectares and hosts unique events like the Jamaica Day Festival. Several colleges provide higher education in Surrey City Centre. They include Kwantlen Polytechnic University, Sprott Shaw College, Simon Fraser University and others.
Residents can receive medical care at Surrey Memorial Hospital, one of the nation's biggest health facilities. Surrey City Centre also features a theatre, multiple sports arenas and a huge shopping mall. Stores in the mall sell goods ranging from apparel to watches and cameras.
Since this neighbourhood has so much to offer, some locals may rarely need to go elsewhere. Nonetheless, the area boasts three convenient SkyTrain stations. Passengers can travel to downtown Vancouver within 45 minutes. The elevated Surrey Central station is near a library branch and recreation centre. Pedestrians may walk from the platform to city hall, various office buildings or the shopping mall. This Expo Line station also maintains a park-and-ride lot for individuals who need to reach the train by car. Buses stop at Surrey Central and carry passengers to various destinations, such as Langley and White Rock.
East Vancouver
This district benefits from comparatively low real estate prices and proximity to downtown Vancouver. Many locals have relatively short commutes via bus, car or bicycle. The East Side is also near the city of Burnaby and Rogers Arena. Homes in Mount Pleasant enjoy proximity to several small shops in historic buildings. East Vancouver businesses include restaurants, grocers, clothing stores, bookshops and galleries. This neighbourhood hosts various art festivals, such as Car Free Day. Many East Side homeowners live in condominiums. Nearby employment options range from retail to industrial.
Residents who work elsewhere can make use of the popular Commercial-Broadway rail station. This SkyTrain facility enables travellers to board underground Millennium Line and elevated Expo Line trains. Escalators give Millennium passengers access to the Expo platform. Among other places, elevated trains carry commuters to the downtown district and Nanaimo Station. Riders who disembark at Commercial-Broadway have the option to board 99 B-Line buses. The station is close to John Hendry Park and Trout Lake Community Centre. Pedestrians can walk 90 meters to parking at 2555 Commercial Drive, and an overpass over East Broadway ensures a safe street crossing.
Downtown Coquitlam
This regional city centre has a mix of commercial and residential structures. Multi-unit buildings outnumber single-family homes by far. Residents can quickly reach malls, supermarkets, diverse restaurants, stadiums and parks. Town Centre Park provides access to Lafarge Lake as well as walking paths. Two local parks feature playgrounds, and visitors can play baseball or volleyball. Shoppers can purchase nearly any item in downtown Coquitlam (ranging from fresh produce to appliances). Additionally, homes in Coquitlam feature access to these desirable amenities:
Teaching garden
Yoga, CrossFit classes
Several fitness centres
City aquatic complex
Library branch
The Lincoln SkyTrain station on Pinetree Way went into operation in 2016. This elevated terminal gives riders access to the Millennium Line. The West Coast Express train and various buses also stop in Coquitlam. This station supplies about 110 parking spaces. Motorists may use them at no charge on Sunday, and it costs relatively little to park there during the rest of the week. Travellers without cars can walk to nearby shopping malls, including Henderson Place, Westwood and Coquitlam Centre. The trip to Town Centre Park spans 1.5 kilometres.
Choosing a Neighbourhood With Easy SkyTrain Access
While all of these areas provide convenient access to the SkyTrain system, they offer substantially different amenities and housing options. The ideal choice differs based on a person's priorities, housing budget, favourite activities and commuting destination, but homebuyers can rest assured that Vancouver's best neighbourhoods and the suburbs around it aim to please. Regardless of your choice, a residence in one of these neighbourhoods can make life easier while reducing car maintenance, fuel and parking costs.