8 Most Affordable Surrey Neighbourhoods: Best Value in British Columbia
Posted by Katrina Amurao on Tuesday, March 15, 2022 at 3:25 PM
By Katrina Amurao / March 15, 2022
Comment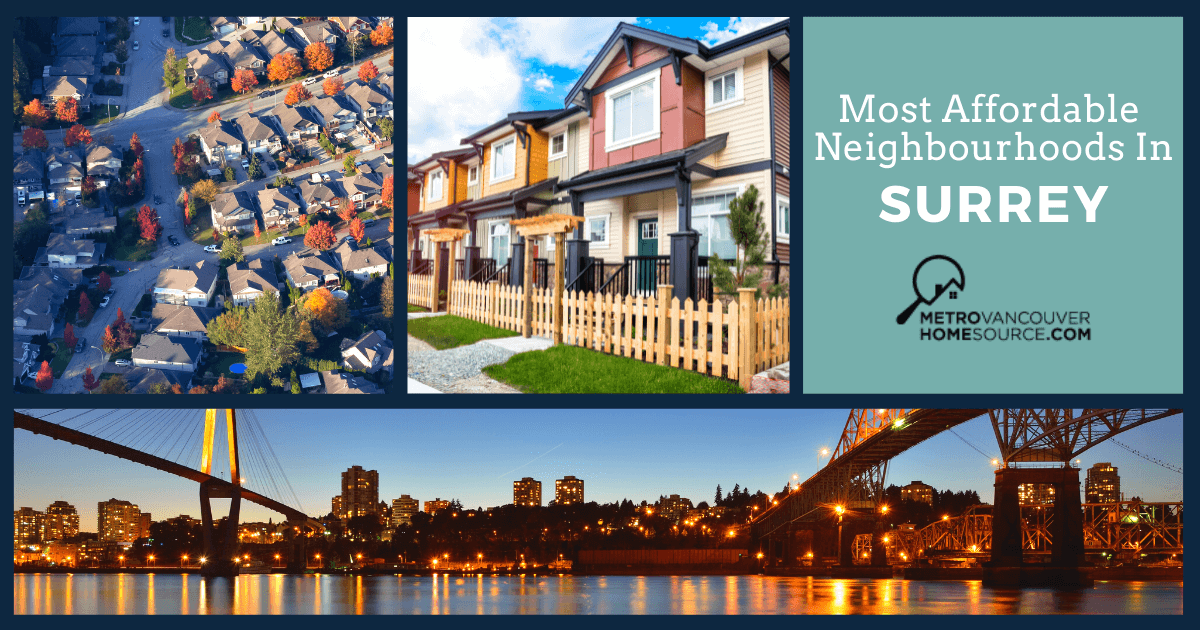 Surrey rivals Vancouver in size, and its 500,000+ citizens have a variety of requirements when it comes to finding the perfect home. Some want the luxurious lifestyle associated with Surrey's most expensive neighbourhoods, some hold public transportation access and short commutes to be of the highest importance, and still others want to be close to all the action and have plenty of things to do in Surrey. Knowing what a homebuyer wants most out of their home can help them narrow down the many neighbourhoods in Surrey to those that best fit their needs.
Looking for a home for sale in Surrey that doesn't break the bank? Prospective homeowners should add the following affordable neighbourhoods in Surrey, BC, to their house-hunting list.
Bridgeview
Bridgeview Amenities
Scott Road station of the Metro Vancouver's Sky Train rapid transit system
Seven minutes from the city centre
Bridgeview is a riverfront neighbourhood on the north side of Surrey, bounded on the north by the Fraser River, the south by King George Boulevard, the east by the Port Mann Bridge, and the west by the Pattullo Bridge.
The neighbourhood includes various housing types, including single-family detached homes, condos, and townhomes, though single-family homes dominate the market. The price range for a single-family home in Bridgeview generally begins at around $1 million.
The neighbourhood has several restaurants and cafés. The Railway Café serves breakfast and lunch. The Red Racer Roadside Diner serves food and supports the Central City Brewery. Two convenience stores, On the Run and Town Pantry, are along King George Boulevard.
King George Corridor
King George Corridor Amenities
Sunnyside Park
Alderwood Park
Convenient bus stops
Near South Surrey Arena and athletic park
The King George Corridor is the subdivision of South Surrey, spanning the length of King George Boulevard from 8 Avenue just east of the White Rock community to the Nicomekl River.
The Corridor has long been part of a major transportation hub; King George Highway (later renamed King George Boulevard) was built in 1927. King George Boulevard is a major thoroughfare, connecting Surrey with the New Westminster community and Highway 99. The city's bus depot also was located in the corridor until it merged with BC Transit in 1974. Greenbelts provide buffers between the highway and housing in this urban-feeling neighbourhood.
A variety of home types are in the Corridor, and prices vary. The typical price range for a King George Corridor home is from about the $500s up to the multi-millions, but condos can sometimes be found as affordably as the $300s.
Restaurants to try in the King George Corridor are the Roadhouse Grille, Michael's Artisan Bakery and Café, and Rasoi. Grocery stores include Choices Market. Kaffina is popular for coffee, and the Peninsula Village Shopping Centre features about 50 stores and restaurants.
Sullivan
Sullivan Amenities
Northview Golf and Country Club
Fraser Valley Heritage Rail Station
Easy access to White Rock Beach
Sullivan Community Hall
Sullivan, centred on 152nd Street and 64th Avenue, has a rich history and has been known by several names, including the Johnston Settlement, Sullivan Station, and Sullivan. It formerly was the city's economic heart as a major logging, milling and shingle manufacturing community, and now is an important heritage centre.
Sullivan features single-family homes, condos and townhomes. Some are older homes, while others have been recently built. The price range for the plentiful townhomes in Sullivan typically begins around the $700s, and single-family homes in Sullivan generally start becoming available at around $1.3 million.
Panorama Village at 152nd Street and Highway 10 provides a variety of shops, services and restaurants. New York New York Greek restaurant, which has a New York city theme, is also in the neighbourhood.
West Newton
West Newton Amenities
West Newton Community Park
Kwantlen Polytechnic University
Newton Recreation Centre and Wave Pool
Bus and Skytrain stations
West Newton is located north of Highway 10 and west of King George Boulevard. The neighbourhood was founded in 1886, and most of the area was built out gradually over the 20th century; however, its central part remained as large lots and forested areas until much more recently. It is a largely residential area, and the city has developed three plan areas: West Newton North, West Newton South, and West Newton, Highway 10.
West Newton homes for sale include single-family detached in various styles and price ranges, including bungalows, two-storey homes, ranchers, and split-levels. Many include outdoor patio areas. In West Newton, condos and townhomes are typically available starting as low as the $200s, with the single-family real estate market typically beginning at around $1.2 million.
Although the neighbourhood is primarily residential, shopping is available along King George Boulevard. Various restaurants are in the neighbourhood near Kwantlen Polytechnic University, including Gulberg Mediterranean Grill and the vegetarian Satya Asha Fusion 9. The neighbourhood also is near Newton Town Centre, Surrey's largest town centre, and has an annual Vaisakhi Parade that draws about 100,000 people.
St. Helen's Park
St. Helen's Park Amenities
Robson Ravine Park
Three bus stops within the neighbourhood
Houses sit back from the street
Spectacular views from the slope
St. Helen's Park is located uphill from the South Westminster industrial area, east of the BC Hydro railway corridor. It was first established in the 1950s, and many of its original homes remain. It consists of 416 lots, and custom zoning limits the size and height of buildings within this low-density neighbourhood.
Most homes in St. Helen's Park are one-storey ranchers or split-level. Zoning limits building size to 3,200 square feet, including basements, garages, and accessory buildings. Some homes are on the slope and have a panoramic view of the Seymour, Grouse and Cypress mountains, the Pattullo Bridge, New Westminster and the Fraser River. Newer homes are being built with vaulted ceilings and large foyers.
Although no restaurants or shopping are directly within the neighbourhood, they are located nearby. Restaurants include Dominion Bar and Kitchen, Viet Huoang Asian, Gujju's Western Style Indian Food, and Linda's Mexican Kitchen. The Dell Shopping Centre is just seven minutes away, and the Guildford Town Centre is only 12 minutes away.
South Westminster
South Westminster Amenities
Brownsville Bar Park
Scott Road SkyTrain station
Short distance to downtown Surrey
South Westminster was settled in the late 19th century and historically was known as Brownsville. The area is located along the banks of the Fraser River, between Scott Road SkyTrain Station and the Surrey Fraser Docks. At the same time, the area around the port is largely industrial; the neighbourhood transitions to business and mixed-use development in its northern portion near the SkyTrain station. The area is just across the bridge from North Westminster.
The city's development plan has resulted in new construction homes in the area, especially condos and townhomes ranging from the mid-$400,000 range to more than $2 million.
A variety of restaurants and nightspots are in the neighbourhood or nearby. Within the neighbourhood are Brownsville Pub, Linda's Mexican Kitchen, and Triple O's, which specializes in burgers and shakes.
Fleetwood-Tynehead
Fleetwood-Tynehead Amenities
Tynehead Rural Hall
Fleetwood Park
Surrey Sport and Leisure Complex
Fleetwood Recreation Centre
Tynehead was one of the earliest settlements in Surrey. Many of the permanent settlers arrived between 1885 and 1890. A sign along the Surrey heritage road indicates the location of the original Tynehead community, and the Atchison barn, one of the first structures built by the Atchison family of the original settlers, remains today.
Fleetwood is just emerging as a town centre, and development continues and includes a planned SkyTrain station. Fleetwood also has its roots with Tynehead's settlers, however; it derives its name from the maiden name of Edith Francis, who with her husband James Francis was one of the first settlers. Several of Edith's brothers, including Arthur Thomas Fleetwood, joined the Francises.
The neighbourhood has various home types, including single-family detached homes in many styles, condos, and townhomes. Detached homes in Fleetwood generally start at about $1.2 million; townhomes generally start at around the $600s, with condos sometimes being as affordable as the low $400s.
Residents have several shopping options. For groceries, choices include the Fresh Street Market, Safeway, and the Fleetwood Country Market. A wide variety of restaurants are along Fraser Highway, including Royal Oak restaurant, for Greek and Italian food; German Doner Kabob, and Prairie Café.
Bear Creek Green Timbers
Bear Creek Green Timbers Amenities
Bear Creek Park
Douglas College
Multiple train stations on the Expo line and 50 bus lines
Surrey Arts Centre
Bear Creek Green Timbers is in north Surrey. Its main thoroughfares are King George Boulevard and the Fraser Highway. The region is known for its parks and urban forest.
While the median home price of a home in Bear Creek Green Timbers is about $1.6 million, houses are available in a wide price range from the $400s to more than $2 million, depending on the size and style. They also are of various types, including townhomes and single-family detached homes.
Several restaurants and shopping opportunities are within the neighbourhood. Popular spots include the Green Timbers Pub, which has theme nights and games, and the White Hart Public House, which features special events such as Comedy Night.
Enjoy Living in These Surrey Communities
Surrey is a growing city with a plan to guide development well into the future. Many of Surrey's best neighbourhoods reflect this thoughtful approach. Housing prices vary to accommodate new homebuyers at many price points, and just about every neighbourhood has at least one neighbourhood park or community centre. Most have several! In fact, Surrey is often known as the city of parks because of the green space within it. It's just one part of why life in Surrey can be so attractive.