6 Affordable Neighbourhoods in Vancouver BC: Budget-Friendly Homes
Posted by Katrina Amurao on Monday, September 11, 2023 at 1:26:57 PM
By Katrina Amurao / September 11, 2023
Comment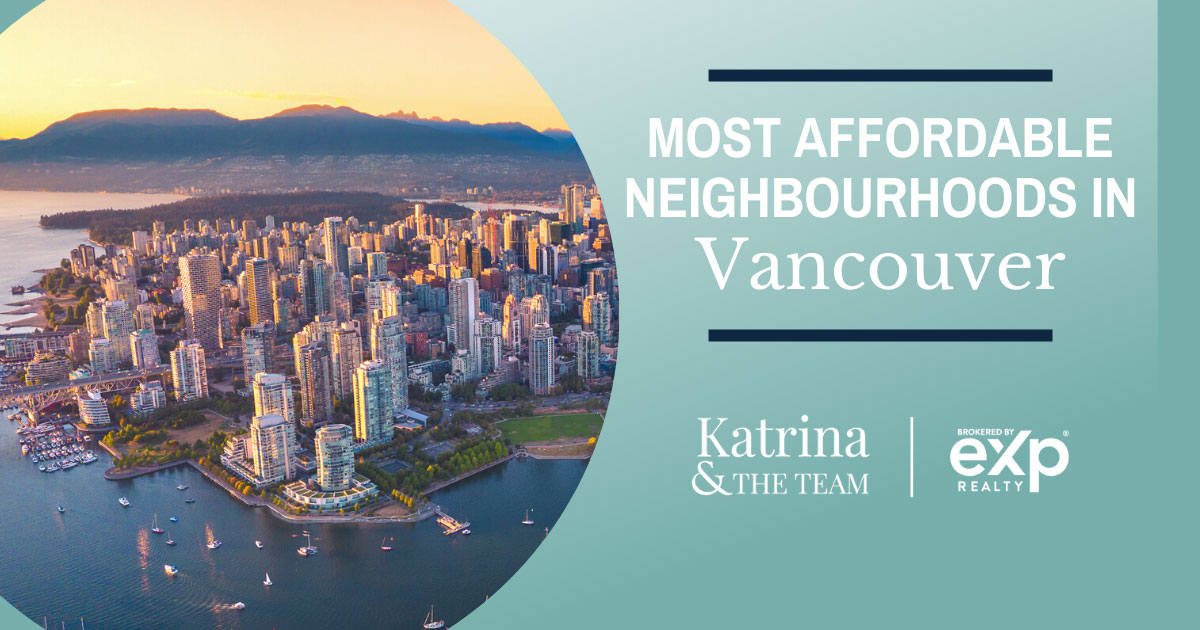 In the heart of British Columbia, the city of Vancouver stands as a beacon of urban allure, blending natural landscapes with architectural elegance. The city does have a reputation for lofty real estate prices, but there's hope for those eager to stake their claim in this coastal gem. Delving deep into the city's diverse neighbourhoods, homebuyers moving to Vancouver can unearth pockets of affordability that defy expectations and offer undeniable value.
Collingwood
Collingwood is one of Vancouver's oldest neighbourhoods, having developed in the late 1800s with the help of the interurban tramway. Situated on the city's eastern side, the cost of living here is roughly 10% lower than the Vancouver average.
In terms of real estate, the neighbourhood's affordable homes are generally priced below the city's median of $2 million. These include new construction condos in modern high-rises, attached townhouses, and detached single or multi-family properties. Homes for sale in Collingwood typically list from the $500s–$1.9 million.
Collingwood's urban-residential vibe makes it a great neighbourhood for those who like to run errands on foot, use public transportation, and generally avoid driving in Vancouver. Residents benefit from proximity to the Skytrain's Millenium and Expo lines, connecting Downtown Vancouver.
There are also plenty of local amenities for entertainment and recreation, including several parks, shops, and community centres. Residents have access to Gaston Park, Slocan Park, and Renfrew Community Park, where they can enjoy walking trails, sports fields, and a recreation centre.
Locals are also close to the Kingsway thoroughfare along the neighbourhood's southern border, lined with restaurants, cafes, and local stores. Schools in the neighbourhood include John Norquay Elementary, Windermere Secondary, and St. Jude School.
Collingwood Amenities
Renfrew Ravine Park
Banana Grove Market
Real Canadian Superstore
Jambo Grill
Marstin Billiards & Snooker Club
StrongStart Early Learning Centre
Fairview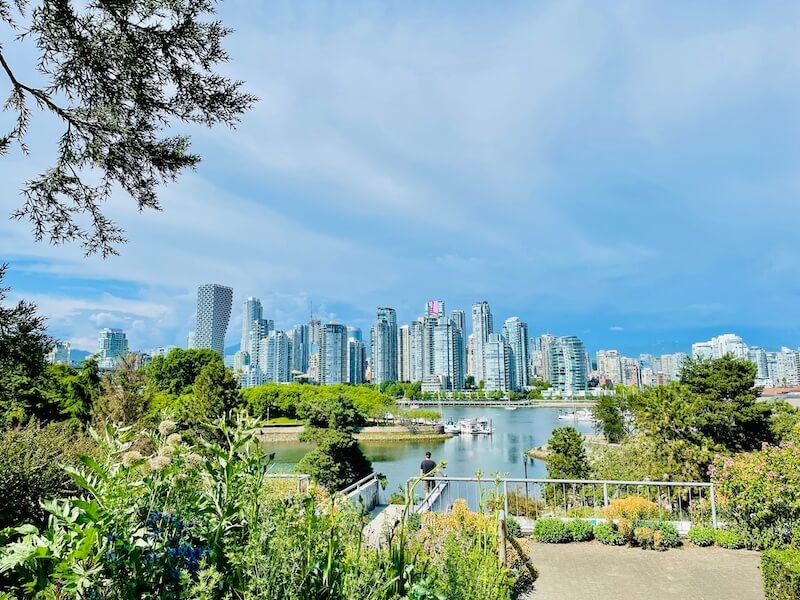 Fairview is one of the most affordable neighbourhoods in Vancouver, with a cost of living around 13% below the city average. Situated on the southern banks of False Creek directly south of Downtown West Vancouver, it's home to Granville Island, a popular entertainment district with artisanal shops, unique eateries, and a farmers market.
Homes in Fairview start at around $500,000 for a one-bedroom condo south of Broadway, with additional condo units and townhouses near the seawall ranging up to $1.5 million. High-floor residences facing north may feature unobstructed views of False Creek, the downtown skyline, and the North Shore Mountains.
Fairview locals can access the Canada Line SkyTrain from Broadway-City Hall Station on the neighbourhood's eastern border. Here you'll find the City Square Centre's many retail shops, services, and Vancouver General Hospital.
On the west side, Gallery Row has become a popular spot for art lovers, featuring the Pacific Arts Market and Douglas Reynolds Gallery.
Top-rated restaurants in the Granville/Broadway district include Bin 4 Burger Lounge, Cactus Club Cafe, and Earls Kitchen + Bar. The district also offers several boutiques, stores, and services, including Free People, Indigo Books, and Space Salon. Schools include False Creek Elementary, Canada Royal Arts High School, and École Saint-Sacrement.
Fairview Amenities
Hycroft Manor
Stanley Theatre
Charleson Park
Whole Foods Market
Granville Island Brewing
Halfday Tea + Flower
Salmon n' Bannock
Marpole
Marpole is in southern Vancouver on the northern banks of the Fraser River. Its cost of living is roughly the same as the city's average, though housing options below the $2 million mark are available. These include a few freestanding properties, with the majority of affordable homes being semi-detached townhomes and some Vancouver condos.
Homes for sale in Marpole start at around $500,000 for a 500-square-foot unit and range up to $2 million for a 1,500-square-foot home. Property features may include hardwood flooring, granite counters, and outdoor space.
The neighbourhood is convenient to Vancouver International Airport, with an average travel time of 12 minutes by car. Granville Street provides direct access to Downtown Vancouver and is Marpole's vibrant shopping, dining, and entertainment corridor. Popular spots along the strip include Red Star Seafood, Snackshot, and Yard Cafe.
The neighbourhood is also home to Vancouver's oldest community centre, Marpole-Oakridge Community Centre, where residents can take advantage of swimming, racquetball, and fitness facilities. Marpole has several green spaces and schools, including Marpole Park, Oak Park, and Vancouver Montessori School.
Marpole Amenities
Winona Park
Langara Golf Course
Kiddy Junction Academy
Mirchi Indian Cuisine
Cafe de L'Orangerie
Joy Kogawa House
Strathcona
Located in the heart of the city just south of Downtown East Vancouver, Strathcona is one of the city's oldest residential neighbourhoods. The cost of living here is slightly lower than Vancouver's average, with plenty of local amenities and activities within walking distance.
Strathcona homes start at around $550,000 for a studio condo and go up to $2 million for three bedrooms. Residents may find new construction condos with floor-to-ceiling windows, plus well-maintained heritage homes from the early 1900s showcasing original brick exteriors and dormer attics.
Strathcona is known for its walkability and easy access to downtown, with a direct bus route from Prior Street into the heart of the city. Its proximity to Chinatown makes it a great spot for foodies, with additional restaurants like Hunnybee Bruncheonette, Bodega on Main, Finch's Tea House, and the Garden right in the neighbourhood.
Strathcona Park is another popular spot, offering tennis courts, a running track, and a baseball diamond. Public schools are part of the Vancouver School Board, including Lord Strathcona Elementary and Admiral Seymour Elementary. Strathcona is also known for its boho vibe and strong arts presence, with places like Gorestreet Vintage, Hunter & Hare, and the Eastside Flea.
Strathcona Amenities
Relove Furniture
Union Market
Crossfit BC
Ivanhoe Pub
Trillium Park
Cocoa Leaf Cafe
Benny Italian Foods
Superflux Beer Company
South Cambie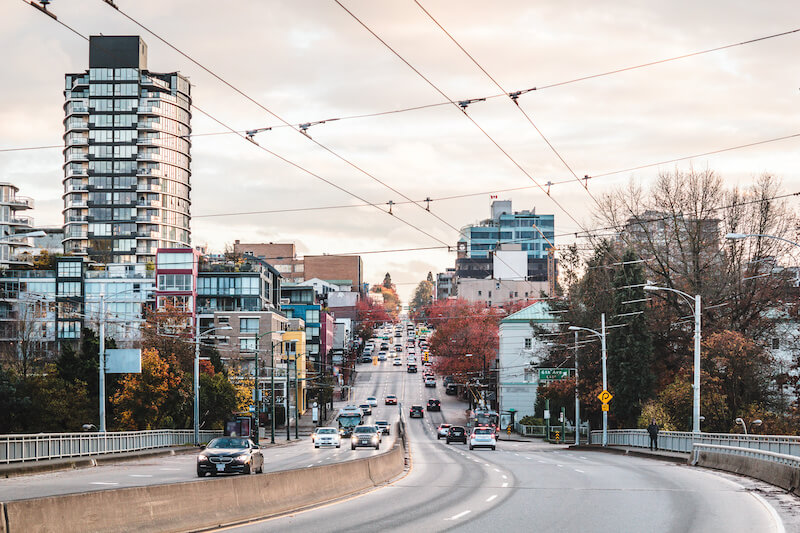 South Cambie is a mainly residential area in central Vancouver, between Queen Elizabeth Park and Van Dusen Botanical Garden. Its cost of living is slightly higher than other Vancouver neighbourhoods on this list, with housing options ranging from new construction condos to spacious detached properties in the Arts and Crafts style.
A typical one-bedroom condo may be listed on the market for around $650,000, while larger condos can go up to $2 million. The detached market may offer a variety of restored heritage homes from the early 1900s. Less affordable, detached homes for sale in South Cambie typically go for over $3 million.
Locals living in South Cambie can easily access the Canada Line SkyTrain from King Edward Station and Oakridge-41st Avenue Station. A major medical hub in the city, the neighbourhood is home to GF Strong Rehabilitation Centre, BC Children's Hospital, BC Women's Hospital, and Canadian Blood Services.
There's also no shortage of green spaces in the area, with numerous parks in addition to the Queen Elizabeth and Van Dusen Gardens. Most of the local shops and restaurants are part of the Cambie Village district, including Potluck Hawker, Café Gloucester, and Vij's. Schools include Emily Carr Elementary, Edith Cavell Elementary, and several private schools.
South Cambie Amenities
Park Theatre
Landmark Hotpot House
Dutch Wooden Shoe Cafe
Hillcrest Aquatic Centre
Douglas Park Community Centre
Kitsilano
Kitsilano is a beachfront community located across from Vanier Park and English Bay. The cost here is on par with the cost of living in Vancouver, city-wide, but there's an abundance of homes for sale in Kitsilano that list for under $1 million. Homes in the neighbourhood consist of sleek modern condos, spacious townhouses, and character-filled California bungalows from the mid-1900s.
Prices in the condo market start at around $500,000 for a studio and can range up to $1.9 million for three bedrooms. Buyers are attracted to the neighbourhood for its water views, a wealth of local amenities, easy access to downtown, and many outdoor activities.
Home to a laid-back yet active lifestyle, Kitsilano is known for its numerous yoga studios, organic-centric eateries, and health food stores. The neighbourhood is the original home to Lululemon Athletica and popular city attractions like the Museum of Vancouver and the Bard on the Beach Shakespeare Festival.
Residents can also take advantage of the Kitsilano Beach Pool, the local farmers market, and endless shopping and dining opportunities along West 4th Avenue and West Broadway. Notable places of interest include Naam for vegetarian comfort food, Arbutus Coffee for specialty drinks, and Hollywood Theatre for live music.
Vancouver schools, green spaces, and recreational facilities are also plentiful, with options like Kitsilano Secondary, Connaught Park, and Kitsilano Community Centre.
Kitsilano Amenities
Modo Yoga
Fitness World
Kitsilano Showboat
Fable Kitchen
Parthenon Market
Banyen Books & Sound
Fifth Avenue Cinemas
Vancouver Maritime Museum
Vancouver's Exciting & Affordable Enclaves
While Vancouver's most expensive neighbourhoods garner a lot of attention and raise the average home costs city-wide, the city hasn't shut its doors to those on a budget. With diligent research and a keen eye, one can find neighbourhoods that not only provide affordable housing options but also capture the city's enchanting essence.