5 Affordable Places to Live Near Vancouver: Most Affordable Vancouver Suburbs
Posted by Katrina Amurao on Thursday, January 19, 2023 at 11:36:52 AM
By Katrina Amurao / January 19, 2023
Comment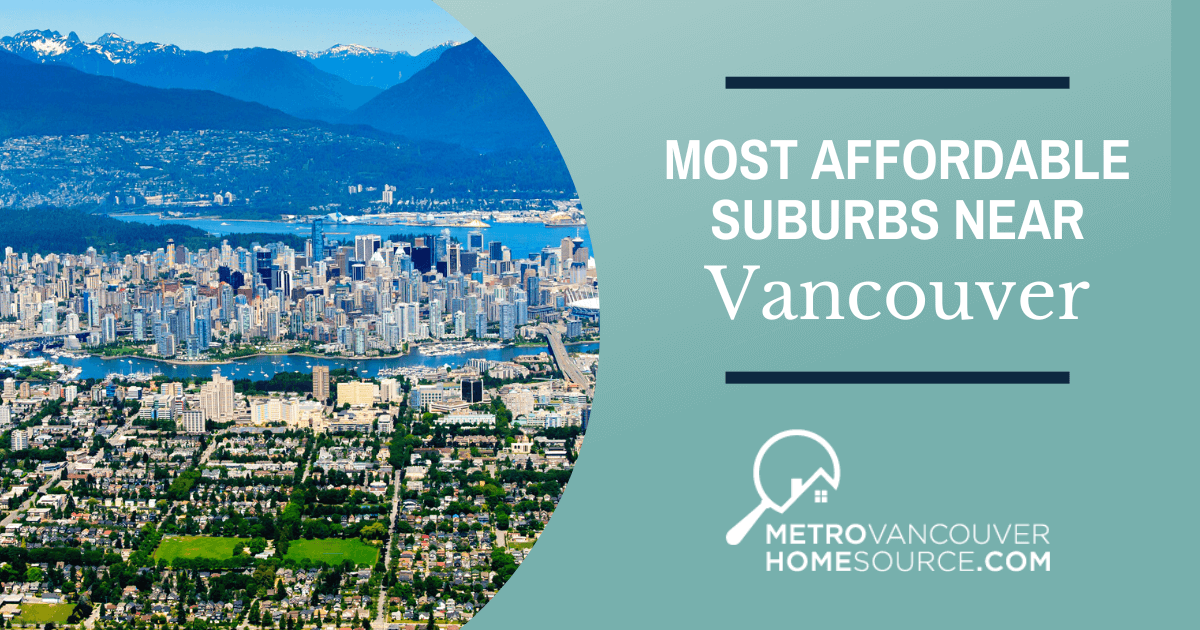 The city of Vancouver is one of the most exciting places to live in British Columbia, but not everyone wants to live downtown in Vancouver's best neighbourhoods. The suburbs around this thriving city present an opportunity to live in a more serene setting while remaining less than an hour from all the activities and jobs. The city's nighttime skyline is just as beautiful from between the trees in a secluded suburb. Here are five of the most affordable suburbs near Vancouver for those who want to live near all the city's economic opportunities while still maintaining some distance.
Port Moody
The city of Port Moody is a very water-privileged suburb directly east of Downtown Vancouver, surrounding the easternmost arm of Burrard Inlet. Thirty-five percent of the community is permanently set aside as natural green space. Single-family homes climb the hillside on the north side of the inlet, with many offering spectacular views. Port Moody's waterfront homes line the inlet, while condos and townhomes are situated on the east side of town, near its downtown section.
Boating on the inlet is a favourite pastime of many Port Moody residents. There are a couple of public boat launches in area parks and two private marinas for those who want to dock their boats long-term. For those who want to enjoy the views of the water, a six-kilometre Shoreline Trail follows the inlet's eastern edge. The Port Moody Recreation Complex is a large facility near downtown with two indoor ice rinks, drop-in fitness classes, a weight room, a hot tub and steam room, and many additional activities. Port Moody also has two public pools and several splash parks open during summer.
Condos in Port Moody start at around $500,000 in price, and single-family homes at about $800,000. Port Moody's luxury homes tend to list from $1 million.
Port Moody Amenities
Rocky Point Park
Admiralty Point Park
St. James's Well Pub
Kurumba Restaurant
Port Moody Station Museum
Moody Centre Station
New Westminster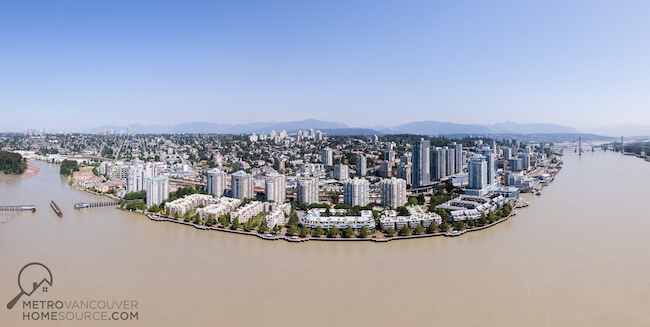 The New Westminster community is considered an eastern suburb of Vancouver, and bus and train routes connect it to Vancouver, Surrey, and other regional locations. This Fraser River city was founded in 1858, and it's known for its many heritage and historical sites. Locals call the neighbourhood "New West." The area has many low-rise and mid-rise condominiums that provide views of the river and the city of Surrey to the southeast. Attached townhomes and detached single-family homes populate the neighbourhood further inland from the river.
Douglas College and three smaller institutions of higher learning are located in New Westminster. For kids, New Westminster has eight elementary schools, three middle schools and one secondary school, all administered by District 40.
Queen's Park is the largest in the neighbourhood, with a 2,000-seat stadium for baseball, softball, lacrosse and other sporting events. The park has an off-leash dog area, a rose garden, tennis courts, a spray park and children's playgrounds. Other popular spaces on the riverfront include Waterfront Esplanade Park, Quayside Park and Westminster Pier Park. Those looking to enjoy some indoor fun can visit one of the neighbourhood's shopping malls or centres.
Condos in New Westminster list from the $300s to more than $3 million. On the other hand, New Westminster's single-family homes list from the $900s.
New Westminster Amenities
Massey Theatre
Moody Park
Paddlewheeler Pub
Steel & Oak Brewing Company
Royal Square Mall
Royal City Centre
Public Transit: BC Rapid Transit OCM2
Ladner
Ladner is a south Vancouver suburb on the Fraser River's south side. It's situated just 25 minutes northeast of the US-Canada border. The boundaries of Ladner are the city of Delta to the east, the Strait of Georgia to the west, the Fraser River to the north, and homes in Tsawwassen to the south. There are some waterfront homes along the Fraser River to the north, but most of the real estate here consists of single-family detached homes. Most homes were built in the Craftsman or bungalow style, both popular throughout Canada.
Out of all the suburbs of Vancouver, Ladner feels the most rural. There is a lot of farmland on the western side of the community, and there are no towering high-rises to be seen, though there are a few low-rise condos in the area. There is also a lot of vacant land, presenting the opportunity for custom-built new construction homes.
Vancouver is about 25 kilometres north of Ladner, and major roads nearby include Highway 10, Highway 17A, and Highway 99. Bus routes 601 and 602 are the only public transportation options that connect Ladner to Richmond/Vancouver. School District 37 in neighbouring Delta administers all the public schools in Ladner.
Homes for sale in Ladner list from the $500s to more than $1.5 million.
Ladner Amenities
Ladner Yacht Club
Sharkey's Seafood Bar & Grille
Brittania Brewing Ladner
Memorial Park
Wellington Point Park
Ladner Harbour Park
Trenant Park Square Shopping Mall
Coquitlam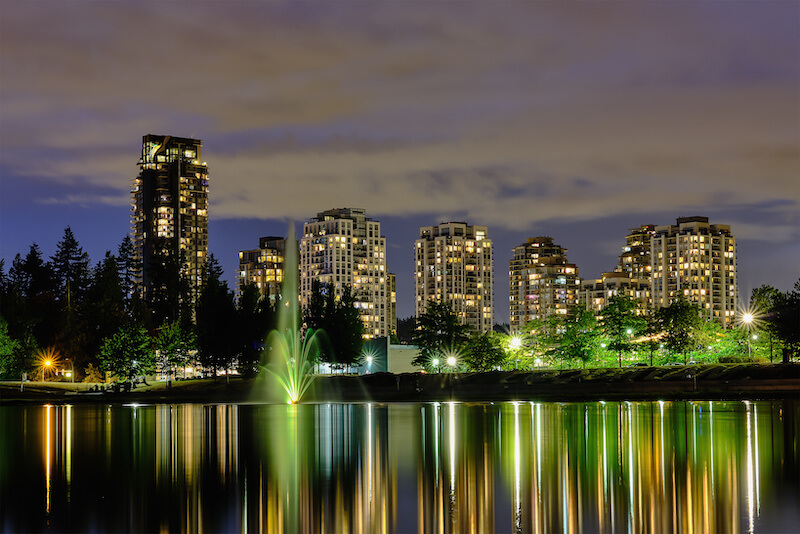 Coquitlam dwarfs many of the other Vancouver suburbs in terms of geographic size—it stretches from its boundary with the city of Burnaby to the west and the Fraser River to the south all the way to Eagle Mountain to the northwest and Siwash Island to the northeast. Real estate ranges from luxury homes to cottages to high-rise condos to quiet suburban bungalows.
The community has a number of large annual festivals, including the Como Lake Fishing Derby, Festival du Bois, the BC Highland Games, and the Water's Edge Festival. More than 890 hectares of land are set aside as parks and green spaces in Coquitlam, the largest being Pinecone Burke Provincial Park in the north. School District No. 43 administers the public schools in Coquitlam, of which there are dozens of elementary schools, seven middle schools and four high schools. Public transportation in Coquitlam includes the SkyTrain, the R3 RapidBus, and the West Coast Express train.
Coquitlam condos list from the $300s, while single-family homes in Coquitlam list from $1 million and up.
Coquitlam Amenities
Coquitlam Centre
Coquitlam River Park
Hard Rock Casino Vancouver
Golden Parrots Pub & Restaurant
My Greek Taverna
Westwood Plateau Golf & Country Club
City Centre Aquatic Complex
Leigh Park Off-Leash Dog Area
Pitt Meadows
Pitt Meadows is an eastern suburb of Vancouver, a fantastic mix of urban and rural settings. Pilots train at the Canadian Flight Centre while anglers try their luck for salmon and steelhead in the Pitt River. Residents can sample wines from a local vineyard, pick blueberries on a nearby farm, hit the links at a world-class golf course, or drive through the beautiful countryside. Pitt Meadows has a little bit of everything!
Most homes in Pitt Meadows are detached single-family houses, with listing prices starting in the $800s. There are a few luxury homes in Pitt Meadows, and empty lots are available for sale, presenting the opportunity for new construction homes.
The beautiful 88-hectare Pitt-Polder Ecological Reserve is 15 kilometres northeast of downtown Pitt Meadows and presents terrific hiking and wildlife viewing opportunities. The Pitt Meadows Arena Complex has public skate times and hockey games regularly, and Pitt Meadows Athletic Park has numerous sports fields, tennis courts, and a community garden.
Most groceries, shopping and service businesses are located along Lougheed Highway, including the Meadowtown Centre and the Meadowvale Shopping Centre. People who want to own horses can choose from the area's boarding and equestrian facilities.
Pitt Meadows Amenities
Pitt Meadows Museum General Store
Meadow Gardens Golf Club
Swaneset Bay Resort & Country Club
Maple Meadows Equestrian
Seabrook Stables
Kisoji Japanese Kitchen
Thompson Mountain Sportsmen Association
RapidBus & SkyTrain access
Come See Why Vancouver's Suburbs Are Growing
Some of the suburbs around Vancouver are gaining population quickly as people discover the hidden offerings and outdoor settings available. Some of these locations offer the chance to live in a rural setting while remaining within a central metropolitan area, providing great alternatives for those moving to Vancouver. The public transportation systems in the Vancouver area also make it easier to get around than ever before. Exploring these towns is a great way to get to know this beautiful part of British Columbia.