8 Most Expensive Surrey Neighbourhoods: Luxury Awaits
Posted by Katrina Amurao on Monday, March 7, 2022 at 10:05 AM
By Katrina Amurao / March 7, 2022
Comment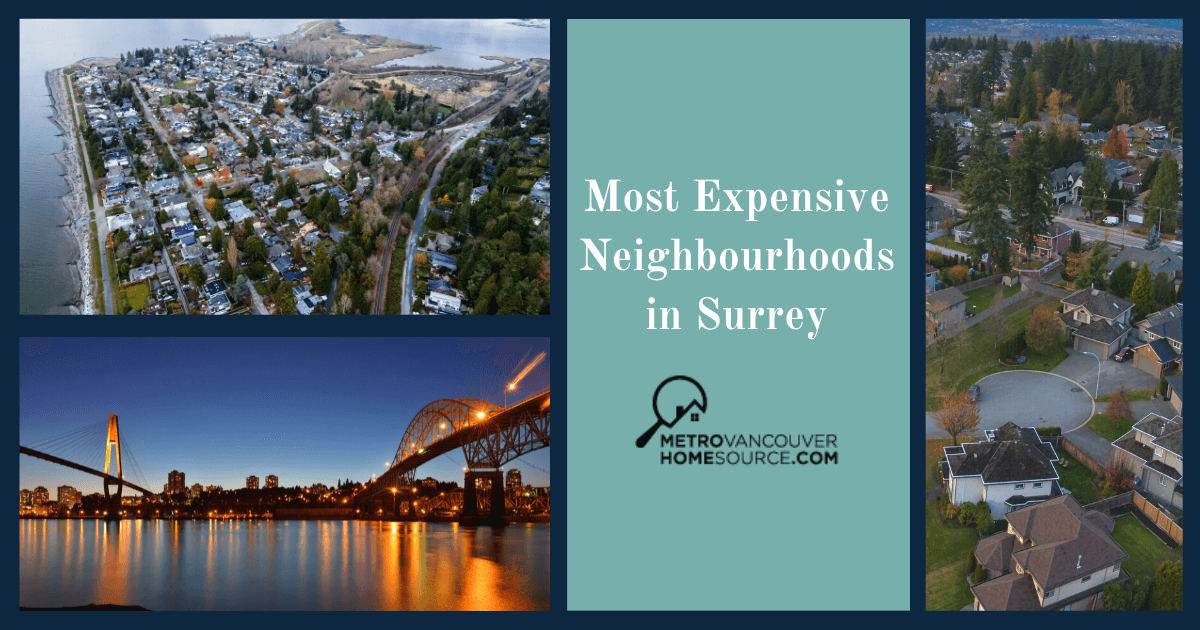 Surrey, located south of the Fraser River in British Columbia, is primarily a suburban city of Vancouver. The city was incorporated in 1879 and initially was an agricultural and fishing community. When the Pattullo Bridge opened in 1937, the city began to expand. In the 1980s and 1990s, the city experienced significant growth. With a population of about 520,000, experts believe current growth may lead to the Surrey community surpassing the population of Vancouver in the coming years.
The city's geography is mostly hills and flatlands, and about 27 percent of its land is designated as Agricultural Reserve. It is also one of the largest industrial centres within British Columbia, with industries such as high technology, clean energy, health, education, advanced manufacturing, agriculture, and the arts.
Surrey has many great neighbourhoods at a variety of price points. If you're ready to live in luxury, keep reading to learn about Surrey's most high-end neighbourhoods.
Ocean Park
Ocean Park Amenities
Highly walkable
Commuter buses and TransLink services
Accessible to highways and 40 minutes from downtown Vancouver
Parks such as Kwomais Point Park and Fun Fun Park
Trails and walking paths
Ocean Park is tucked at the end of the Semiahmoo Peninsula in the city's southwest corner. The waters of Boundary Bay and Semiahmoo Bay surround it. The neighbourhood has a park-like setting, and residents post signs to protect trees from being cut down to preserve the park-like feel. The neighbourhood also is highly walkable; residents can walk to the ocean, parks, stores, and restaurants.
Ocean Park has summer cottages and year-round single-family detached homes in various styles, including bungalows and estate homes. It also has a few townhomes. Many homes have gorgeous views of the ocean or vistas. Prices vary from $1 million for a modest home to several million dollars for luxury homes.
Top neighbourhood restaurants include Ocean Park Village Pub & Ocean Park Pizza, The Morrison Cafe, and Malones Delicatessen & Fine Foods. Grocery options include Chan's, a fruit and vegetable store; Safeway, a chain supermarket; and Ocean Park Fine Meats, a butcher shop.
Port Kells
Port Kells Amenities
Parks, including Port Kells Park
Port Kells Community Association
Excellent business centre
Treed properties with opportunities for viewing wildlife and birds
The Port Kells neighbourhood is in the northeastern-most part of Surrey, adjacent to the Fraser River, east of the Pacific Highway, and west of Walnut Grove, Langley. It is bisected north and south by Highway 1 (the Trans-Canada Highway); most of the industrial development is north of the highway, and the residential development is south. It was founded in 1889 by two unrelated men named Henry Kells and was originally intended to be a port. The Trans-Canada Highway was built through the neighbourhood in the 1960s.
Homes in the neighbourhood tend to be about 2,500 square feet, single-family detached dwellings with have large yards. Most are ranches, and many have luxury upgrades such as crown moulding, modern appliances, and granite countertops. The average price for homes in this neighbourhood is typically over $4 million.
Several restaurants and pubs are in the neighbourhood, most north of Highway 1. The Baron's Manor Pub dates back to 1900. The Port Kells Café features fast food.
Hazelmere
Hazelmere Amenities
Rural atmosphere and large acreage
Near White Rock Beaches and the US border
Parks nearby including Campbell Valley Regional Park and Redwood Park
Hazelmere Equestrian Center, which offers lessons, boarding, and a pool
Hazelmere is a rural community with rolling farmlands on the east side of South Surrey. Much of the area is zoned as an Agricultural Reserve, although some is gradually being rezoned for higher-density use. Hazelmere has a rustic, country feel.
The average price of homes in Hazelmere is about $3 million. In general, homes are large with considerable acreage, and many residents own horses.
The Hazelmere Golf and Tennis Club is a centrepiece of recreation and social activity and attracts residents from both inside and outside the community. The club hosted the Greater Vancouver Charity Classic from 2006 to 2008. It has a golf course and an all-grass practice facility, as well as four indoor tennis courts. It features two restaurants, the Garden Room and West Coast Grill, and Sunday brunch is popular, particularly on Mother's Day. Other nearby restaurants are the Pacific Bistro and the Derby Bar and Grill, which also offers off-track betting.
Elgin Chantrell
Elgin Chantrell Amenities
Green space and nature parks, including Crescent Park and Blackie Spit Park
Near Crescent Beach Marina, which offers access to the Gulf Islands
South Surrey Athletic Park
Elgin Chantrell is a park-like neighbourhood in south Surrey, bordered by Crescent Road to the north, 128th street to the west, 20th Ave to the south, over to 140th and then back to King George Highway to the east. The neighbourhood of Elgin began as a stage stop in 1874 when the Semiahmoo Road opened. By 1886, Elgin became Canada's customs entry port; however, when the White Rock and Douglas ports opened, Elgin Port declined in importance.
Now, the neighbourhood features mostly single-family detached homes, some on gated lots and many with mountain views. A few townhomes also are available. The neighbourhood is a mix of newer properties, some new construction homes, and mansions on multiple acres. The average sale price is about $2 million.
Shopping and some services are available at Elgin Corners, including a dental office, wellness centre, coffee shop, exercise club, hair salon, and gift shops. Belle's is a popular neighbourhood café and features breakfast options, paninis, soups, and salads.
Crescent Beach
Crescent Beach Amenities
Parks including Blackie Spit Park
Crescent Beach, Crescent Beach Marina, and Crescent Beach Swimming Club
Alexandra Neighbourhood House
Access to TransLink
The Crescent Beach neighbourhood is a seaside community of 1,200 year-round residents on the shore of Boundary Bay in South Surrey. Thousands of people also visit during the summer. Much of the life of this community centers around its beach. In pre-colonial times, a summer camp for area aboriginals was located here. The first Europeans were Spanish sailors who originally titled it San Rafael Point. The first owner of the Crescent Beach area was John Musselwhite of Royal Engineers in 1871.
Most homes are single-family detached houses, although a few small condos are available. Prices range from $300,000 for small condos to several million dollars for large waterfront homes. Every house is unique; homebuyers can find everything from massive beach homes decorated in sandy hues and ocean blues to modern masterpieces with all the smart home bells and whistles to secluded contemporary ranch homes hidden by trees.
Several restaurants are located in the neighbourhood. One local favourite is Hooked Fish Bar for fish and chips and beer. The Cabin is an upscale restaurant that features pasta, surf, and turf.
Clayton
Clayton Amenities
SkyTrain stops within the neighbourhood
Long, green pedestrian pathways connecting to creeks, parks, and green spaces
Easy access to Fraser Highway and Trans-Canada Highway
The Clayton neighbourhood, also called Clayton Heights, is located north of Fraser Highway and borders Langley Township. Originally rural and agricultural acreage, the area now is home to about 15,000 people and provides excellent views of the mountains and has protected watercourses. The area is to develop in three nodes, East Clayton, where development began, West Clayton, and North Clayton. The population of the three nodes is expected to reach 100,000 by 2031, which will make it an urban suburb.
The neighbourhood offers various housing types, including townhomes, condos, and single-family homes, and some townhomes are even Energy Star rated. Home prices here can start in the $300s, but they may go as high as $8 million or more.
Restaurants in the neighbourhood include Yugafu Japanese Bistro, Dublin Crossing Irish Pub, and Vera's Burger Shack. One shopping option is the Clayton Crossing Shopping Centre. As the neighbourhood continues to develop, more shopping areas are expected, especially around SkyTrain stations.
Grandview Heights
Grandview Heights Amenities
Morgan Creek Golf Course is nearby and features an award-winning restaurant
Bus service
Greenbelt and tall pines
The Grandview Heights neighbourhood is located in South Surrey. The first settler in Grandview Heights was David Brown in 1879. The neighbourhood remained a sparsely populated logging community until the Pacific Highway (Highway 15) was completed in 1925, and its name originates from an incident that occurred when Alex McBeth was shingling the roof of the former Grandview Heights Elementary School in 1922. He was able to see Semiahmoo Bay and Blaine, Washington from there and exclaimed, "What a grand view." The city began rezoning much of the western part of the neighbourhood from rural farms into commercial retail and medium-density housing. The neighbourhood continues to expand east along 24th Avenue.
Housing types are primarily single-family homes and townhomes. Some homes are on one-acre lots. Home prices typically start around $500,000 and can go as high as $12 million in some cases.
The neighbourhood includes a shopping and dining district. Grandview Corners at 24th Ave and 160th Street features more than 70 retailers and restaurants, including Home Depot, Indigo, Best Buy, Old Navy, several workout studios, doctor's offices, and other studios. The Shops at Morgan Crossing also features a variety of stores, restaurants, and services. Some of its tenants include Calvin Klein, the Banana Republic Factory, and Restoration Hardware.
Morgan Creek
Morgan Creek Amenities
Golf course voted onto Golf Digest's "Best Places to Play"
Business centre in golf course complex
Located 45 minutes from downtown Vancouver
Parks including Morgan Creek Park
The Morgan Creek neighbourhood is a master-planned community in South Surrey and is built around a golf course. Its boundaries are 32nd Avenue to the north to 40th Avenue and Highway 99 east to 168th Street. The Sekhon family has been growing blueberries on a farm since the 1980s, and their farm is included in the Agriculture Land Reserve. The Morgan Creek Development began in 1994. Some areas are still under development.
The neighbourhood primarily consists of condos in gated communities and single-family homes. While the condos are less expensive, the average price of single-family homes is $1.8 million.
The Morgan Creek Golf Course also includes a golf academy and a fine-dining restaurant that features brunch, lunch, and dinner. TAP Restaurant, also in the neighbourhood, features live music on Wednesdays. The Keg Steakhouse and Bar, which features lunch and dinner, also is a local favourite.
Discover Surrey's Ultra-Luxe Neighbourhoods
Surrey is a vibrant, growing suburban city with a waterfront and great views. The city council is dedicated to sustainable development as the city continues to grow.
Among its more expensive neighbourhoods, residents can find support for a variety of lifestyles. Some neighbourhoods offer a rural experience with large lots. Others are urban. Still, others are built around recreational opportunities such as beaches or golf courses. They also feature a variety of home types, including townhomes, condos, and single-family detached homes. Some even offer mountain views or water views, which means residents can find just about anything they want in Surrey.