Discover the Most Expensive Neighbourhoods in Vancouver, BC
Posted by Katrina Amurao on Tuesday, August 15, 2023 at 11:41:24 AM
By Katrina Amurao / August 15, 2023
Comment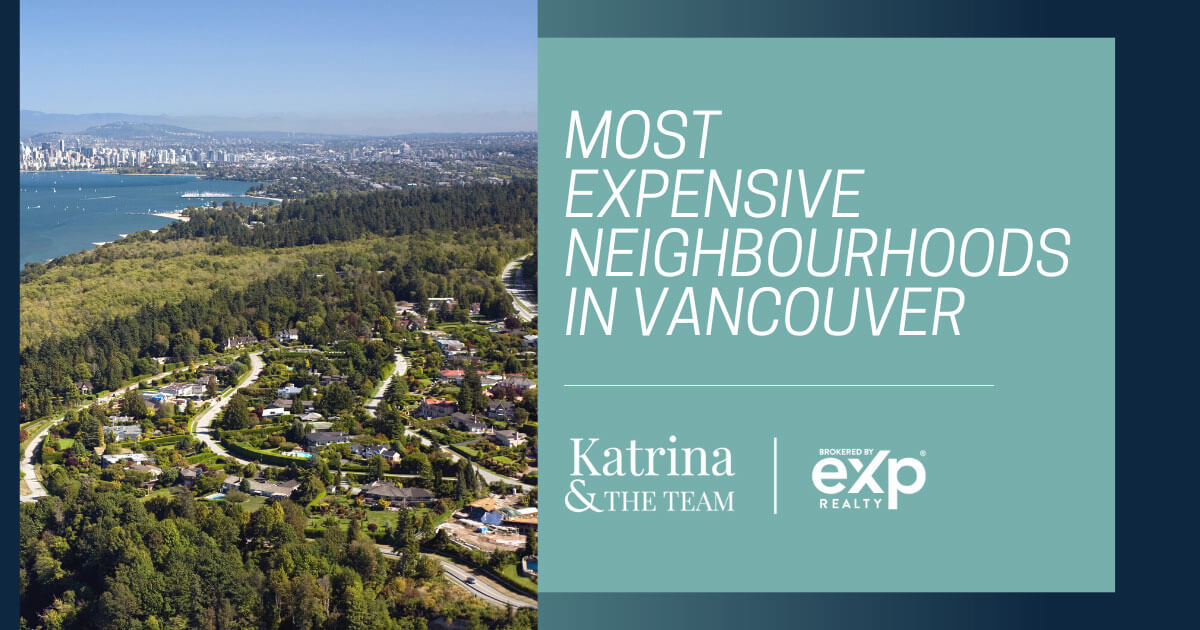 In the city of Vancouver, British Columbia, an area renowned for its breathtaking natural scenery and cosmopolitan flair, real estate remains a hot topic of discussion. While the city boasts diverse neighbourhoods catering to various lifestyles, a few stand out not only for their luxury but also for their staggering price tags. Despite the prices, these neighbourhoods are highly sought-after by homebuyers moving to Vancouver. This article delves into the crème de la crème of Vancouver's neighbourhoods, showcasing where opulence meets unparalleled location.
Shaughnessy Centre
Active buyers looking for some of the city's best homes and top-tier quality of life should check out the tree-lined streets of Shaughnessy Centre, which straddles Granville Street between West 16th and 41st Avenues.
It enjoys a quieter feel, supported by several top local parks and green spaces, including the beautiful Van Dusen Botanical Garden, which is home to more than 7,500 plants from around the world.
While the community is almost entirely residential, it's still centrally located just about five kilometres from the heart of downtown. It's also just south of the bustling Fairview neighbourhood, one of the city's top shopping and dining districts.
The single-family detached homes of Shaughnessy Centre (many of which are historic properties) are among Vancouver's largest and most opulent. Set on large lots, they run the gamut of architectural styles popular in the pre-World War II era.
Even the area's most affordable homes top $3 million, with top choices reaching over $20 million. Homes for sale in Shaughnessy Centre typically include four or more bedrooms and 4,000 to nearly 10,000 square feet. A limited selection of more recently built townhome-style properties is also available, with two- and three-bedroom options ranging from $1.5 million to around double that amount.
Shaughnessy Centre Amenities
Shaughnessy Park
Quilchena Park
Convenient to Fairview shopping/dining/nightlife
Vancouver General Hospital
Canada Line rapid transit access
Kerrisdale
Residents can enjoy the best of all worlds in Kerrisdale, west of Granville Street, near the Fraser River. It's known for charming streets of homes and parks just blocks from top shopping and dining areas.
This includes the commercial district along West 41st Avenue, which serves as Kerrisdale's northern boundary. Kerrisdale features eateries, local boutiques, and other hot spots, including favourites like Minerva's Restaurant, Caffe Artigiano, and Sushi Bar Ajisai.
This area is also the site of the Kerrisdale Community Centre complex, which includes Centennial Park, the local library branch, and the neighbourhood swimming pool. Active residents will love Kerrisdale life, with access to the Arbutus Greenway for walking, jogging, and biking, as well as the popular McCleery Golf Course. In addition, travellers will find the area convenient thanks to its location just north of Vancouver International Airport.
Properties in Kerrisdale are primarily single-family detached homes, starting north of $2.5 million. Many are bungalow-style but provide more than 2,000 square feet of living space.
On the high end, homes for sale in Kerrisdale can top $20 million for up to seven bedrooms and more than 10,000 square feet. Buyers looking for Vancouver condos and townhomes will also find a number of them throughout the community, typically selling from just over $1 million to around $3 million.
Kerrisdale Amenities
Extensive shopping/dining options
Kerrisdale Community Centre
Maple Grove Park
McCleery Golf Course
Arbutus Greenway access
Convenience to the Vancouver International Airport
Kitsilano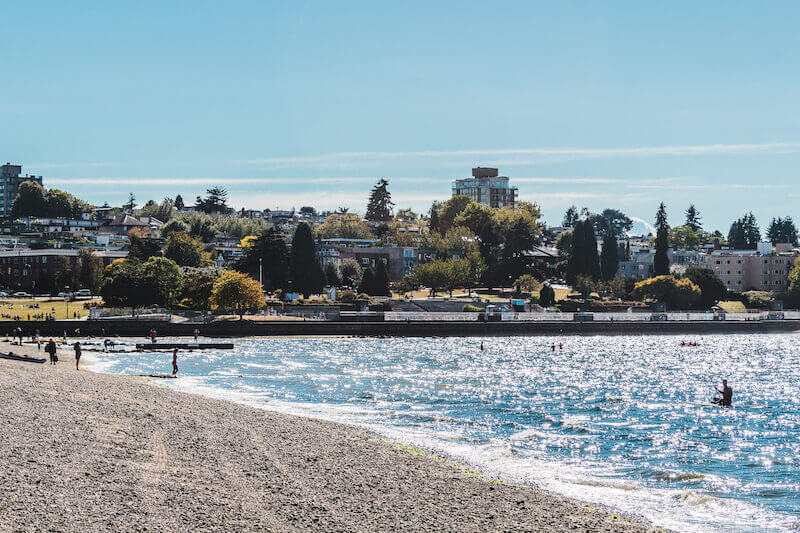 Kitsilano (called "Kits" by the locals) is a historic waterfront neighbourhood that's one of the Vancouver area's best beach destinations.
Kitsilano Beach Park provides a half-kilometre of sandy English Bay shoreline, a heated saltwater swimming pool, sports facilities, and picnic areas, all just a few minutes walk from homes. Connected areas like Vanier Park offer additional ways to have fun, from the exhibits at the Museum of Vancouver to heading out on the water at Burrard Civic Marina.
There's plenty to do away from the water, with two corridors packed with restaurants, cafes, cocktail bars, local shops, and more along Broadway and West 4th Avenue. The cuisine is exceptionally diverse, including many Mediterranean options in the Greektown area. Kitsilano is also one of the closest communities to downtown Vancouver's jobs, attractions, and amenities.
Unlike many big-budget Vancouver neighbourhoods, homes for sale in Kitsilano are a blend of condos, townhomes, and single-family detached properties. Many are historic, with unique architectural flourishes and ample interior space.
While smaller multi-family units list in the high six figures, most properties sell from around $1 million to $7 million. However, Kitsilano's share of Vancouver waterfront homes can exceed $20 million.
Kitsilano Amenities
Kitsilano Beach Park
Vanier Park
Connaught Park
Kitsilano Community Centre
Extensive dining and nightlife options
West Vancouver
Luxury buyers looking to enjoy British Columbia's gorgeous mountains and waterways while staying just minutes from the heart of downtown may find their dream home in West Vancouver.
The most developed areas reside south and west of the Trans-Canada Highway, including a thriving, quaint downtown along Marine Drive. This area is home to some of the region's best shopping at the sprawling Park Royal shopping centre.
In addition, West Vancouver is known for its many waterfront parks, including Ambleside Park, Lighthouse Park, and Whytecliff Park. It's also just as easy to escape into the mountain wilderness just outside town as it is to hop on the road into central Vancouver, just 10–20 kilometres away.
The vast size of West Vancouver compared to many neighbourhoods in the city means there are options for every high-end buyer, no matter their taste. Condos in West Vancouver can start around half a million but commonly reach the mid-to-high single-digit millions. Townhomes start north of $1.5 million and top out in the same range as condos.
West Vancouver's single-family homes are its most impressive, many of which offer spectacular forest, mountain, and water views. Even the most modest single-family properties sell for $2.5 million or more, with the most expensive choices routinely reaching $15–$30 million.
West Vancouver Amenities
Numerous waterfront parks
Park Royal shopping centre
BC Ferries Horseshoe Bay Ferry Terminal
Trans-Canada Highway access
Gleneagles Golf Course
West Vancouver Marina
Point Grey
Point Grey, also known as West Point Grey, sits on the shores of English Bay just west of Kitsilano and less than 8 kilometres from downtown. Point Grey's beaches are some of the area's top attractions, including Jericho Beach Park, 45 hectares of sand, green space, sports facilities, and walking paths.
This is just one of several fantastic options to get outdoors in and around Point Grey, like the unspoiled Pacific Spirit Regional Park, a rare opportunity to experience true urban wilderness with extensive trails through varying ecosystems. Point Grey is a great neighbourhood from which to access some of Vancouver's best hikes.
Point Grey is a top choice for members of the University of British Columbia community, as it's the closest off-campus option to the University Endowment Lands to the west.
While Point Grey is close to Kitsilano's incredibly diverse dining scene, there's a popular shopping and restaurant corridor within Point Grey along West 10th Avenue.
Homes in Point Grey are primarily luxury single-family detached properties, with a handful of million-dollar condos rounding out the mix. Many offer stunning views of the water and nearby mountains. Older bungalows and cottage-style homes with 2,000–2,500 square feet of living space form the bottom of the market, starting around $2.5 million.
On the flip side, those with a budget of $30 million or more can find some of the most spectacular luxury homes in Vancouver: distinctive properties on large lots with upwards of 10,000 square feet. Typical houses sell in the $3–$10 million range.
Point Grey Amenities
Pacific Spirit Regional Park
Close to the University of British Columbia
Spanish Banks Beach
Jericho Beach Park
Jericho Hill Grounds
University Golf Club
Coal Harbour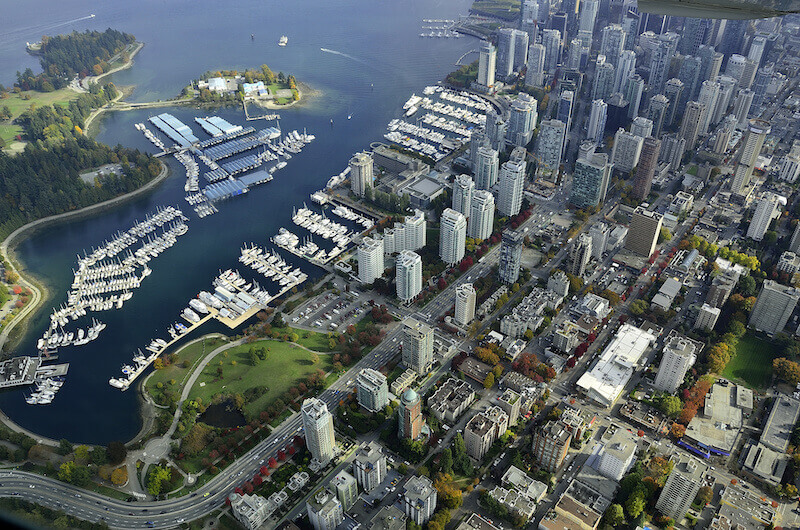 Those looking to live in the heart of it all will love the homes of Coal Harbour, just north of Vancouver's Downtown West in a secluded corner of Vancouver Harbour. In just a few minutes by car, transit, or even walking, residents can take advantage of downtown Vancouver's shopping, entertainment, cultural spots, employment centres, and much more.
The community is also the site of the Vancouver Convention Centre, one of the city's most prominent and busiest event spaces. There's also a wide variety of dining and nightlife throughout the community, with high-end spots like Nightingale and waterfront eateries like Cardero's.
However, Coal Harbour's waterfront areas are the true star of the show, home to parks like Harbour Green Park, several marinas, and incredible views.
As one of Vancouver's denser neighbourhoods, housing in Coal Harbour is almost entirely made up of condos and other multi-family units. However, larger properties of three bedrooms and 3,000 square feet or more are still available, with prices typically topping out in the $15–20 million range. More commonly, homes for sale in Coal Harbour sell from $1–$10 million, with a few smaller homes in the high six figures.
Many buildings include extensive amenities like private balconies and terraces, swimming pools, fitness centres, heated parking, and more.
Coal Harbour Amenities
Harbour Green Park
Vancouver Convention Centre
Coal Harbour Community Centre
Numerous marinas
Expo Line rail transit access
Southlands
Southlands offers a secluded riverfront escape for luxury homebuyers that's nevertheless convenient to some of the region's top amenities and neighbourhoods. It's made up of the area between Marine Drive and the Fraser River, with large portions taken up by green space.
These include Musqueam Park and multiple golf courses like Musqueam Golf & Learning Academy. Despite the quiet feel, residents are still just a short trip from Kerrisdale shopping and dining and only a bit further to central Vancouver neighbourhoods. Vancouver International Airport is also close by, as are the many amenities of Richmond located just across the Fraser River.
Housing in Southlands only consists of single-family detached homes. These properties are often situated on large lots, so large that many owners even cultivate small plots of urban farmland and keep horses at home.
Residents can also easily decorate their spacious properties with one of the city's top plant sellers nearby, Southlands Nursery. Less recently built and more modestly sized homes for sale in Southlands start in the $3 million to $4 million range, with typical properties selling for between $5 million and $7 million. However, the area's best properties can reach over $10 million.
Southlands Amenities
Musqueam Park
McCleery Golf Course
Musqueam Golf & Learning Academy
Southlands Riding Club
Convenient to Vancouver International Airport
University
One of Vancouver's most sophisticated, cultured, and expensive communities lies at the city's western tip, integrated with the University of British Columbia campus.
This means easy access to top things to do, like catching a show at the Chan Centre for the Performing Arts, exploring the Museum of Anthropology, events at Thunderbird Stadium, or simply strolling the beautiful grounds.
Nature is also easy to enjoy from a home in University, whether it's the gorgeously manicured UBC Botanical Gardens or the wild expanses of nearby Pacific Spirit Park. Meanwhile, owners won't have to go far for daily conveniences like shopping and restaurants, thanks to newly developed commercial areas like the Westbrook Village development.
Condos are by far the most common style of housing in the University neighbourhood, with townhouses and detached homes available in smaller numbers. Studios and smaller one-bedrooms start in the $700,000s and can regularly reach as high as $5 million for expansive units in modern buildings.
Residents can also rely on a variety of high-end amenities. Rarer single-family homes for sale in University list from $4 million and up, generally reaching $15 million to $20 million on the high end.
University Amenities
University of British Columbia campus
Pacific Spirit Regional Park
UBC Botanical Garden
University Golf Club
Chan Centre for the Performing Arts
The Lap of Vancouver Luxury
The real estate landscape in Vancouver is ever-evolving, yet some neighbourhoods consistently rank at the pinnacle of luxury. These premium locales, some of which are among Vancouver's best neighbourhoods, represent more than just pricey homes; they epitomize the best of BC living, where prestige, panoramic views, and proximity to urban amenities converge. As the city continues to grow and flourish, the allure of these luxurious enclaves will undoubtedly persist, capturing the imagination and aspirations of those seeking the finest in urban living.