8 Most Expensive Suburbs of Vancouver: Luxury in the Greater Vancouver Area
Posted by Katrina Amurao on Tuesday, December 13, 2022 at 9:26:57 AM
By Katrina Amurao / December 13, 2022
Comment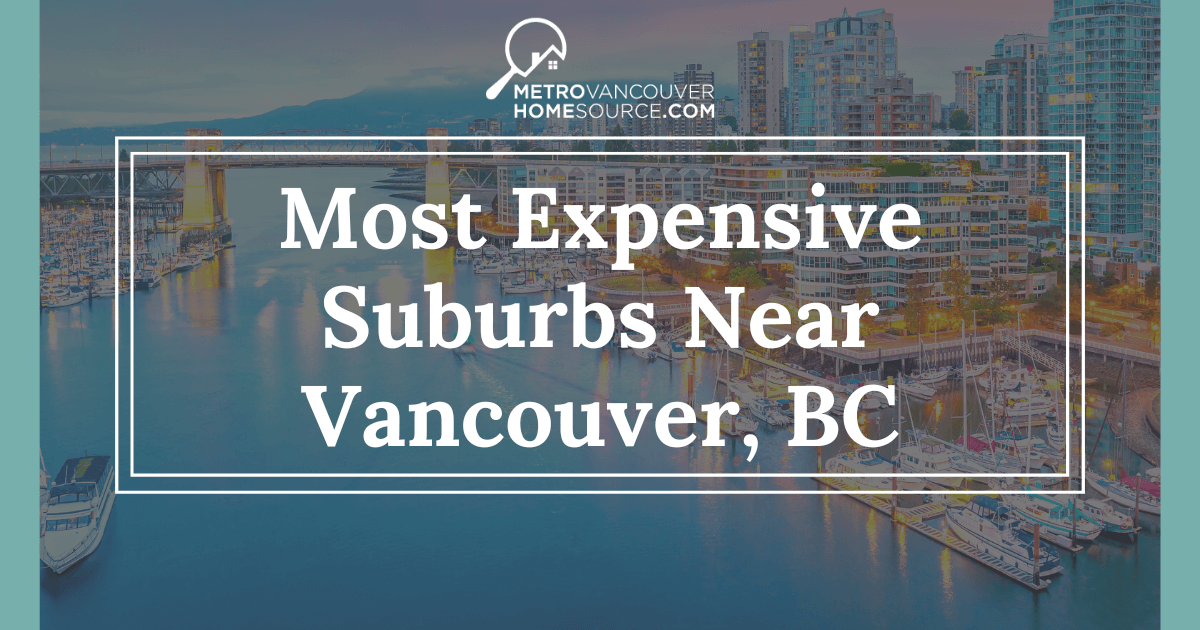 Those wanting to live near the city of Vancouver, British Columbia, can enjoy the jobs, culture, and entertainment from the suburbs, which stretch from the border with the United States well into the mountains north of the community. If you want to buy a luxury home in the area, consider the following eight most expensive suburbs in Vancouver and find out what they offer would-be residents.
Maple Ridge
The easternmost of our most expensive Vancouver suburbs, the sprawling Maple Ridge community is between the Fraser River and the Golden Ears mountains, just over 40 kilometres from the heart of Vancouver. It consists of a more suburban downtown area closer to the river, with more rural areas to the north and east in the foothills.
Central Maple Ridge offers a thriving and sophisticated art scene centred around the ACT Arts Centre, as well as a variety of convenient shopping and unique local restaurants like Bobby Sox 50's Diner. Meanwhile, residents are just minutes away from a vast selection of trails, mountainside and riverfront parks, and Alouette Lake.
While Maple Ridge's various communities offer a mix of condos and townhouses and single-family properties, the latter group makes up the city's top homes, starting in the high $700,000s with most properties listing in the $1 million to $2 million range. However, Maple Ridge's most spacious, luxurious, and new construction homes can list between $4 million and $10 million. Vacant lots and land for sale in Maple Ridge are available from the high six figures upwards to the $2 million to $5 million range.
Maple Ridge Amenities
Served by West Coast Express commuter rail service
Easy access to Golden Ears, Alouette Lake
The ACT Arts Centre
Ridge Meadows Hospital
Chances Maple Ridge casino
Maple Ridge Golf Course
Burnaby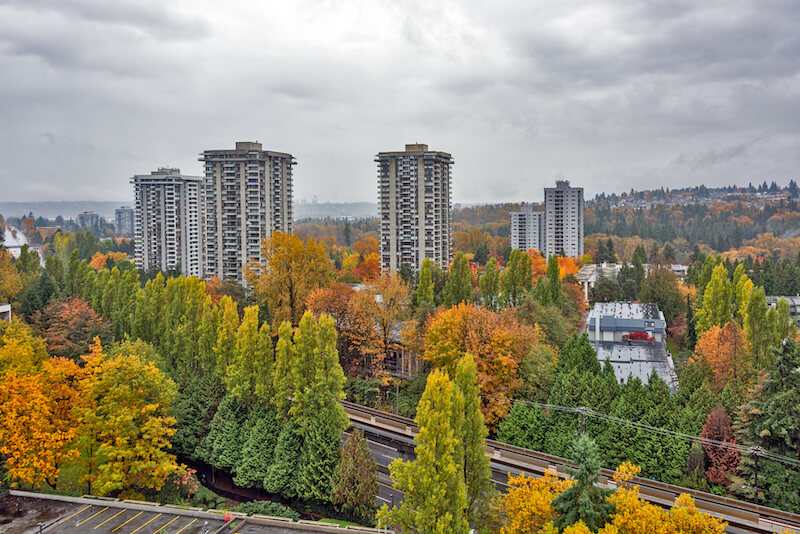 The city of Burnaby is one of Vancouver's best suburbs, with its strong combination of a convenient location and quality amenities. The city's roots date back to the late 19th century, when it was primarily a farming and logging area. Today, it's British Columbia's third-largest city, home to everything from oil refiners to tech companies and universities.
Burnaby is also notable for its many parks, including Burnaby Lake Regional Park and Central Park. Approximately a quarter of the city is set aside for green space, a significant draw for those wanting to enjoy nature while staying near Vancouver. Nevertheless, Burnaby offers a thriving job market and a bustling downtown, primarily based in the Metrotown neighbourhood.
Burnaby's large size provides plentiful housing options in all styles, from compact condos and townhomes to sprawling single-family homes. Condos and other multifamily units offer the area's most affordable properties, starting in the high $300,000s. Townhomes can be found from half a million upwards, while single-family detached homes begin north of $1.25 million. Luxury homes for sale in Burnaby often list in the $4 million to $6 million range.
Burnaby Amenities
Expo Line rapid transit service
Numerous parks and city green spaces
British Columbia Institute of Technology
Simon Fraser University
Multiple golf courses/driving ranges
Furry Creek
Those looking for an authentic rural escape just up the road from Vancouver should explore the small Furry Creek community. Located along Provincial Highway 99/Sea-to-Sky Highway on the shores of the breathtaking Howe Sound, about 50 kilometres north of Vancouver, Furry Creek's landscape rises steeply from the waterfront. The community stretches into the foothills of the North Shore Mountains, providing both solitude and incredible views of the British Columbia wilderness.
Historically, the Furry Creek area was known for its logging and other resource harvesting, which the Furry Creek Hydropower plant represents today. Furry Creek's most noteworthy attraction is Furry Creek Golf and Country Club, which offers 18 holes of unique course design and one-of-a-kind scenery, along with a pro shop, several restaurants, and other amenities. Those looking for a more relaxed experience can check out Furry Creek Beach nearby.
As the Furry Creek area is primarily undeveloped, there are fewer housing options than in many other top Vancouver suburbs. Most are part of the Country Club community, with properties typically containing two to four bedrooms and 2,000-3,500 square feet of living space. Homes in Furry Creek often include incredible views and list between $2 million and $4 million. Other communities just north or south of the area sell in a similar price range.
Furry Creek Amenities
Mountain and water views
Furry Creek Golf & Country Club
Furry Creek Beach and Lookout
Anmore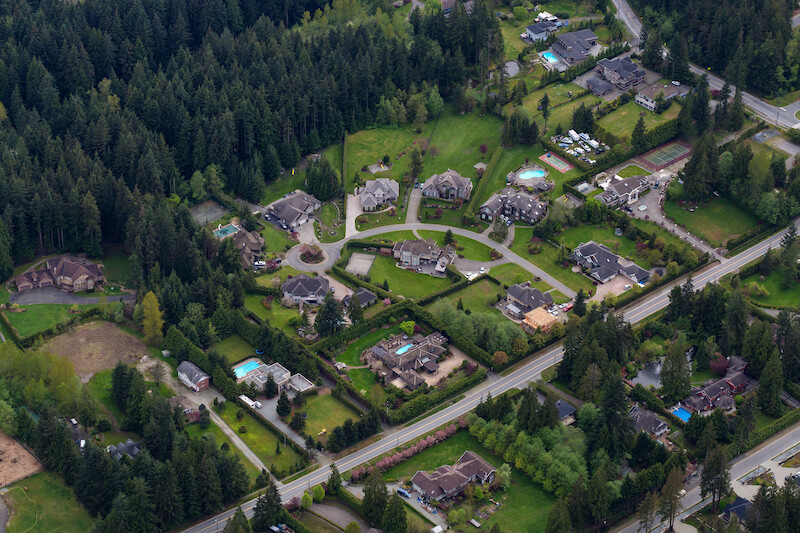 Anmore is a quaint community located approximately 30 kilometres northeast of Vancouver on the Indian Arm. With fewer than 3,000 residents spread over nearly 30 square kilometres, it's perfect for those looking to put down roots in a small town with a rural feel close to the big city.
Anmore's location at the edge of Vancouver means homebuyers can easily access some of British Columbia's best natural landscapes, from Buntzen Lake to the beaches and forests of Belcarra Regional Park. While Anmore itself is almost entirely residential, homes are just a few minutes down the road from all of the shopping, restaurants, and everyday services of the city of Port Moody and the Coquitlam community.
Homes are built on large lots of at least an acre, a spacious zoning policy that community members have protected over the decades to preserve Anmore's natural character. Made up almost entirely of large, luxuriously finished single-family properties, the homes for sale in Anmore start north of $1.75 million and can reach close to $10 million. Anmore also offers several vacant homesites from $1 million and up for those looking to build their dream home.
Anmore Amenities
Spacious lots and zoning
Buntzen Lake recreation area
Numerous beaches and waterfront parks
Convenient to Coquitlam and Fort Moody shopping, restaurants, services
North Vancouver
Just across the harbour from downtown, North Vancouver offers one of the most amenity-rich districts of the North Shore area. On the north side of Burrard Inlet, North Vancouver is south and west of Highway 1/Upper Levels Highway.
The area enjoys extensive waterfront space, from commercial areas to the thriving Shipyards District, which includes Waterfront Park, restored piers, restaurants, breweries, museums, and a SeaBus ferry terminal with service to downtown. North Vancouver residents also have a second strip of restaurants, bars, and convenient local shopping along Lonsdale Avenue, including Loblaws and other cuisine and supermarket options.
Homes in North Vancouver are primarily condos and other multifamily properties, with smaller numbers of townhomes and single-family homes also available. This last group generally makes up the area's most expensive homes, which include sprawling new construction properties of up to eight bedrooms and 5,500 square feet and more modest homes closer to the water and the community's hottest spots. While homes for sale in North Vancouver start in the mid-$400,000s, the area's top tier of homes easily reaches the $2 million to $4 million range.
North Vancouver Amenities
Waterfront Park
Lonsdale Quay SeaBus Terminal
Mahon Park
Harry Jerome Community Recreation Centre
Lions Gate Hospital
White Rock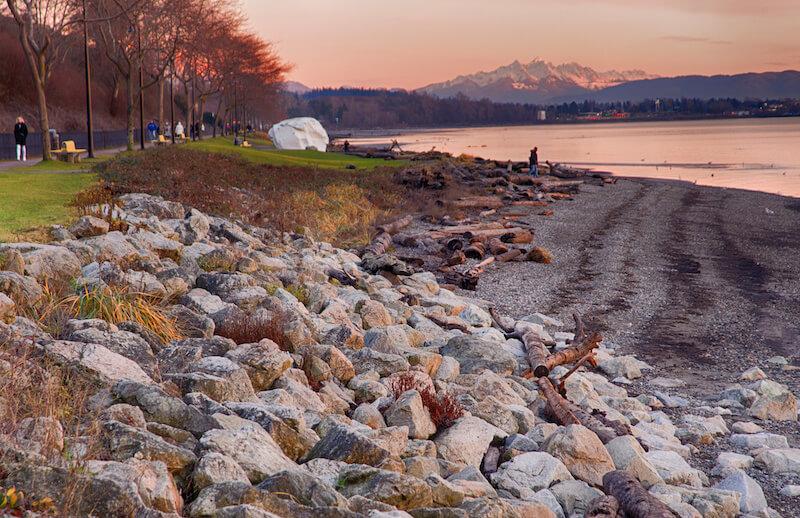 White Rock takes its name from a large boulder and one-time critical navigational waypoint located on the shores of this waterfront town, only a few kilometres from the United States border. Approximately 50 kilometres from downtown Vancouver, White Rock is defined by this international proximity and the waters of nearby Boundary Bay.
Residents can stroll along gorgeous beaches and waterfront trails, from the relaxed East Beach to culturally rich Totem Park to the 470-metre-long White Rock Pier. There are also plenty of local shops, restaurants, galleries, breweries, and more to check out along Johnston Road, one of White Rock's main thoroughfares. Additionally, White Rock is the site of Peace Arch Hospital, one of the region's top healthcare centres and a major local employer.
Those home shopping in White Rock will find a roughly even split of single-family homes and condos and townhomes. The waterfront properties naturally make up the town's most expensive homes, which routinely list in the $5 million to $8 million range. These typically include four to seven bedrooms and as much as 11,000 square feet of living space. However, most homes for sale in White Rock list between $1 million and $3 million, providing a variety of styles, sizes, and locations for future residents.
White Rock Amenities
White Rock Pier
East Beach
Numerous community parks
Peace Arch Hospital
Whistler
At roughly 120 kilometres north of Vancouver, would-be homebuyers who explore the gorgeous Whistler community may decide the distance from the big city is more than worth it. The resort town is known for some of the world's best skiing and winter sports at Whistler Blackcomb, including numerous events during the 2010 Vancouver Olympics.
Whistler offers top mountain biking trails in warmer weather that draw enthusiasts from far and wide to explore the Pacific Ranges. There are even spots for fun on the water at nearby Alta Lake. After a long day outdoors, residents can relax with a meal or a drink at one of the many restaurants and nightlife spots in the walkable downtown area, like 21 Steps and Caramba.
Like many ski resort towns, Whistler offers a varied mix of condos and townhomes and spacious estate homes. Most one- and two-bedroom properties start from the high six figures, while larger or single-family properties start around $2 million. However, homes for sale in Whistler can reach truly high prices for sprawling luxury properties with incredible mountain views, often in the $15 million to $40 million range.
Whistler Amenities
Whistler Blackcomb ski resort
Whistler Olympic Plaza
Walkable downtown
Exciting restaurant, nightlife, and shopping scene
West Vancouver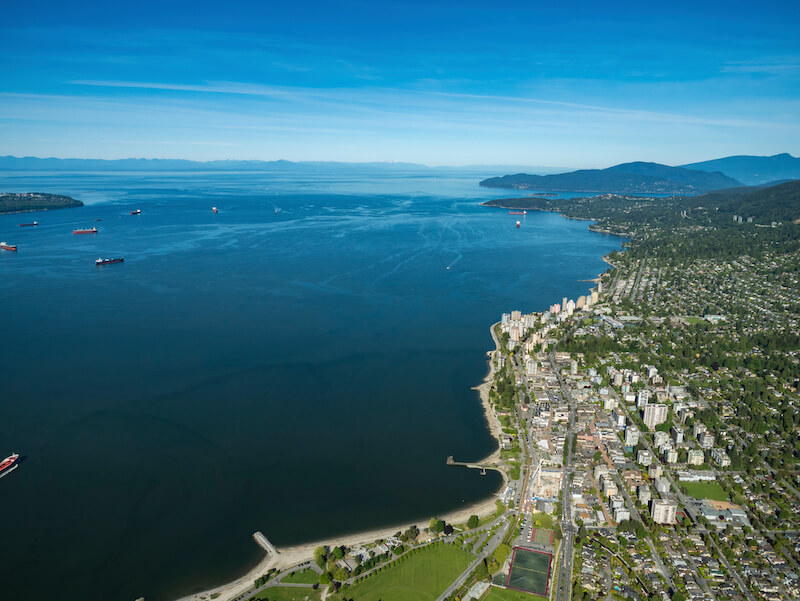 While West Vancouver may share a name with the dense, urban city to the south, this North Shore community offers a unique combination of living conveniences and British Columbia's wild natural landscapes that are all its own. Outdoor adventurers will be right at home in the area, thanks to spots like Cypress Provincial Park. This mountainous expanse provides incredible winter sports facilities during cold weather and excellent hiking and cycling when it's warmer.
Those who want to explore nearby Vancouver Island will have easy access to the district's ferry terminal, which offers direct service to the island and other destinations. Meanwhile, most residents are still just 10-15 kilometres from downtown. West Vancouver offers its own restaurant, shopping, and commercial corridor along Marine Drive. It is also the site of the first-ever shopping centre opened in Canada, the always-popular Park Royal.
West Vancouver housing mainly consists of single-family homes, with a smaller selection of condos and townhouses available primarily in the southeastern part of the neighbourhood. Buyers should expect some of Vancouver's highest prices, with properties rarely available for less than $1.5 million. Typically, these sprawling, modern, luxuriously finished homes sell between $3 million and $8 million. However, it's not uncommon for luxury homes for sale in West Vancouver to list for $10 million to $30 million – or more!
West Vancouver Amenities
Cypress Provincial Park
Ambleside Park
BC Ferries Horseshoe Bay Ferry Terminal
Park Royal shopping centre
West Vancouver Memorial Library
Luxury Living is Easy to Find in Vancouver's Most Expensive Suburbs
From Burnaby's close-in conveniences to Whistler's far-flung fun, Vancouver offers a remarkable selection of luxurious suburban living choices. Those with a big budget will find housing of all styles and sizes, offering perfect places to set down roots. Buyers who keep these excellent communities in mind will find it hard to go wrong with their new home.