Best Home Builders in Surrey: 8 Builders to Design Your Dream Home
Posted by Katrina Amurao on Wednesday, April 13, 2022 at 6:20 AM
By Katrina Amurao / April 13, 2022
Comment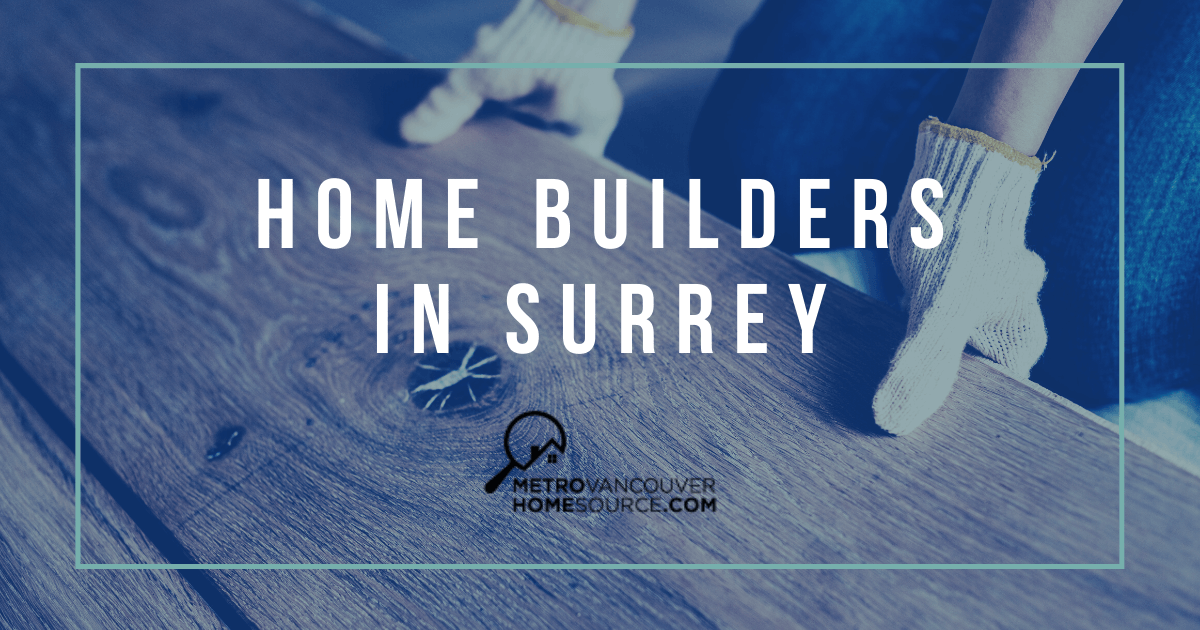 Home Builders in Surrey, BC: Surrey's Most Popular Home Builders Guide
Noted for its location on the Fraser River at the U.S. border, the city of Surrey, British Columbia, is a highly desirable community to call home. It has a population of about 518,000 people and has seen significant new property development since 2000. That includes access to waterfront homes, luxury homes, and a wide range of townhomes and condos. It may be beneficial for those moving to Surrey to consider building a new home. A number of builders provide services in Surrey and the surrounding communities, many of which are well respected and experienced. Read on to learn about some of the most popular home builders in Surrey.
Omex Homes
Year Established: 2016
Price Range: $200,000 and up
Omex Homes provides architectural design and construction of homes in Surrey. As a custom home builder, they work directly with customers to create a turnkey property with the size and features desired. They design truly custom homes rather than cookie-cutter structures and provide an architectural design team and interior design service to go along with the process. Omex Homes works carefully to create spaces that fit its clients' needs while offering superior quality on each project.
The company only works with certified skilled labour, including carpenters and trade professionals. They pride themselves on offering functional homes with trendy features and sophisticated design options. Omex Homes also provides work in environmentally friendly homes.
The builder also takes on home renovation projects, including improving comfort and efficiency, increasing living space, or reclaiming space. The company does a significant amount of work with home additions and reconfigurations.
Areas Served by Omex Homes:
Surrey
Surrounding communities
Foxridge Homes
Year Established: 1951
Price Range: $200,000 and up
A division of Qualico, Foxridge Homes has built over 3,000 homes across the country and has become the largest single-family production home builder in the region. Its homes stand out in energy efficiency, timeless design, and overall quality. The builder is a member of the Canadian Home Builders' Association and Avid Ratings.
As a large company, the organization can provide a wide range of supportive services to meet the needs of homebuyers, including installing blinds, vacuum systems, appliances, and much more. They work closely with families to create custom living spaces.
Foxridge Homes has built numerous subdivisions in the Surrey area and works on stand-alone homes. They are most noted in the Grandview Heights neighbourhood, Edgewood Estates, and Edgewood Gate. They often build large homes, including those with over 2,200 square feet of living space.
Areas Served by Foxridge Homes:
My House Design/Build/Team
Year Established: 1997
Price Range: $50,000 to $2 million
My House Design/Build/Team is noted for its long-term service to the Greater Vancouver and Surrey areas. The company began with Graeme Huguet and has grown to be a large corporation, winning awards for its quality craft and exceptional customer service. One of those awards is the Georgie Award for Best Vancouver Renovator for seven years.
The home builder has a step-by-step process, which helps home buyers create homes that fit their needs and lifestyle. My House Design/Build/Team does it all, from the design work of custom homes and projects to the entire construction process. They use only trusted contractors for skilled work.
Areas Served by My House Design/Build/Team:
Surrey
Barnet
Belcarra
Cloverdale
Coquitlam
Delta
Ioco
Ladner
Langley
Maple Ridge
North Burnaby
Panorama Park
Port Coquitlam
Richmond
Okanagan
Vancouver
Vancouver Island
Lion's Bay
Gulf Islands
Renfrew-Collingwood
West Point Grey
Tsawwassen
Alair Homes White Rock
Year Established: 2007
Price Range: $100,000 and up
Individualized attention is one of the foundations of the services offered by Alair Homes White Rock. The company has a team of experienced general contractors to help them match the property owner's exact needs. Homebuilding typically includes one-on-one design work, planning, and complete construction on the site selected by the buyer.
The company is an award-winning builder and does renovation work as well. Its goal is to make homes happier, healthier, and more productive spaces for their owners. They do this with careful attention to budgets and meeting time goals. The company also uses proprietary project management programs to help them easier manage the entire process, including linking subcontractors and suppliers to projects to minimize delays.
Alair Homes White Rock is a more localized service but works with people throughout the region. It is also noted for its dedication to creating homes with warranties to back up its quality.
Areas Served by Alair Homes White Rock:
Square One Construction & Renovations
Year Established: 2003
Price Range: $1 to $5 million
Square One Construction & Renovations is a trusted name in home building in the area. It has constructed over 500 homes locally since its founding in 2013. While it builds quickly, it also focuses on quality craft. The company is passionate about creating the best possible outcome for its clients.
To achieve its goals, Square One Construction & Renovations offers a step-by-step process to help property buyers through design, budgeting, and, ultimately, construction. Noted for its willingness to handle any project, Square One Construction & Renovation is a full-service company. Turn to it for renovations, boutique development, custom home builds, etc.
Areas Served by Square One Construction & Renovations:
White Rock
Delta
Langley
Langley Township
Richmond
Surrey
Vancouver
West Vancouver
North Vancouver
360 Home Renovations Surrey
Year Established: 2013
Price Range: $200,000 and up
For many, 360 Home Renovations Surrey is the best home builder for its ability to meet the highest standards in all of the work it does. The company focuses heavily on kitchen and bathroom renovations and home building, allowing them to be some of the most sought-after professionals to work within the area. They work to incorporate new styles and trends into their work to create homes that fit the lifestyle needs of their clients. The company handles the entire design and build process for buyers, simplifying the process and allowing them to remain more in control over the finished results.
In addition, 360 Home Renovations Surrey says it is upfront about pricing and keeping projects within budget. They do this to ensure total satisfaction in each of their customers, whom they work closely with to ensure they can build a dream home without spending a lot of money.
Areas Served by 360 Home Renovations Surrey:
Essence Properties
Year Established: 2002
Price Range: $200,000 and up
Quite a prolific builder, homes built by Essence Properties are located throughout the region, including in Surrey, the Langley City community, and much more. The company is noted for its multi-family properties, including elegant condos and townhomes. Its developments typically sell out quickly, with homebuyers waiting for their chance to open a new project.
For over 20 years, the company has completed the design of over 800 homes primarily in Surrey, South Surrey, and Langley. It works with all types of buyers, including first-time buyers or those seeking a smaller townhome with special features.
Areas Served by Essence Properties:
Surrey
South Surrey
Surrounding areas
Dream Choice Homes
Year in Business: 30+
Price Range: $10,000 and up
Dream Choice Homes commits to providing home buyers in the Lower Mainland area and Okanagan region a way to build a dream home. It works to complete renovation projects and extensions for home buyers, but its real passion is building multi-million-dollar estates. At the same time, the company is also noted for its construction of budget-friendly homes. They put no less care and attention into these smaller homes.
Dream Choice Homes offers a full design and construction service for all budgets and all types of homes. They are a locally owned company and have a team of professionals dedicated to providing superior results. They vet all professionals providing service on each project.
Areas Served by Dream Choice Homes:
Surrey
Langley
Kelowna
Coquitlam
Easyway Custom Homes
Year Established: 2000
Price Range: $200,000 and up
Noted for its luxury home building throughout Vancouver, Easyway Custom Homes is a go-to builder for most needs. The company designs and builds a wide range of homes but is mainly focused on modern and luxury homes. They take on each custom project with careful attention to detail and with a goal to impress home buyers.
It also stands behind the quality of its homes by providing long-term warranties and 100 percent satisfaction guarantees. Easyway Custom Homes offers an interior designer, architect, engineer, and other professionals to ensure superior craft on every project.
Areas Served by Easyway Custom Homes:
Finding the Ideal Home Builder Means Getting to Know the Area
For those considering building a Surrey new construction home, finding the ideal home builder is key. Any of these providers offer a full design and build service to provide exceptional results. Getting to know the area and finding land — maybe even in one of Surrey's best neighbourhoods — is the first step for those ready to build the home of their dreams in Surrey.