Surrey Economy: Top Industries, Biggest Employers, & Business Opportunities
Posted by Katrina Amurao on Friday, May 14, 2021 at 4:15 PM
By Katrina Amurao / May 14, 2021
Comment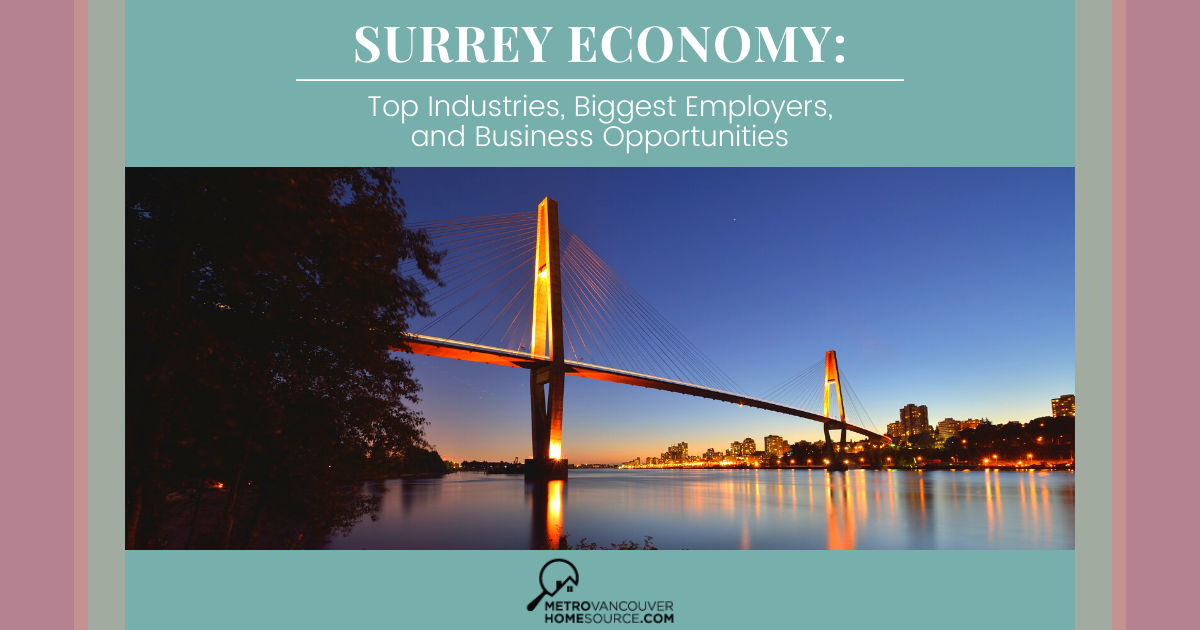 As one of the fastest-growing communities in Canada, Surrey is vastly outgrowing its former central city. For much of its history, Surrey served as little more than a suburb of Vancouver. However, modern population studies indicate a likelihood that Surrey will be the larger city by 2030.
With so many new people moving into new construction homes in Surrey, more potential residents consider the possibilities every day. However, new residents should research several factors about a possible relocation. For example, understanding the local economy and cost of living can provide a lens into future lifestyles and opportunities.
Here are a few things to consider about the economic layout of Surrey, British Columbia.
Surrey Industries
Surrey began as a bedroom community for workers commuting to Vancouver or Burnaby. In the 1980s, the city began to grow and create its own economy. Because it began to create its economic identity in the last 40 years, Surrey has an incredibly diverse industry base. It's one of the few areas in the world where workers can find traditional agricultural farms alongside cutting-edge technology firms.
Since its early days as a farming community, agriculture has played a powerful role in shaping the community. Today, nearly 1/3 of the land in Surrey is still used for farming. Businesses in this industry provide crops to feed the growing local population through various fresh food shops. The city also provides significant crops for export, providing jobs in local manufacturing plants. Nearly 1.6% of people (3,300 jobs) work in this sector.
As with any growing community, more people means greater demands on the local health care system. Surrey has responded by exploding to almost 900 businesses related to health, including traditional clinic and hospital settings, research institutions, and private health support companies. Several of these organizations, such as Surrey Memorial Hospital and Fraser Health, have emerged as some of the largest entities in the province.
Technology-related companies are emerging as the favourite of economic development leaders, and technology is part of the vision of the Surrey Innovation Boulevard. The group uses a partnership between government, higher education, health companies, and local businesses to promote improving human lives by developing technology related to health care. Technology also covers businesses operating in areas of clean energy such as biomass heat or solar energy devices.
Education is another major industry in the area, covering everything from the local public schools to universities. Surrey Public Schools has 125 public schools in the area. Several universities also add professors and other staff providing university-based services. Kwantlen Polytechnic University, Surrey Community College, and Simon Fraser University all have campuses within the city. Kwantlen Polytechnic is the largest higher education employer in the community with 1,332 staff.
More than 20,000 pupils are enrolled in the local institutions. With academic backgrounds such as medicine, business, technology, and the modern arts, many of these students will become contributing members of the local economy.
Top Industries in Surrey
Advanced Manufacturing
Supply Chain
Clean Energy
Agriculture
Healthcare
Education
Top Employers in Surrey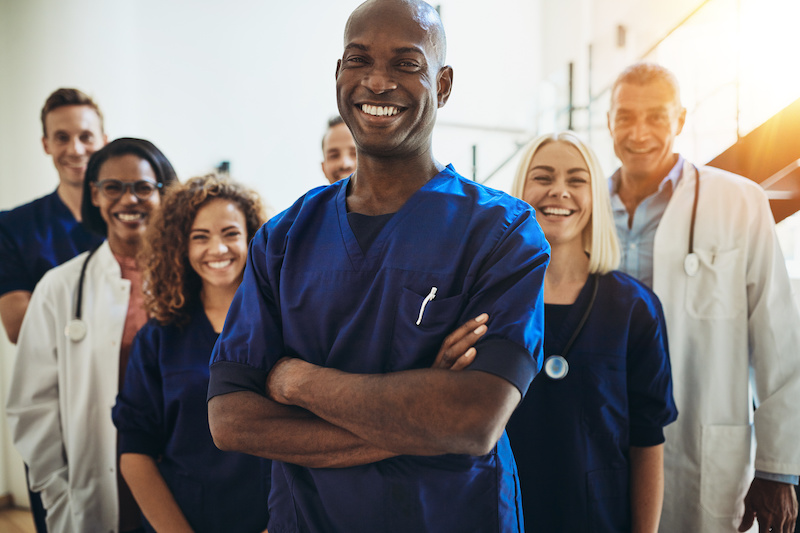 The largest employer in Surrey is Fraser Health, with more than 29,000 staff. With a budget of $3.95 billion, the organization has more than 3,000 doctors and 6,000 volunteers. Also known as Fraser Health Authority, it's one of five regions in British Columbia providing publicly funded health care. The organization provides various health-related services to more than 1.8 million residents within its region. Specific services include acute and long-term medicine, mental health care, addiction support, and community home care.
The second-largest employer in the community is the Surrey School District, with almost 12,000 employees. That number includes nearly 6,400 professionals directly involved in education, with the rest providing support or administrative functions.
The City of Surrey is the third-largest employer with 10,600 employees. It provides a wide variety of services for city residents, including parking enforcement, waste management, recreation activities, and more. The city website is the place to watch for news regarding economic development, local arts and culture, and information about the city.
Coast Capital Savings Federal Credit Union provides another 1,738 employee positions to the local economy. They also boost the local economy by offering mortgages for townhomes or condos and car loans for drivers. Visiting the website will reveal a wide variety of wealth management tools and investment products.
Starline Windows Group has another 1,400 staff within the community. As the name sounds, they provide a wide variety of windows for houses, businesses, and high-rise structures. Starline can produce new thermally enhanced options to save energy or replacements for classically designed windows.
Additional Large Companies in Surrey
SAP
Microsoft
Fortinet
Vancouver Coastal Health
WorkSafeBC
lululemon
Apple
Surrey Economy Facts and Figures
In addition to understanding the major employers and industries in the area, it's also helpful to know the general economic conditions in Surrey. Those working in construction or related industries may be delighted to learn that more than $12 billion in new construction has happened in the last decade. That growth is expected to continue as more than 1,000 new people move into the community each month.
The median income in Surrey is $27,719, and the active labour force is growing rapidly. Nearly half of the population commutes outside of Surrey for their jobs, which may explain why the Skytrain rapid transit service now provides 35-minute rides into downtown Vancouver.
More Than Just Economic Data On Surrey
It's great to know the raw economic data regarding a potential new community. However, these numbers are just one part of the equation. Truly considering relocation to Surrey should be a well-researched project. However, with 1,000+ new residents each month, Surrey is doing something right.