Fun Facts About Surrey: Surrey, BC Facts & Trivia
Posted by Katrina Amurao on Monday, June 7, 2021 at 11:30 AM
By Katrina Amurao / June 7, 2021
Comment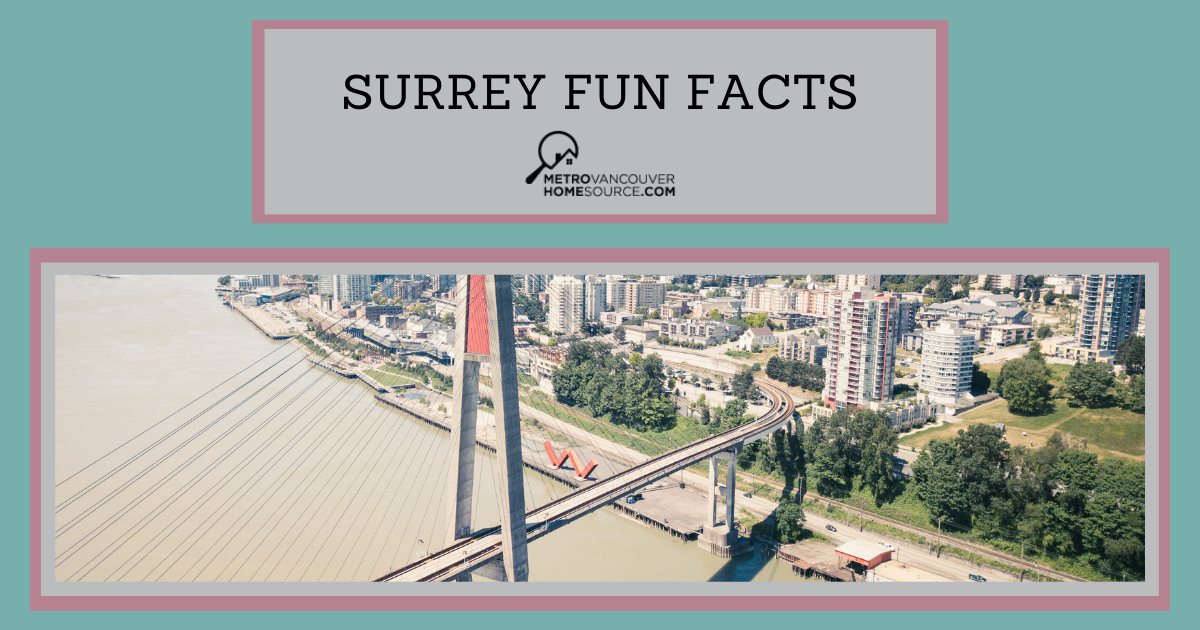 Whether a person is dreaming of a Surrey waterfront home or a Downtown townhome, the Surrey community has a lot to offer. This fast-growing city is rich in arts and culture, providing both historic charm and technical innovation. Curious to learn more about British Columbia's second-largest city? Read on to discover fun facts about Surrey that introduce visitors and new residents to some of what makes this city a special place.
Surrey Is Home to Canada's Second-Largest Rodeo
The Calgary Stampede doesn't have a monopoly on the world's best cowboys and cowgirls. The Cloverdale Rodeo and Country Fair is held every year at the Cloverdale Fairgrounds during the Victoria Day holiday weekend. The four-day event includes performances from premier athletes worldwide, such as ladies barrel racing, saddle bronc riding, bareback, bull riding, and more. There are also musical guests, as well as entertainment that includes rodeo clowns and corgi races. In many years, nearly 100 contestants will compete throughout up to five rodeo performances.
The fair was first held in 1888 at the Surrey Municipal Hall and grounds. By 1938, it had moved to its current site at the Cloverdale Fairgrounds. The rodeo was added to the fair in 1945.
Be sure to head to downtown Cloverdale on the Thursday before the rodeo and fair, where there is a bed race every year. During the fair and rodeo, visitors can also enjoy livestock exhibitions, baking and canning competitions, and arts and crafts displays. Kids can be entertained and educated by a range of 4H displays and children's entertainers.
A Surrey Resident Set the World Record for the Longest Beard
When we think of world records, our thoughts often go toward feats of athletic prowess or journeys to extraordinary places. One man accomplished a record-breaking feat right in Surrey: the world's longest beard.
Sarwan Singh was declared the man with the world's longest beard in 2010. At the time he set the record, his beard measured 2.36 metres long. Over 200 people came to support him in an appearance at Akal Academy, where his beard was dipped in water and brushed before being measured three times for accuracy. When re-measured in Surrey in 2011, it had grown to 2.495 metres.
Sarwan Singh is a popular and respected music teacher who specializes in teaching Sikh music and history. He broke the record previously held by Shamsher Singh of Punjab, India, with his extraordinarily long beard. Shamsher Singh's beard measured 1.83 metres in 1977.
Surrey Has Canada's First-Ever Kabaddi Stadium
Kabaddi is a team-based martial art sport popular throughout Asia, especially on the Indian subcontinent. It's the national sport of Bangladesh, where a variation called ha-du-du is an ancient game. In kabaddi, two teams of seven players face off. One player on the offence team, known as a raider, runs into the opposing team's territory to tag as many defenders in a single breath as possible without being tackled themselves. Points are awarded for each player tagged by the raider, while the opposing team is awarded one point for each time they stop the raider from scoring. The sport is often described as a hybrid of tag, wrestling, and rugby.
Canada has had kabaddi organizations for years, and now players can compete in Surrey's own Kabaddi stadium, set to be completed in 2022. The stadium provides covered seating for over 3,000 spectators. Since 2018, Surrey has been the host of the Youth Kabaddi World Cup tournament.
Historically, Indian teams would come to Canada to play for spectators. Now, however, there is a movement to get kids in Canada involved in this sport. The Kidsplay Foundation has introduced organized Kabaddi events. There are also Kabaddi programs in local elementary schools in Newton and Surrey.
Surrey Has an Official Coat of Arms
Many cities worldwide have established civic heraldry, a symbol used to mark unique official correspondence. Surrey developed their Coat of Arms in 1987. The emblem was officially registered with the College of Arms of Canada in 1993 and became the city's Official Civic Signature the next year.
The emblem is now used alongside the city's logo, which was developed in 2009. Many symbolic elements make up the Surrey Coat of Arms. These include:
A racehorse symbolizing Cloverdale, which hosts the fair and rodeo
A farm horse to celebrate Surrey's agricultural industry
Five stars for Surrey's original five town centres
Wavy bands to represent the Nicomeki, Campbell, and Serpentine Rivers
A canoe for Surrey's indigenous communities
A Peace Arch for the U.S., Surrey's neighbour to the south
A beaver, in a nod to Surrey's historic municipal seal
Other symbols on the Coat of Arms range from a micro tower and binary to ermine patterning reminiscent of royalty, making for a comprehensive design that tells Surrey's past and ongoing history. The farm horse has an ermine-patterned collar to reference Surrey's namesake in England and a tree pendant to represent Surrey's rich forests. In contrast, the Cloverdale racehorse has a collar with binary code for Surrey's tech industry and a pendant with a micro tower for the city's modern communication infrastructure. Beneath it all is Surrey's motto, "Progress Through Diversification," rendered in Latin.
Find Out More About Surrey
These are just a few of the fun, unusual, or illuminating bits of trivia that show what a diverse, vibrant city Surrey is. Whether someone is planning a quick trip for the weekend or moving to Surrey permanently, they are sure to learn more about the area's rich history and thriving present times. Come for a visit to see what else there is to discover.