What Is a Gated Community? Types of Gated Communities in Surrey BC
Posted by Katrina Amurao on Monday, September 26, 2022 at 8:00 AM
By Katrina Amurao / September 26, 2022
Comment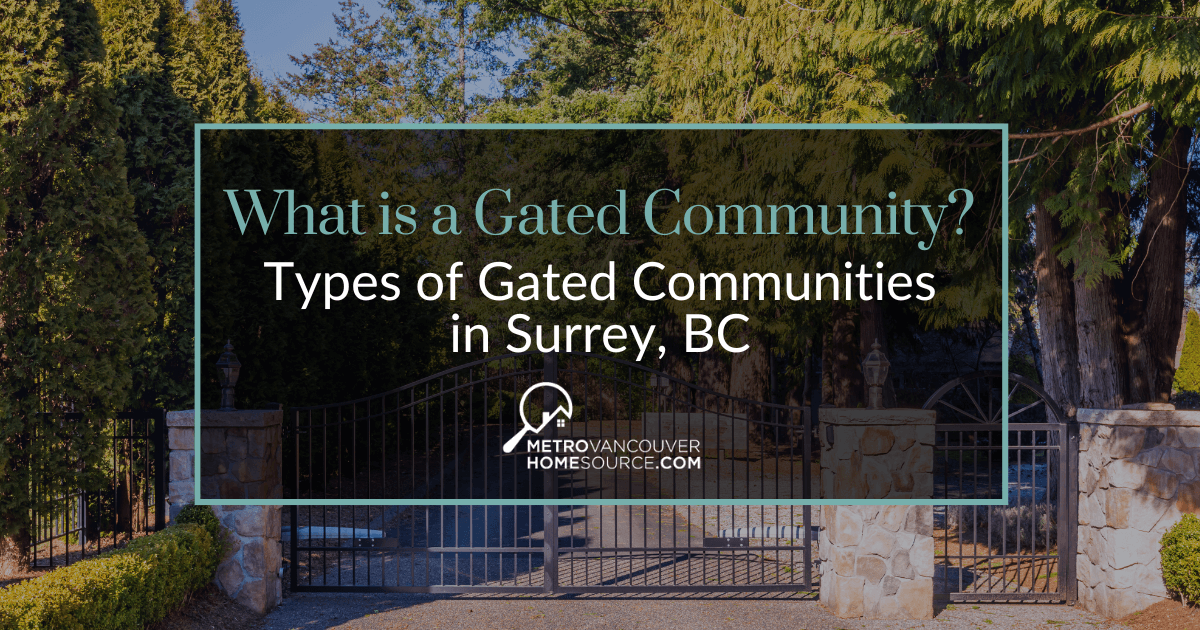 Gated communities come in all shapes and sizes, and each type of gated home has unique characteristics. When searching for a gated community home for sale, you might find condos, private estates, and single-family homes in gated neighbourhoods all classified under the same label. So what are the differences? Here is everything to know about the difference between the various types of gated communities.
What Is a Gated Community?
Typically, the term "gated community" is understood as a fenced-in neighbourhood or development that residents access by a gate across the road. The gate may be manned by a security guard, or it may be automated with an electronic keypad, card reader, or key fob. Some examples of these types of gated communities in and around Surrey include Hazelmere Village, Fleetwood Gate in the Fleethead Tynewood neighbourhood, and Bishop's Green in the Sunnyside Park community.
Benefits of Gated Communities
One of the most appealing benefits of living in a gated community is the sense of privacy it affords. When your home is behind a gate, you don't have to worry about passersby peeking in your windows or strangers loitering on your property.
Gated communities also tend to be quieter because traffic through the neighbourhood is limited on the community's private roads. Vehicles generally move more slowly, which can help protect pets and small children.
Many gated communities make a point of having plenty of amenities for residents. Some gated communities with excellent amenities have shopping centres, golf courses, and marinas. Others may include:
Private community pools
Community tennis courts
Clubhouses and amenity centers
Lavish landscaping and beautification elements such as fountains
High property values are a hallmark of gated communities, which typically have an HOA to coordinate services and implement rules to keep neighbourhood standards high.
Master-Planned Communities vs. Gated Communities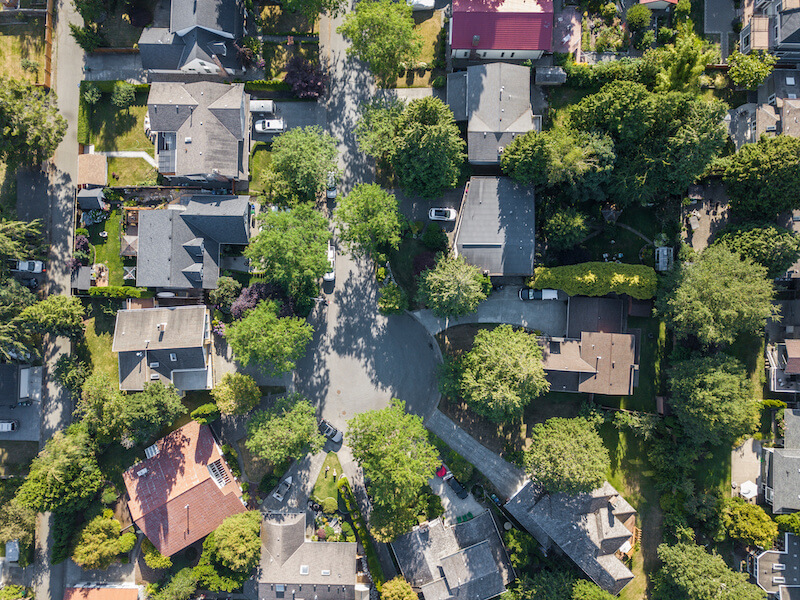 Master-planned communities and gated communities both offer residents community amenities, but there is a difference between the two. Some master-planned communities may be gated, but not all gated communities are master-planned.
Master-planned communities are designed and zoned from the ground up to be a self-contained experience. Home lots are positioned with an eye to easily accessible amenities throughout the community. Mixed-use developments and commercial elements are built into the community's infrastructure. The goal is to have everything residents might need within the community or nearby.
On the other hand, gated communities can comprise existing homes that were converted into a gated neighbourhood, or they may be newly constructed homes that were built behind a gate from the start. Gated communities may be entirely residential, and some may offer fewer or even no special amenities in order to keep costs down for residents.
Gated Homes vs. Gated Communities
The term "gated community" is most commonly used to describe a neighbourhood or planned development, while "gated home" usually refers to an individual property that has its own gate across the driveway. While gated communities maintain high property values collectively, privately gated homes usually weigh in at the high end of the local luxury real estate market all by themselves. These luxury estates often come with quite a few private amenities like home theatre rooms, wine cellars, home gyms and spas, indoor pools—the list goes on. Frequently, these are custom-built homes, so each may have unique amenities suited to the homeowner's taste.
It's possible for a gated home to be within a gated community, but it's more common to find gated homes in neighbourhoods among other privately gated homes. Some examples include the Elgin Chantrell neighbourhood and homes in the Crescent Beach-Ocean Park area.
Condo & Townhouse Communities
Gated communities with single-family homes and gated strata neighbourhoods with condos and townhomes for sale may be visually indistinguishable, depending on the home style. However, oftentimes online searches will turn up condo buildings, too. Because high-rise condo buildings often come with front desk security, they enjoy one of the most important benefits shared by single-family gated communities: privacy.
While the high-rise condo experience is much different than in a traditional gated community, they share many other benefits as well. High-rise condos like Miramar Village in the White Rock community and Park Boulevard in the Whalley neighbourhood usually boast plenty of amenities of their own, including gyms, pools, clubhouses, game rooms, and more, all without residents even having to leave the building.
High-rise condos also have benefits that more traditional gated communities don't, such as amazing skyline views. It's up to you what kind of gated community experience you wish to have.
Driveway Gates
Looking for the benefits of a gate on any home of your choosing? Multiple companies sell driveway gates in various styles. Almost all driveway gates on the market can be operated automatically, and some models come with special features like video cameras and intercoms.
These gates not only enhance privacy by limiting access to your home and driveway but can also be opaque to prevent passersby from seeing onto the property. They can also enhance curb appeal by quite a bit, increasing the property's value. Look into getting a driveway gate if you're more interested in its benefits than the appeal of a gated community's amenities.
Find Your Perfect Type of Gated Home in Surrey, BC
Now that you know the different types of gated communities available, it's time to start your search for the perfect gated home in Surrey. Whether you're interested in the traditional gated community or you're enticed by the unique benefits of other styles, Surrey is sure to have the right kind of home for you. Use your newfound knowledge to work with your agent and find the gated home that suits your ideal experience.