40 Fun Things to Do in Surrey, BC: Outdoor Adventures, Shopping, Nightlife, & More
Posted by Katrina Amurao on Monday, May 24, 2021 at 11:40 AM
By Katrina Amurao / May 24, 2021
Comment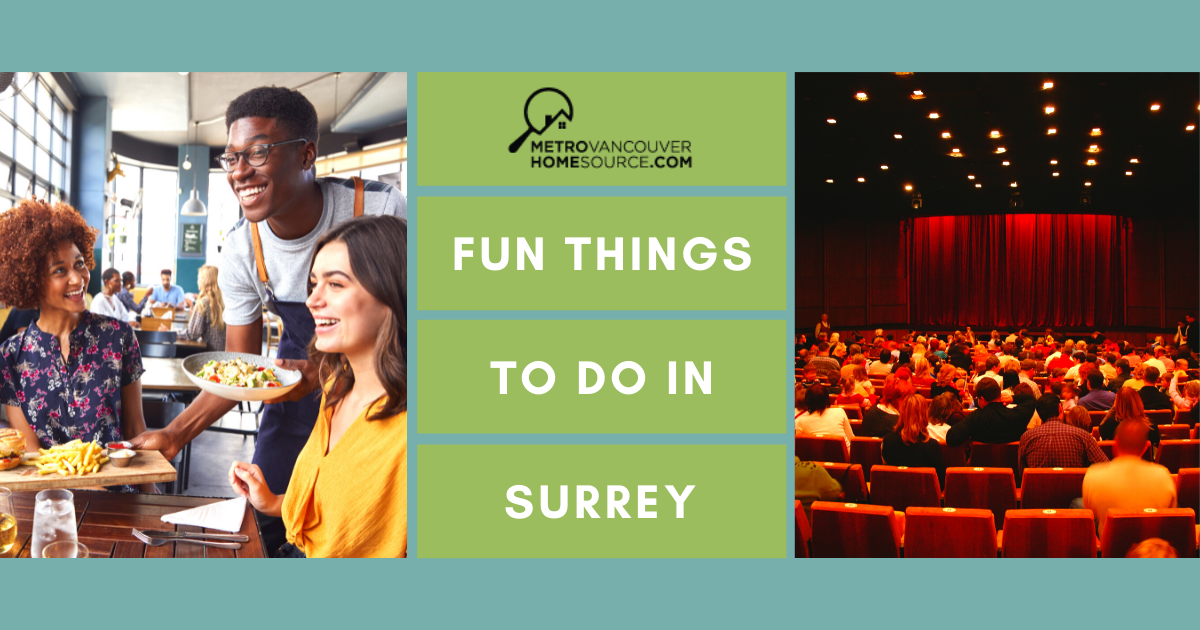 Residents of the Surrey community have access to many points of interest that provide hours of entertainment. Surrey is a destination with a lot to offer, including water recreation, historical sites to explore, a vibrant nightlife scene, diverse shopping spots, and tasteful dining venues to satisfy individual preferences. Here's a guide to excellent things to do in Surrey to get you started.
Surrey Outdoor Adventures
With an assortment of activities available in Surrey, chances are there will never be a dull moment when something is going on in and around town. The choices are plentiful year-round, with a variety of outdoor adventures. Whether a picnic in the park, hiking a scenic trail in the fresh air, or cooling off at a water park is the plan for the day, outdoor activities in Surrey are easily accessible.
Parks
Popular Surrey Parks
1001 Steps Park
Peace Arch Provincial Park
Redwood Park
For an overall experience of enjoying assorted scenic views while walking among lush landscape, plan to visit the 1001 Steps Park. The trail is a zigzagging pathway from the top point to the bottom. During the walk or hike, access the underpass and head to the beach for wildlife observation, including harbour seals.
Since 1939, visitors to Peace Arch Provincial Park have had one foot in Canada and the other in the U.S. Canadians have access to nine acres of gardens and picnic areas for a relaxing day. Dog-friendly Redwood Park, established in 1893, offers 80 acres of lush, tree-lined landscape with trails, a hidden fairy garden, and a children's playground.
This city has plenty of green spaces, so be sure to take a moment to visit Surrey's most popular parks.
Water Recreation
Surrey Water Recreation Sites
Athletic Park
Hawthorne Rotary Park
Bear Creek Park
When it's time to cool off from the sizzling summer heat, a trip to South Surrey Athletic Park has just what's needed with its water spray park. For a full day of fun, head to Hawthorne Rotary Park, where kids can burn up energy on the playground and the water park. The park also features walking paths, picnic tables, changing rooms, and washroom facilities. Bear Creek Park in north Surrey offers fun for both kids and adults. Along with a sports field, trails, and playground, everyone has the opportunity to splish and splash at the water park and outdoor pool.
Hiking and Biking Trails
Popular Surrey Trails
Green Timbers Urban Forest
Tynehead Regional Park
Mud Bay Park Loop
Serpentine Fen Trail
Crescent Beach Walk
Those who enjoy the thrill of mountain biking, hiking, and running along scenic trails have more than 50 trails in Surrey to explore. There are several top locations with trails meandering through open fields, forests, and valleys for hiking, birdwatching, dog walking, and wildlife observation. Choose among parks such as the 560-acre Green Timbers Urban Forest with its Surrey Nature Centre, the 640-acre Tynehead Regional Park encompassing the Serpentine River, the Mud Bay Park Loop located in Mud Bay Park, Serpentine Fen Trail in the Serpentine Wildlife Management Area, and Crescent Beach Walk with its cool breezes and ocean view.
Surrey Shopping
Popular Surrey Shopping Spots
Guildford Town Centre
Payal Plaza
The Shops at Morgan Crossing
Central City Shopping Centre
Local shopping malls, plazas, and independent retailers provide an array of opportunities to shop for clothing and accessories, home decor, markets, gardening supplies, technology, and more, all easily accessible to Surrey residents. For shopping on a grand scale, Guildford Town Centre has something for everyone, from Aldo shoes to Zuri women's apparel. The four-block Payal Plaza features more than 300 stores with interesting shops, boutiques, and dining options. The Shops at Morgan Crossing keep residents busy with an assortment of shopping venues, business services, and dining options at its 68 stores. Enjoy a shopping spree for clothing and shoes, get a haircut or beauty treatment, please the palate, pick up dry cleaning, or take care of a dental, medical, optical, or veterinary appointment all at one location. With 140 retail stores to explore, Central City Shopping Centre also provides restaurants, pubs, and business services.
Surrey Restaurants
Popular Surrey Restaurants
Old Surrey Restaurant
Dublin Crossing Irish Pub
My Shanti
Seahorse Grill
From cafés and restaurants to classic fine dining and bistros, there are plenty of palate-pleasing restaurants in Surrey to satisfy the pickiest eater from various cultural menus. Since 1975, the Old Surrey Restaurant has served a classical dining experience with seafood, steak, chicken, and pasta as the main ingredients. For a taste of Ireland, plan to stop by for traditional Irish fare at Dublin Crossing Irish Pub for an order of shepherd's pie, bangers and mash, Yorkshire pudding, or fish and chips.
The multi-award-winning My Shanti restaurant features perfectly prepared cuisine specialties from different regions in India. The Seahorse Grill's executive chef John Kavanagh knows how to prepare dinner with the perfect touch. Feast on favourites such as poached B.C. halibut, paella, lobster pot pie, grilled prawns, mussels, and fresh oysters. Boston Pizza offers delectable pizza, plus ribs, steak, chicken, and salmon bowls when a relaxed lunch or dinner is on the agenda.
Arts and Culture in Surrey
Surrey provides residents with interesting, informative, and entertaining options for those who want to experience the city's art and cultural scene. Visitors can learn about the past and the present through exhibits at local museums or be inspired by creative artwork at the city's art galleries. The performing arts also offer various opportunities to enjoy live concerts and theatrical performances on stage or under the stars.
Museums
Popular Surrey Museums
Historic Stewart Farm
Fraser Valley Heritage Railway Society
Spend the day exploring the many wonders available at local museums. Step back in time with a visit to the Historic Stewart Farm. The 100-year-old farm offers an up-close look at family life around the turn of the century. The property consists of the main farmhouse fitted with vintage decor plus seven other buildings, an orchard, and heirloom gardens. Explore the family home virtually or sign up for guided outdoor tours of the farm.
At the Fraser Valley Heritage Railway Society, visitors hop aboard for an exhilarating ride on one of the vintage trains. The Museum of Surrey provides various interesting things to experience, such as the artifacts displays, events, virtual guest speakers, and free activities.
Visitors of all ages enjoy Surrey's museums and educational centres, and some of these attractions even include programs geared specifically for younger audiences. One doesn't have to look far for fun things to do with kids in Surrey.
Art Galleries
Popular Surrey Art Galleries
Mind and Matter Gallery
Blue Lotus Art Gallery
Surrey Art Gallery
Art galleries in Surrey offer a variety of visual and thought-provoking works of art by creative artists. At the Mind and Matter Gallery, more than 30 artists' work is on display on a rotating basis each month. The gallery also has a permanent collection featuring assorted mediums from photography to sculpture.
The Blue Lotus Art Gallery, located in the Guildford Town Centre, provides an exciting look at beautifully crafted paintings and handcrafted Native artwork to suit individual preferences and budgets. The Surrey Art Gallery offers something for everyone, from its permanent collections and exhibitions to self-guided tours, talks, and scheduled events.
Dance and Theatre
Surrey Dance and Theatre Destinations
Surrey Arts Centre
Bell Performing Arts Centre
Beach House Theatre
At the Surrey Arts Centre, visitors have access to multiple entertainment venues. Along with the Surrey Art Gallery, there are scheduled live performances on the Main Stage and Studio Theatre, which are part of the facilities at the Surrey Civic Theatres. At the Bell Performing Arts Centre, guests can experience various live performances, from dance troupes and jazz concerts to film festivals and theatrical performances. The Beach House Theatre offers a magical evening under the stars at Crescent Beach. With the ocean view as a backdrop, patrons enjoy live theatre from Shakespeare to Wilde. Stop by the boardwalk and dine or shop before or after a performance.
Surrey Nightlife
Popular Surrey Nightlife Stops
MagnetiQ Club Lounge
Kismet Hookah and Bloo Hookah Lounges
Attic and Ballroom Billiards
Blue Frog Studios
The Raving Gamer Bistro
Flaming Ice Sports Bar and Restaurant
Duffey's Sports Grill
Wild Wing
Jimy Mac's Pub
The nighttime is the right time for adults to have fun in Surrey at its many pubs, bars, lounges, and game rooms. Visit the MagnetiQ Club Lounge and try out the latest salsa moves at this vibrant Latin nightclub with live bands and DJs spinning the tunes. For a relaxing evening to socialize and chill with a cup of your favourite flavour, the Kismet Hookah Lounge or the Bloo Hookah Lounge are two places not to be missed. Pool enthusiasts can show off their techniques at Attic Billiards or Ballroom Billiards. Multiple tables, snacks, hot food, and adult beverages are readily available.
The cozy atmosphere at Blue Frog Studios is the perfect setting for class-act musicians who put on their shows throughout the year. Enjoy a good meal and play tabletop games for a double-shot of fun at The Raving Gamer Bistro. For a jump start on a complete evening of fun, consider a visit to Flaming Ice Sports Bar and Restaurant, Duffey's Sports Grill, Wild Wing, and Jimy Mac's Pub. Watch a favourite sporting event on a big screen TV while sampling the food and beverage menu, play a game of pool, or take advantage of happy hour for an all-around good time.
Living in Surrey, British Columbia
Residents, potential residents, and those making a move to Surrey won't be disappointed when it comes to things to do, places to see, and excursions to enjoy. Surrey is fast-growing and on the move as the second-largest city in British Columbia by population and the third-largest by land area.