Fun Kid-Friendly Activities in Surrey, BC
Posted by Katrina Amurao on Thursday, July 22, 2021 at 8:20 AM
By Katrina Amurao / July 22, 2021
Comment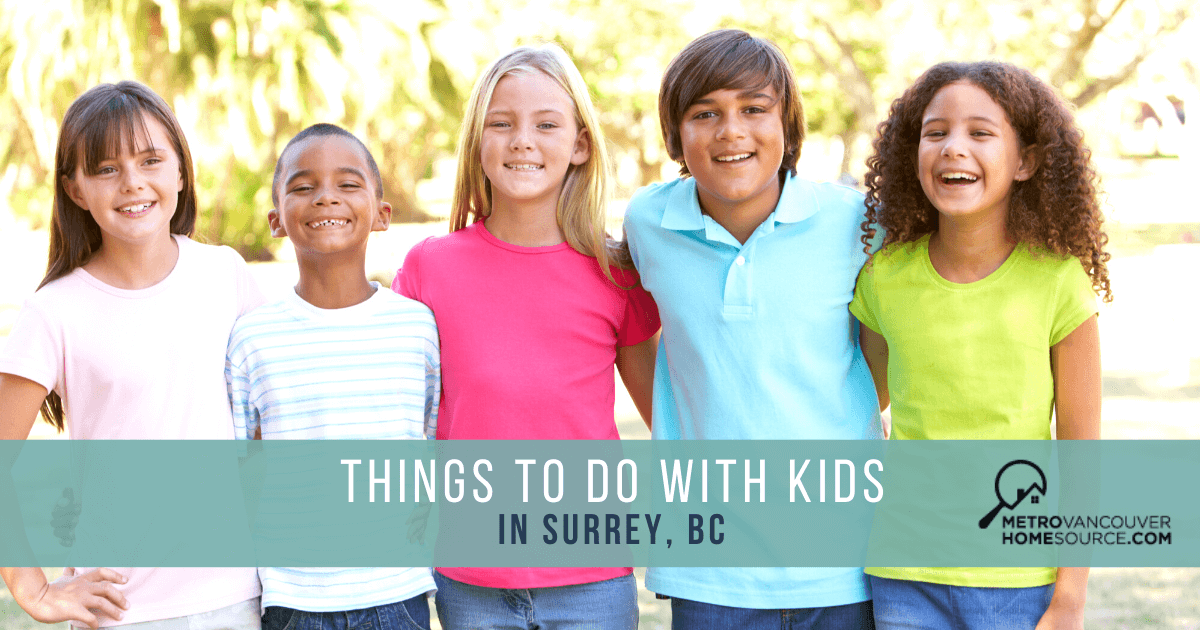 Incoming residents who've invested in one of Surrey's detached homes or a home in Surrey's gated communities might be still on the hunt for things to entertain their children. The good news is, there are plenty of kid-centric activities around the community to consider. From tots to teens, there's no reason for the family to fall into boredom with all the fun things to do in Surrey. Whether it's a rainy day, chilly day, or just plain hot, keep reading to learn more about some of the best things to do with kids in the Surrey community.
Honeybee Centre
Honeybee Centre Amenities
Tour the hive
View claiming and packing honey process
Gift shop
The impressive Honeybee Centre in Surrey is a multipurpose facility that aims to educate the community about the value and purpose of bees in today's society. While some tours and classes are geared towards adults and educators, there are many programs for young people.
Visitors can tour the hive and watch these creatures interact and make honey. Guests can also view the process of claiming and packing honey in the demonstration yard and the classroom. Whether visitors are interested in learning more about bees, want to make bee-friendly gardens, or want to see what goes into making sweet honey treats, there's an activity at the centre they'll enjoy. Honeybee Centre also reaches out to create community bee gardens, so be sure to check their website to see which hosting garden may be closest and when presentation days are.
The Honeybee Centre offers a variety of presentation programs throughout the year developed for different audiences. From school tours, bus tours through the farm and buzzing birthday parties for kids, a visit here is fun and informative. There's also a gift shop where honey and bee-related goodies can be purchased.
Honeybee Centre Additional Information
Phone: 604-575-2337 (BEES)
Hours: Daily 10 a.m.–6 p.m.
Surrey Nature Centre
Surrey Nature Centre Amenities
Storytimes
Building blocks
Crafts
Guided nature walks
Fishing
Situated amid a section of the Green Timbers that is the birthplace of British Columbia's reforestation efforts is the Surrey Nature Center. While roads and new construction homes in Surrey were being rapidly constructed, the centre's advocates diligently preserved green spaces and forests.
The younger that children learn about the importance of nature, the more likely they may be to care about it for life. Head to the Surrey Nature Centre and get ready to explore the indoor and outdoor treasures that await. There are storytimes, building blocks, crafts, and more in the Exploration Room for those rainy days, too.
Ready to hit some of Surrey's trails? Guided nature walks are led by enthusiastic educators and arborists. Fishing is free at the park, so kids and their families can grab a loaner backpack with exploration tools and a fishing rod to make the most of any park visit. It's well worth making time to share the wonders of Mother Nature with the next generation.
Surrey Nature Centre Additional Information
Phone: 604-502-6065
Hours: Vary By Program
Urban Safari Rescue Society
Urban Safari Rescue Society Amenities
160+ species
Learn about the animals
Feel a snakeskin
The Urban Safari Rescue Society comes to the rescue of dozens of animals every year, whether they've been injured, fallen ill, or have been rescued from misinformed or even illegal ownership. The animals are given a home for life, proper care, and the love and attention they need and deserve.
The rescuers take every opportunity possible to educate children and adults about these majestic creatures—some of which many don't even realize exist. From axolotls to sugar gliders, almost 400 animals across 160+ species are available for viewing at Urban Society. Zoologists and other experts share pertinent details about the animals and how they're vital to various environments around the globe.
Visitors will learn about critters that can live longer than a century, feel a shed snakeskin, find out more about lesser-known odd animal facts, and even get to meet and greet some of the animal residents. Local educators can sign up entire groups to come in for private tours or register for the Urban Safari team to come to the organization ready to educate and share the animals.
Urban Safari Rescue Society Additional Information
Phone: +1 604-531-1100
Hours: 11 a.m–4 p.m. / Closed Tuesdays
Bear Creek Park Train & Mini-Golf
Bear Creek Park Train & Mini-Golf Amenities
Themed train tunnels
Opportunity to toot the horn
Natural surroundings
The Bear Creek Park Train & Mini-Golf is one of the locals' favourite places to go out for an affordable day of fun. Youngsters can hop aboard Eddy the Engine, a colourful English train.
Constructed by Alan Keefe, this novel train is admired by all. As it rolls along the tracks through the themed tunnel displays and Bear Creek Gardens, kids eagerly await their turn to toot the horn as an extra treat. Eddy appears at community events in the summertime, and extra train cars are added to boost capacity.
The other main attraction is, of course, the 18-hole mini-golf course at Bear Creek Park. Unlike most courses of its kind, this one is considered "natural" due to its lush surroundings of hemlock cedars, spruces, and firs. The inclusion of these native plant and tree species separates the holes and gives the game a truly authentic feel.
Bear Creek Park Train & Mini-Golf Additional Information
Phone: 604-501-1232
Hours: Daily 10 a.m.–5 p.m.
Historic Stewart Farm
Historic Stewart Farm Amenities
1894 farmhouse
Threshing shed
Large pole barn
Gardens
Orchard
Special programs and events
Ever wondered what it was like to live on a farm 100 years ago? The Historic Stewart Farm offers visitors the chance to see just that! Constructed upon the lands that once were home to the Salish peoples, the Stewart family home still serves as a working farm to some extent and offers tours of the home and property.
This local heritage destination is a one-of-a-kind venue located in Elgin Heritage Park nestled along the Nicomekl River. While the 1894 farmhouse is a focal point, there are seven more historic areas on the property to explore.
There's a threshing shed, a large pole barn, lovely gardens, a pickable orchard, special programs, and exciting events at Historic Stewart Farm year-round. Tours must be scheduled in advance and are offered twice daily.
Historic Stewart Farm Additional Information
Phone: 604-591-4627
Hours: Thurs–Sun 1–3:30 p.m. for Guided Tours
Look No Further for Fun in Surrey, BC
Any time is great for spending quality time, but keeping kids actively entertained sometimes poses a challenge. However, locals in Surrey, BC, know the tricks of the trade, and between educational outings, train rides, golf, or hiking through the forests, plenty of goodies are all around town.
Thanks to the moderate temperatures most of the year, just about any of these activities are possible. Be sure to call and check for hours, and don't miss out on discounts for simply booking in advance online.