Freshening Up Your Air: How to Eliminate Odors in the Home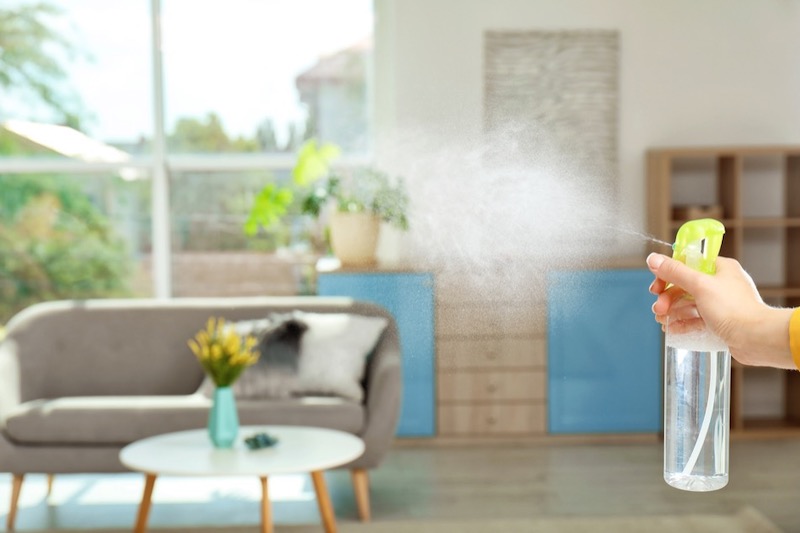 Practically everyone wants a home that smells pleasant. The problem is that there are so many things in a home that can cause bad odors. If the scent is not obvious, homeowners may need to go from room to room until they can locate the source. Fortunately, with the right tools, they can eliminate virtually any kind of odor and prevent it from returning. These tips help homeowners find the odor, clean up after it properly, and ensure that it is gone for good.
Identify and Remove the Source
Identifying the source of the odor is the first and most important step. If homeowners cannot find the trigger, it will continue to be a problem until it is removed. Removing it can be difficult when people are unsure where the source is located or are dealing with multiple odor problems at the same time. Enclosed spaces that do not have good ventilation can be the most-likely culprits:
Refrigerator
Garbage cans
Sinks and toilets
Sealed containers
Corners of walls and floor
When the odor is not obvious like pet urine or smoke, people may need to systematically search the room to locate its origin. Removing garbage and clutter will help to reveal areas that might be hiding problems.
Helpful Tools
Getting rid of problematic odors in the home calls for a few tools. Many of them are easy to buy at the store and may already be in the home. Once people have removed the source, they can use these items to neutralize the odor quickly.
Incense
Incense is a scented stick that people can light to create an aroma while the stick burns. The sticks come in a variety of scents, many of which are spicy and fairly strong-smelling. Homeowners should locate a spot in the home that is at low risk for burning and use a special incense holder. Like a candle, it is important not to burn incense when no one is there to supervise it. Although this can cover up odors in the home, it typically does not remove them. People will notice that the odors will return an hour or two after the incense stick has burned out.
White Vinegar
White vinegar can eliminate odors using a variety of possible approaches. The high acidic content of vinegar can kill certain types of bacteria that create odors. Vinegar can be an effective cleaning agent for this purpose. Some homeowners like to spray a vinegar and water solution on soft fabrics to neutralize odors. Heating vinegar on the stove can help to remove odors in the kitchen.
Although vinegar has its own strong odor, it will dissipate from the room after a few hours. Homeowners should be careful to use milder concentrations of vinegar, as industrial products can damage home furnishings.
Coffee Grounds
Coffee grounds work well to neutralize odors for the same reason that they are an effective addition to a home garden: the nitrogen in the grounds acts as an effective odor management tool. In many cases, all homeowners have to do is to place a bowl of used coffee grounds in the room near the source of the odor. They should avoid applying the grounds directly to the surface, as this can absorb the oils and create a stain. Coffee grounds may not be the most effective tool, but they may be a quick way to approach the problem.
Baking Soda
Many people are familiar with baking soda as an effective deodorizer. The boxes homeowners can buy at the store may have a special opening for placement in the refrigerator. Dumping a cup of baking soda in a bowl is a good way to start deodorizing a space. By itself, removing the odor this way can take hours or days, by itself. Baking soda also cleans surfaces that can handle a light abrasive without scratching. Sprinkling baking soda on carpet will absorb spills and dry out quickly, making them easy to vacuum away.
Apple Cider Vinegar
Like white vinegar, apple cider vinegar is another acidic tool that homeowners can use to neutralize odors. The primary difference is the color and the scent. Apple cider vinegar leaves a pleasant scent of apples, although it is slightly acidic. People may want to use apple cider vinegar for applications that need a quick way to cover the odor while neutralizing. Leaving bowls of apple cider vinegar near the odor can neutralize it over time. Rinsing a garbage disposal with apple cider vinegar can clean, disinfect, and leave a better scent behind.
Common Odor Culprits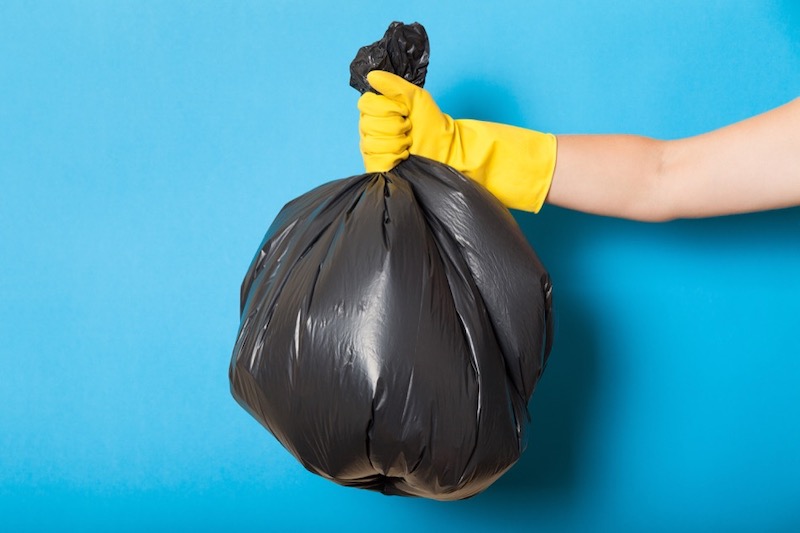 There are a variety of possible odor culprits, although it is often obvious which one is a problem. Homeowners should watch out for these areas of the home, which are prone to collecting the bacteria that produce odors. Proper maintenance can make a significant difference.
Trash
Smelly garbage is an obvious problem, especially in the kitchen or the bathroom. In most cases, taking out the trash bag removes the source. However, leaks in the bag can lead to accumulation at the bottom, which can cause odors to linger. If homeowners are not sure why their trash cans stink, it may be time to clean them. They should follow these steps:
Take the can outside.
Tip the can on its side.
Spray out the can with a hose.
Apply deodorizing cleansers, like a vinegar solution or baking soda.
Allow to sit for a few minutes.
Spray or wipe clean.
Some trash can materials, like wood or plastic, can absorb the odors and become more difficult to remove. Stainless steel is the easiest to clean.
Cooking
Cooking often produces odors, even if many of them are pleasant. The problem with the cooking process is that it produces moisture as well as releases oils into the air. Once that moisture or oil settles onto another surface, it can be difficult to remove the odors from it. Homeowners can prevent this problem by installing proper ventilation around the stove and using it every time they cook. Cleaning pots, pans, cooking equipment, and surfaces will help to eliminate most sources of the odor. If these steps are insufficient, people may want to leave out a bowl of vinegar, baking soda, or coffee grounds near the stove overnight. Simmering spices on the stove or misting vinegar in the air around the kitchen may work as a last attempt.
Refrigerator
Since the refrigerator is a largely unventilated space full of fresh food, it can be a significant source of odor problems for homeowners. When people notice that their refrigerator smells bad, they should quickly check for expired food. Spoiled food harbors bacteria or fungi that create foul odors, which can get worse if left alone for days or weeks. Once the source is removed, placing a bowl or open box of baking soda inside can help to deodorize it. If the odor does not go away, it may indicate a spill or rotten food in the freezer. Cleaning out the refrigerator once a month and cycling through frozen items will minimize odor problems. This may or may not require unplugging and defrosting the refrigerator.
Dishwasher
Dishwashers are designed to clean dishes and food preparation equipment. Because this process involves a combination of water lines and food particles, it can also cause problems with odors in the kitchen. Homeowners may be able to avoid most problems by giving their dishes or kitchen tools a quick rinse in the sink before putting them in the dishwasher. For current odor problems, people should:
Clear the drain filter, which often gets clogged with old food.
Confirm that the dishwasher is draining properly.
Wipe the sides, top, and bottom of the dishwasher with mild dish soap and water.
Clean the spray arm.
Wipe the seal around the door of the dishwasher.
If these steps do not solve the odor problem, people may want to call a technician to look for possible leaks under the dishwasher.
Drains
Drains that smell bad are usually a sign of a clog. Most drains attached to sinks have a P-trap underneath. This piece is relatively easy to remove and clean out. Homeowners should avoid using harsh cleansers, as this can damage the plumbing. It may be more practical to hire a plumber to fix the clogs.
In the kitchen, homeowners may also need to attend to the garbage disposal. It is important to confirm that it is in the off position before reaching in to grab trapped food. If the disposal is empty, running lemon juice or apple cider vinegar may clear away food particles causing the odor. Hot, soapy water helps to melt away grease and allows it to pass down the drain.
Bathrooms
Bathroom odors are quite common, but homeowners can minimize their effects. Proper ventilation, turned on whenever the bathroom is in use, is key to eliminating lingering odors of waste while helping to control moisture. High humidity creates a breeding ground for mildew or mold. Vinegar and baking soda can remove the odors, but people should consult an expert if they notice mold growing in the walls.
Using a bag in the garbage can reduces unpleasant accumulation and makes cleanup easier. Foul odors in the bathroom that are not caused by garbage or waste may be a sign of sewer gas or backflow. In this case, homeowners should call a plumber for assistance.
Bedding
Bedding creates a new problem for homeowners to solve, in relation to odors that accumulate. People spend about a third of their time sleeping. As they rest, the oils from their skin, dirt, and skin cells permeate the bedding. Eventually, the mattress absorbs them. As a result, mattresses might be significantly heavier at the end of their lifespan.
Washing bedding and sheets at least once a week helps to prevent this problem. For stubborn odors, people can sprinkle baking soda, spray a light mist of vinegar and water, allow it to sit for a day, then vacuum it up. In some cases, allowing the mattress to sit in the sun will help to deodorize it. However, people may need to replace the bedding in order to solve the problem.
Closets/Laundry
Like bedding or a mattress, clothing can absorb odors and make them difficult to remove. Closets can be a particular source of bad smells, especially closets that do not get cycled through on a regular basis. To find the source, homeowners should clear out the closet. It may be a piece of clothing, a pair of shoes, or the closet itself. Clothing that smells like smoke or oily foods (like fish) may need washing or dry cleaning with an enzymatic cleaner that removes oils. If the closet is the problem, people should clean it from top to bottom. Most musty smells can be eliminated by spraying down the walls lightly with vinegar and water, and leaving the closet open to dry and air out.
Fabric Furniture
Fabric furniture is a likely source of home odors because it can rapidly absorb and hold spills. A fabric couch or chair located near the kitchen may trap odors from the stove. Small pieces with odors but no stains may be easy to manage by taking them outside on a sunny day. For larger pieces of furniture or heavy stains, homeowners should start by vacuuming the entire piece. This includes removing or lifting cushions and getting into the corners. Once this is complete, they can sprinkle baking soda and leave it overnight. The baking soda soaks up liquids and is easy to remove once dry. For a deeper cleaning, spraying with a solution of water, vinegar, and dish soap will work for most fabrics.
Carpet
Cleaning carpet spills quickly is the best way to avoid stains and odors. Carpet is an absorbent flooring material that will hold the liquid and even pass it to the carpet pad underneath. For current stains, homeowners may want to try applying baking soda. For heavy spills or stiff stains, baking soda paste with water often works better. After a day, people can vacuum it to see if the odor is gone.
If the source of the odor is the carpet pad, homeowners have fewer options. The pad is a separate material that cleaners like baking soda or vinegar will not reach. In some cases, professional carpet cleaners can help to remove spills or moisture from the carpet pad, which is a common problem after flooding.
Removing Odors from Smoke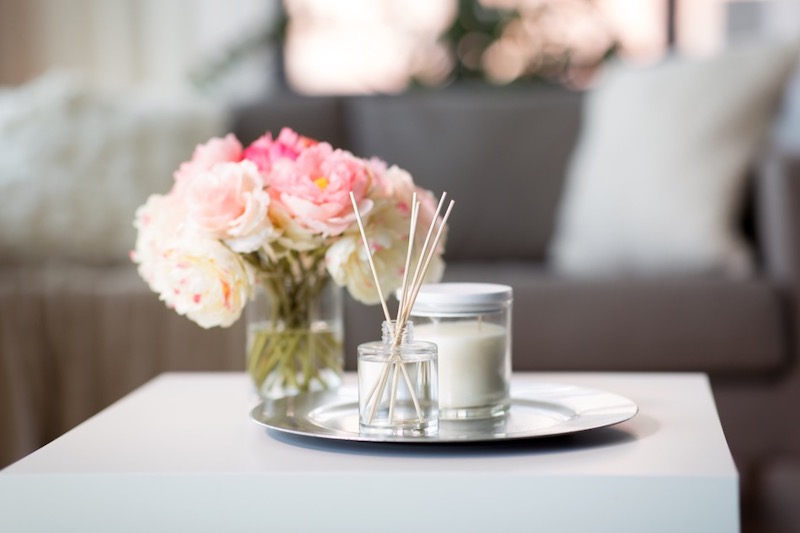 Smoke contains a combination of things, including oils. As these permeate the air, they can land on any surface and cause a stain. For example, homeowners may notice that the ceiling above the stove develops a stain after they cook a particularly hot or smoky dish. The smell of smoke from cigarettes, vaping equipment, or even a house fire can be particularly difficult to get rid of. People can start by removing anything that can be washed or dry-cleaned. Once these items are clean and odor-free, they should be kept from the space until it is clean.
Cleaning furniture, walls, flooring, and other surfaces is more difficult. It must happen at the same time to avoid the scent permeating again. Baking soda and a vinegar solution work on soft surfaces like carpet or fabric furniture. Wiping walls and the ceiling with a damp rag dipped in vinegar is the most effective way to clean them. Homeowners may want to vacuum them first, to remove dirt and debris. Surfaces like a kitchen or bathroom counter should be cleaned as normal. For serious smoke odor problems, it may be more practical to hire a professional cleaning company.
Soft Surface Cleaning Tips
Soft surfaces tend to be the most likely to absorb odors, but they require gentle care. If homeowners use the wrong solution or try to scrub a stain, they may damage the fabric. Using harsh cleansers on a carpet and scrubbing it can wear away fibers or remove color. In most cases, people will get the best result by sprinkling baking soda, spraying lightly with a vinegar solution, and allowing the material to dry in a well-ventilated space. If it is not possible to take the material outside, people may want to open a window instead. When vinegar is contraindicated, plain vodka sprayed lightly on drapes or upholstery will absorb the odors and evaporate quickly. Like vinegar, the odor of alcohol will dissipate within an hour or two.
Treating "Stale" Air
Sometimes when people walk into a room they do not use very often, they notice a musty or stale odor. This is common in vacation homes or cabins after months without use. The problem starts with a lack of ventilation. When a room or a house does not cycle air regularly, mold, mildew, and bacteria can breed with ease. High humidity can make the musty smell worse or trigger open mold production. The most obvious solution is to open a few doors or windows and let the space air out. Natural light can neutralize odors through exposure to ultraviolet rays. If this is not effective enough, homeowners can shift to cleaning individual surfaces or furniture as a way to address it.
Removing Pet Odors
Like smoke damage, removing pet odors can be one of the most difficult tasks for homeowners trying to target problematic scents in the home. Urine is the most common cause of the odor. The best way to eliminate it depends on its location and the severity of the problem.
Dogs
Pets that have free run of the house can carry a lot of odors with them. Dogs can bring dirt into the house after a walk. They also produce excess hair and pet dander that can accumulate on the floor or in furniture. Homeowners can minimize the effects of this debris by sweeping or vacuuming the floor each day, and mopping hard flooring surfaces at least once a week. They may need to do the same for dog beds, couches, crates, or any other place the dog is allowed to be.
To remove urine odors, people should wipe up the mess immediately and wash the towels or throw them away. If the urine permeated the wall or sub-floor, it may be necessary to use an odor-killing primer before repainting or replacing flooring.
Cats
Cleaning up after cat odors mostly focuses on urine. Since many cats live inside, they eliminate waste indoors as well. Homeowners should clean the litter box daily and change the litter regularly. New urine stains can be removed by blotting and treatment with an enzymatic cleaner. Wiping or vacuuming the surface afterward can remove the odor.
The main problem with cat urine is that it can permeate deep into the room and come back, even after people have soaked up the spill or cleaned the carpet. Humidity reactivates the acid in the urine, which can make the odor almost impossible to eliminate without removing the surface. Experts suggest taking cats who urinate outside a litter box to the veterinarian to check for health problems.
Small Pet Cages/Habitats
Small pets, like rodents or birds, have their own living spaces that must be cleaned on a regular basis. Without proper cleaning, those cages can accumulate odors that can spread to the rest of the room. Most cages are lined with a soft material that the pet can use for bedding, to build a nest, or to leave waste. The odor comes primarily from urine or solid waste. As such, this material must be replaced at least once or twice a week.
For the cage material, stainless steel is less likely to absorb odors than plastic. Homeowners may want to select a lining material that is more likely to hold liquid, like wood shavings. This material is less likely to disintegrate if it gets wet.
Aquariums
Aquariums for fish or reptiles will carry some kind of odor under any circumstance, but it may not be unpleasant most of the time. Reptiles mostly need to have waste removed on a regular basis. Glass tanks should be wiped clean with treated water and a clean sponge or washcloth. In the case of fish tanks, the high water content can be a breeding ground for bacteria. Excess food, fish feces, or dead fish can cause foul odors. If the tank gets a lot of natural sunlight, it may cause algae to bloom. Homeowners may be able to manage some of this by adding a bottom-feeding fish that will help to keep the interior surfaces free of debris. Replacing some of the water once a month helps to cycle out odor-causing bacteria.
Mold and Mildew
Mold and mildew odors may be simple or very difficult to eliminate, depending on the severity. Homeowners should know that these fungi start to breed in high humidity. Poor moisture control can happen anywhere, but it is more likely to be an issue in the kitchen and the bathroom. If the mildew odor is confined to a single surface like a wet towel, washing it may solve the problem. Mold is easy to smell but can be hard to locate. In many cases, the mold breeds inside the walls, because it needs both moisture and darkness. Homeowners can spot it first in the corners of the walls or the flooring. At this point, they usually need to call a mold remediation specialist.
Keep Your Home Clean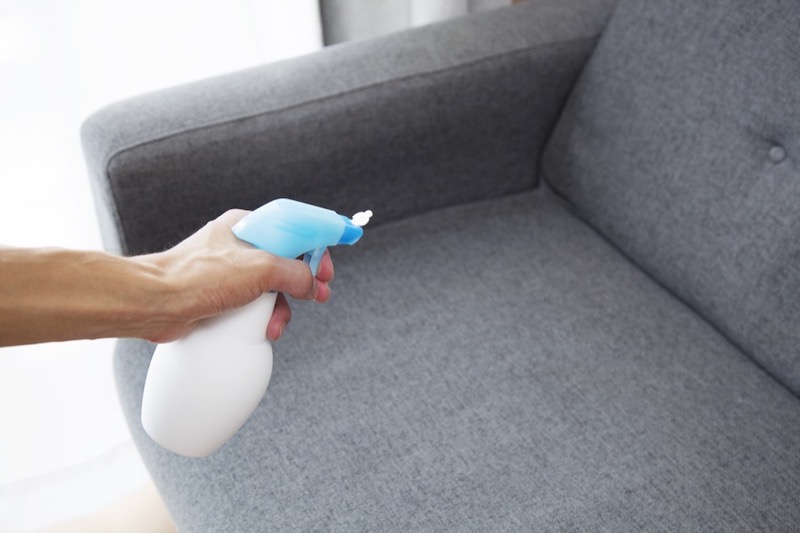 Keeping a house clean and smelling fresh takes a fair bit of work. When people encounter a foul odor, they are wise to try to get rid of it as quickly as possible. Odors can become more pungent if left alone, and they are often easier to manage when they first show up. There are many things that people can use to clean and deodorize their homes without damaging surfaces or simply covering up the scent. With a handful of natural tools and products from the supermarket, homeowners can engage in their own home odor elimination.