Cooking up a New Kitchen: Design Checklist for Remodeling or Redecorating a Kitchen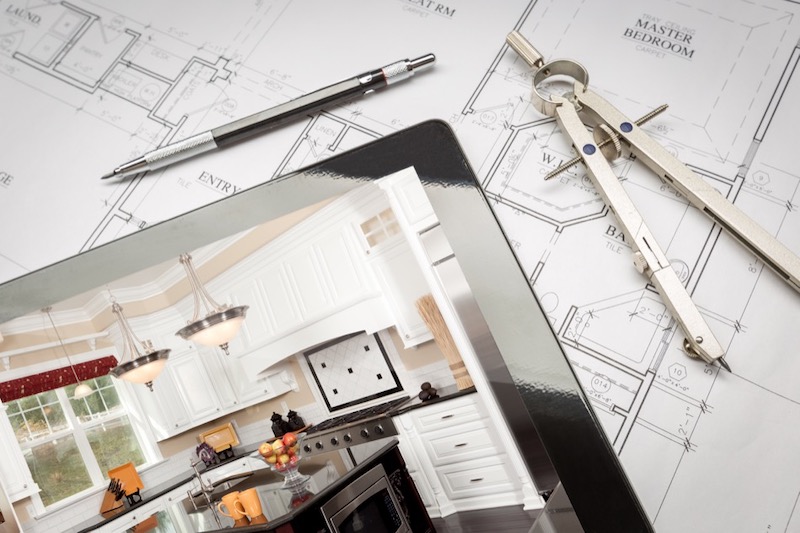 Redesigning or redecorating the kitchen is one of the most practical home improvement projects that homeowners can consider. Although most kitchens need a major overhaul every 20 years or so, people may want to change up the look as frequently as once every five years. This project does not have to be too expensive or take months to complete, but it will probably cost more than surface updates to other rooms. Kitchens also take more care, as many important home functions are located there. By following this guide, homeowners will know which elements to consider as they ponder a new design.
Planning Out Your Kitchen
As one of the most important and used rooms of the home, the kitchen is a space where design, layout, and function are vital. Homeowners may be tempted to learn as they go. However, without a concrete plan in place, people are more likely to encounter serious problems that are more expensive and time-consuming to fix. Homeowners have a better chance of being happy with the project if they can invest time to complete these tasks:
Make a list of any existing problems in the kitchen
Identify possible solutions
Outline expectations for the space
Create a general layout for the new kitchen
Set a budget for improvements
Even if people are planning more for a redecoration of the kitchen instead of a complete remodel, it is always wise to plan it out.
Kitchen Design and Decor Ideas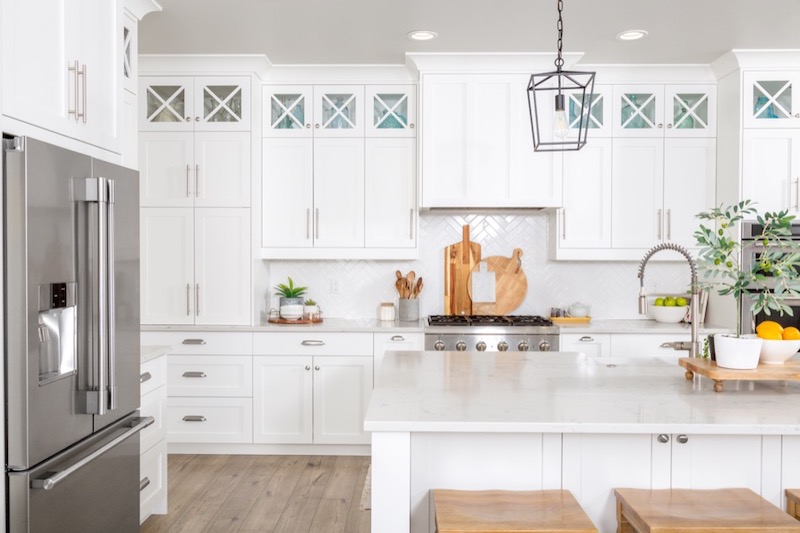 In the early stages of kitchen design, homeowners may want to begin by exploring how they want the room to look. A basic kitchen layout tends to follow function, and people have plenty of flexibility in determining how much they want to stick to the trends. Kitchens are often busy centers of the home, but they do not have to create confusion or distraction. With the right creative kitchen design, homeowners will have a functional space that also looks great.
Finding a Focal Point
Designating a focal point for the kitchen is perhaps easier than it could be for many rooms. People should start with this decision because it will affect most choices made for the space. Typically, the kitchen's focal point centers around the range and ventilation hood. In some cases, it may be a large island with built-in seating and a dazzling light fixture. Homeowners should consider the space as it is and draw conclusions about the most obvious focal point. Changing it may require relocating the appliances at the least, if not completely reorienting the countertops and cabinetry as well.
Creating a Kitchen Work Triangle
Homeowners may want to begin outlining a design by creating a work triangle in the kitchen with points for the sink, range, and refrigerator. It might help to do this with an existing kitchen for reference on what works and which layouts seem too spacious or cramped. These points show the three most common stations that people use in the kitchen:
Food preparation
Cooking/baking
Cleaning up
If the triangle is too small, residents may struggle to make space for every activity, especially if there is more than one person working in the kitchen. If the triangle is too large, people may end up moving around the kitchen more frequently to reach the tools and ingredients they need.
How to Choose Decor
Selecting decor for the kitchen is generally more practical than it is for other rooms. Most of the time, kitchen decorations should minimize clutter and be easy to clean. Soft items that attract dust or oil droplets from cooking may make the kitchen seem dirty or outdated. Minimalist designs are popular for the way they maximize storage and reduce distraction. For example, a neat pantry with clear plastic or glass containers in modular, stacking shapes protect food without calling too much attention. Paint colors range across the spectrum, but homeowners should know that bright white and very dark, matte styles are more likely to show spills or dirt.
Fitting In or Standing Out
In almost any layout, the kitchen tends to stand out from the rest of the home. The trick for homeowners is to allow the kitchen to shine without creating a design and decor that feels disjointed or disconnected from the other rooms. Flow is key to ensuring the kitchen is both functional and a good improvement that boosts the entire home.
Common Kitchen Design Styles
Most kitchens come in one of three styles, although there are nearly infinite combinations of each design:
U-shaped, with the cabinetry and appliances running along three sides of the room's perimeter
L-shaped, where the appliances and countertops run along two sides of the room
Galley, with cabinetry and appliances placed on parallel sides
Homeowners typically choose the one that suits the room best, but they may also want to think about the flow to other rooms. For example, a galley layout is best for smaller kitchens that open up into a large dining room and a mudroom or garage on the other. An L-shaped or U-shaped kitchen may offer the most space for a kitchen island to provide extra seating, or open space for multiple people using the kitchen at the same time.
Ensuring a Natural Flow
When choosing a design style to follow, homeowners should factor in the flow within the room and from one room to the next. Open floor plans often combine the kitchen, dining, and living or family rooms into a single, open space where everything is visible from each vantage point. In this case, people might prefer to keep the kitchen easily accessible from any point in this larger room. Partial walls or large furniture positioned on the shortest walking route can impede the flow. If the kitchen leads to the garage or outside the home, people may want to avoid placing appliances or commonly used cabinets right next to the door.
Continuity Between Rooms
The flow between rooms involves more than the time or distance needed to get from one space to another. Although homeowners often make home improvements gradually over the years, they should still consider the importance of maintaining continuity between the rooms. Otherwise, they risk the kitchen looking like it belongs to another home. Sometimes, the solution is as simple as selecting paint colors or design elements that coordinate throughout the home. Using the same flooring in the kitchen and surrounding rooms also provides a seamless transition that the eye can follow.
Functionality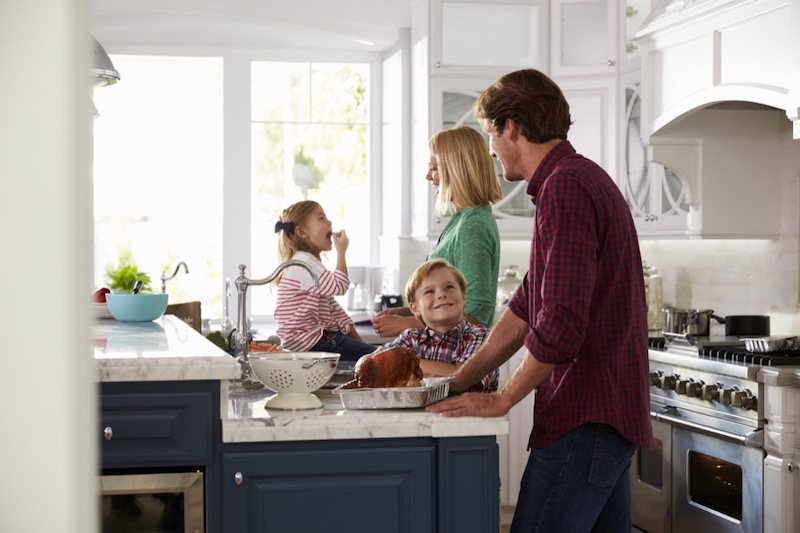 One of the most important steps of creating the overall kitchen design involves evaluating the function of the space. Homeowners sometimes imagine that a kitchen will be a thing of beauty, but they still need to be able to use it. By looking at different functions for the kitchen and testing them out, people will have a better idea of whether the space will work as intended.
Meeting Resident Needs
Kitchens tend to look very different from one home to the next because they optimize the space for the needs of the residents. Homeowners who find that their current kitchens do not work for them should keep in mind that the kitchen was not built for them specifically. The new design should also meet the needs of the house, now and for years into the future. If people want to use the kitchen as a gathering place, it must be large enough to accommodate everyone at once. A home kitchen used for complicated or commercial food preparation may need more stations than the basic three.
Testing Practical Use
Kitchen designs require more than a little examination before application. Because the average kitchen survives for 15-20 years before homeowners remodel it, testing out the practical use of the space will help to identify problems with the layout or flow. People may want to consider creating a mock layout using paper and painter's tape in a larger room of the home, or use an augmented reality app. They should go through the process for several common activities, like making dinner or cleaning the dishes and putting them away. This test will make it easier to determine if the kitchen layout is practical for daily use.
Maximizing Storage
Many homeowners wish they had more storage in the kitchen, so it is safe to assume that it should be a priority in the design. People may plan to keep food storage elsewhere, but they may still need to make room in the kitchen for:
Cooking tools
Small appliances
A week's worth of food goods
In some cases, dramatically increasing the storage may be as simple as swapping open cabinets or shelving for deep drawers. For practical use, the storage should be located as close to the appliance or station where it is typically needed. People may also want to designate separate areas for storing food and cleaning products, especially if they need to keep these items out of the reach of pets or children.
Putting It All Together
The final step of the design process allows homeowners to objectively view the space and confirm that they have made the right choices. People should give themselves all the time they need to be sure that flow, function, and decor meet their expectations. That way, they are more likely to be satisfied with the result.
Confirming Design Choices
Before starting construction, it is crucial for homeowners to finalize the design process and confirm that everything is likely to work properly. Every person will use a kitchen a little differently, but there are many common tasks that create similar concerns. Homeowners may want to ask themselves several questions about the design before finalizing it to highlight possible issues, including:
How much lighting is needed for each task?
Where will common items like shelf-stable food, plates, and cooking tools go?
Does appliance or cabinetry placement affect use of nearby fixtures?
Can two people work in the room at the same time without crowding each other?
The sooner these questions get answers, the earlier that homeowners can identify any design problems they need to solve.
Here's a great video covering common mistakes people make when designing their kitchen!
Adjusting Layout
Eventually, people may become tired of thinking about the design and want to get started on the project. However, making final adjustments can mean the difference between a kitchen that works and one that does not. Even if the final design looks great, homeowners may still need to take time to get used to it. Allowing just a week to look at the design each day and come up with ideas may highlight an unexpected issue that could be easy to correct. After construction begins, people could have a much harder time making fixes, and will often spend more time and money to make them happen.
Getting a Helping Hand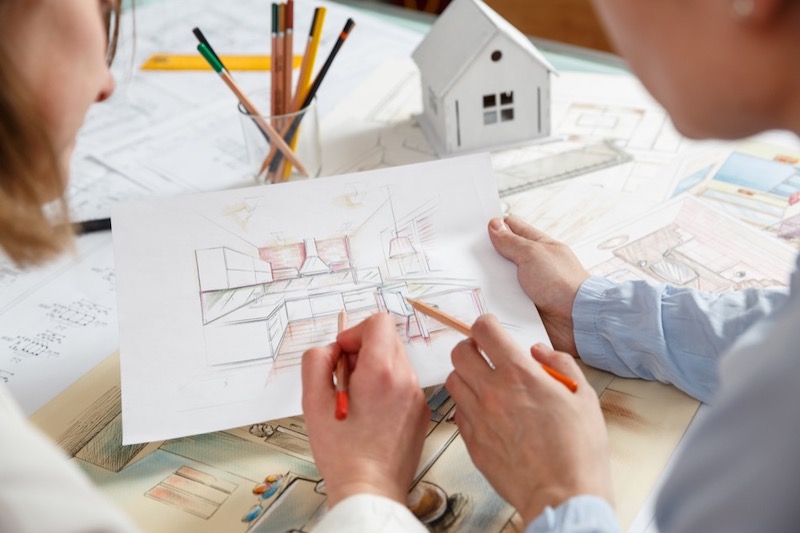 Bringing in a third party to help with design and evaluation can help to expand options and minimize errors. Homeowners may have a hard time separating their views of the space from the best way to achieve their goals. After spending months or years looking at their kitchen, they could struggle to see it for what it could be. For large renovation projects, people might prefer to hire a professional designer to help them come up with a new layout. Professionals can also ensure that the kitchen will be safe to operate.
For minor projects that do not require significant adjustments to the layout, even a close friend or relative may be able to fill this role. Because they do not live in the house, they are not as accustomed to its quirks and advantages. They may have a better chance of noticing flaws with the existing layout and help ensure that the new design will solve the problem.
Remodeling or changing the decor of the kitchen can be a reasonable project to improve use of the room and increase the resale value of the home. This type of project usually requires a decent amount of planning, especially to determine the best type of design. A great layout will make the kitchen easier to use without creating problems for the flow of the home. It has everything that residents of the home need to cook, clean, or enjoy time together. By spending time on these design aspects, homeowners get a kitchen that is uniquely their own and most likely to meet their needs.
Other Helpful Resources
https://www.houselogic.com/by-room/kitchen/tips-for-kitchen-remodeling/
https://www.thespruce.com/remodel-a-kitchen-where-to-start-1976585
https://www.thisoldhouse.com/kitchens/21015310/the-don-t-get-burned-kitchen-remodeling-guide
https://www.thespruce.com/decorating-rooms-so-they-work-together-1976530
https://www.houzz.com/magazine/how-to-create-a-cohesive-color-flow-throughout-your-home-stsetivw-vs~66922903
https://www.hgtv.com/design/decorating/color/connecting-rooms-with-color
https://www.thespruce.com/remodel-a-kitchen-where-to-start-1976585
https://www.hgtv.com/design/rooms/kitchens/the-basics-of-kitchen-layout
https://robinsonplans.com/the-basics-of-kitchen-design/
https://www.hgtv.com/design/rooms/kitchens/developing-a-functional-kitchen-floor-plan
https://carolineondesign.com/9-tips-for-designing-a-functional-kitchen/
https://www.hgtv.com/design/rooms/kitchens/9-ideas-to-keep-your-new-kitchen-functional-and-organized-pictures